ALBANY PARK — The 33rd Ward is getting a lot of new infrastructure. Just ask the residents.
Some, in fact, complained about being "under siege" with construction crews, costing them time, parking spots, tickets and patience.
To address these frustrations, the ward's new alderman, Rossana Rodriguez, asked representatives from the city's departments of Transportation and Water Management as well as from People's Gas to address community concerns Tuesday night at Horner Park, 2741 W. Montrose Ave. 
"We are very aware that the 33rd Ward and surrounding areas are the areas with the most construction going on in the whole city," Rodriguez said. "We understand there's a lot of frustration and a lot of issues and concerns."
Residents listened — and sounded off.
"I feel that between the three departments we've been under siege for a couple years," said resident Grace Rink.
She's lived in the area between Montrose Avenue and Irving Park Road and Kimball and Kedzie avenues for the past 16 years.
"For you guys, from a sequencing perspective, you get to accomplish one block at a time. But for the rest of us it's every block that we go on," Rink said. "So there's no way to traverse our entire neighborhood, that whole area."
During the meeting, representatives from each department went over their timeline of projects and tried to clarify how and when streets are torn up and then restored. The area is long overdue for new gas and water lines, officials said.
"The construction season in Chicago is endless. I mean there's always something going on, from planned work to emergent work when water mains break," said John McDonald, assistant commissioner with the city's Department of Transportation.
If neighbors want to look up which projects are going to happen in which neighborhood and track their progress, they can visit ChiStreetWork, an interactive map with information on construction projects, special events and street closures.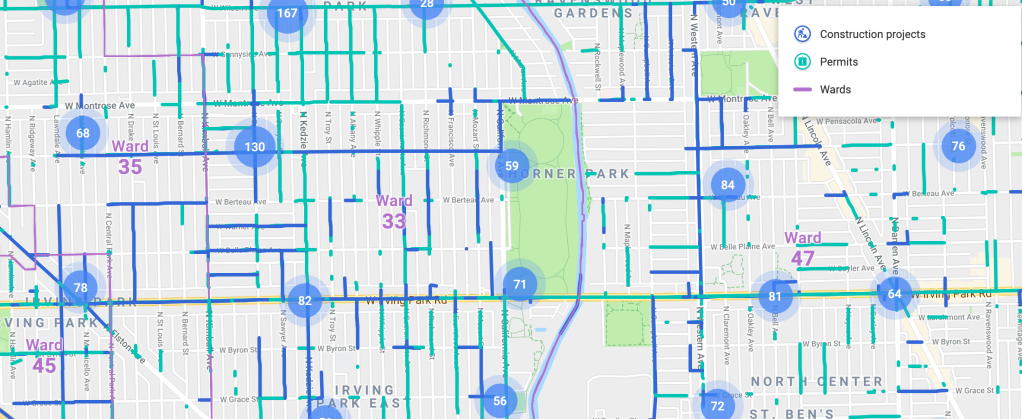 "We have the most work going on right here in Albany Park. The good news is we are over 75 percent done with our work," said Paul Bredael, a spokesman for People's Gas.
Since 2017, People's Gas has replaced 2,000 miles of gas mains throughout the city. To date, 68 miles of gas mains have been replaced in Albany Park, which included adding service to 6,000 buildings and installing 14,000 new gas meters.
"We had 42 different phases in Albany Park. And we have about 10 left right now we're starting to wrap up," he said. 
While some of the remaining phases will be done by the end of the year, other areas of the neighborhood will still see construction through 2020.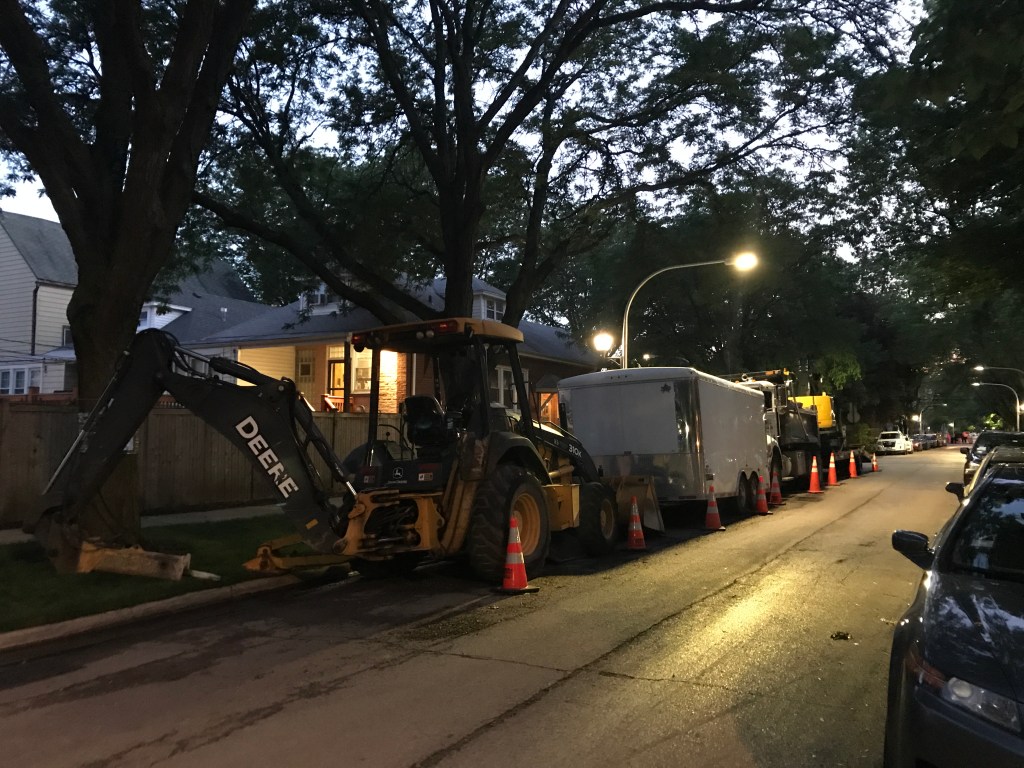 But even after being told how the projects are coordinated, neighbors were still frustrated with how the projects have impacted their day to day life.
During the meeting's public comment section, neighbor concerns included the poor quality of the streets during construction, debris and equipment taking up entire blocks of residential parking, crews not restoring the greenery from the parkways they dig up, and in general, a lack of communication regarding the various projects happening in the ward. 
While the work is needed, city officials said residents can report these construction concerns by calling 311 or using the new 311 phone app, McDonald said.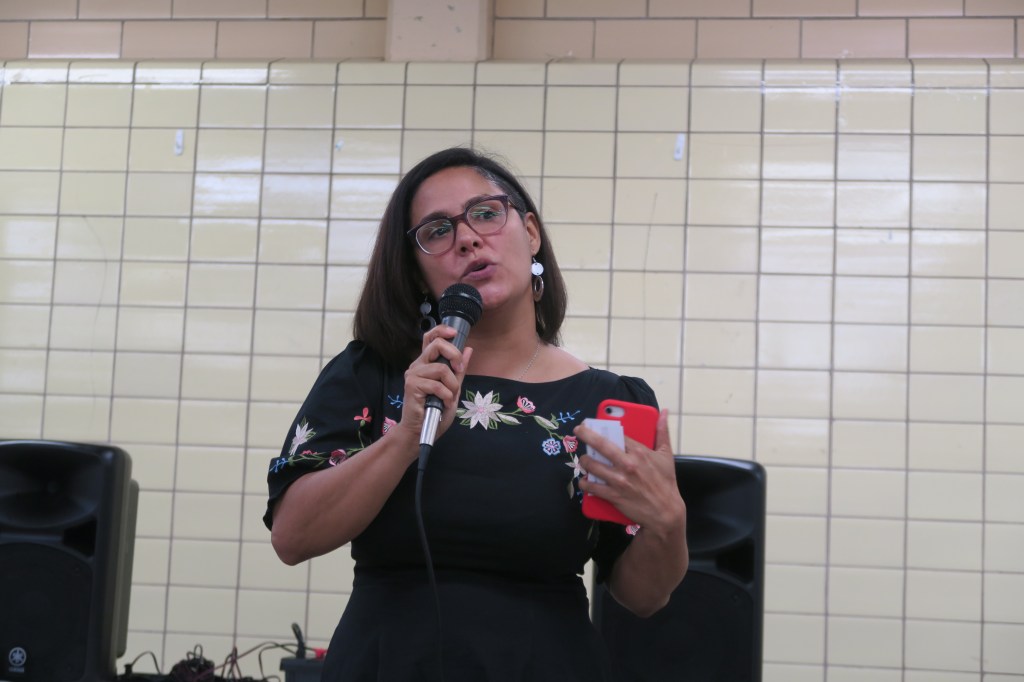 Another concern was lead being knocked loose and into the drinking water after so much construction. 
When a service line has been connected to a new water main, the city recommends residents flush their plumbing of any sediment, rust or metals, including any lead to maintain water quality, said Megan Vidis, a city Water Department spokesperson.
Sediment, rust and metals may collect in the aerator screen located at the tip of faucets. These screens should be removed prior to flushing.
Additional instructions on how to flush a home's plumbing can be found here. A free lead testing kit can be obtained from the city by calling 311 or by filling out this online form.
Of course, parking was one of the biggest issues raised by neighbors. One resident complained about getting parking tickets when he parks on his block during hours when there isn't any construction. 
"You post signs saying there's not parking for three or four weeks. The signs are posted over there but you never come. Your people come whenever they like," said Victor Alvarado, who lives in a building at 4039 N. Kedzie Ave.  
"And the moment we park over there they tow us and move us far away, which to me is no problem as long as I find my car," he said. "My problem is I am tired of feeding the city by paying parking tickets."
"We can try to correct this," Bredael of People's Gas said. "When we post no parking we usually ask them to relocate [the cars] and not give tickets. I don't know that the city always does that."
He wasn't alone with this complaint, as three other neighbors brought tickets they'd received to the meeting asking for relief. Alvarado has tried to contest his tickets but says each time he's been told to pay the fine, the latest of which is $100. 
Representatives from the alderman's office said ward residents who have received a construction-related ticket should contact the office at 773-840-7880 or info@33rdward.org.
A video of Tuesday's meeting can be found below.
RELATED

Months-Long Avondale Construction 'Killing' Belmont Businesses – Even Kuma's Has Taken A Hit
Unrelenting Belmont Construction Creating A Dangerous 'Mess' In Avondale, Residents Say
As Never-ending Devon Ave. Sewer Project Guts Edgebook Businesses, They Ask Neighbors To Shop Local
17 Percent Of Homes Where City Crews Installed Water Meters Have Elevated Lead Levels
Do stories like this matter to you? Subscribe to Block Club Chicago. Every dime we make funds reporting from Chicago's neighborhoods.