UKRAINIAN VILLAGE — Shake-It, a burger joint that has riled controversy in the Ukrainian Village neighborhood since 2017, finally broke ground Tuesday, according to an Instagram post from owners.
Located at 820 N. Damen Ave., the restaurant and bar will replace the since-vacated Grace Auto Repair. Owners anticipate a springtime opening, according to the post.
"Oct 22, 2019," the post said. "After 1,321 days we're finally underway. See you this Spring! @fwdhospitality"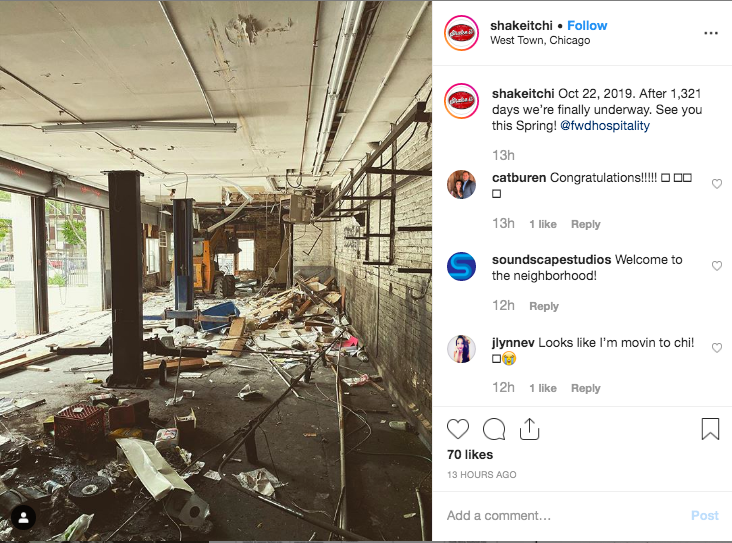 Ohio-based Forward Hospitality Group, the owner of Shake-It, signed a 99-year lease to replace Grace Auto Repair.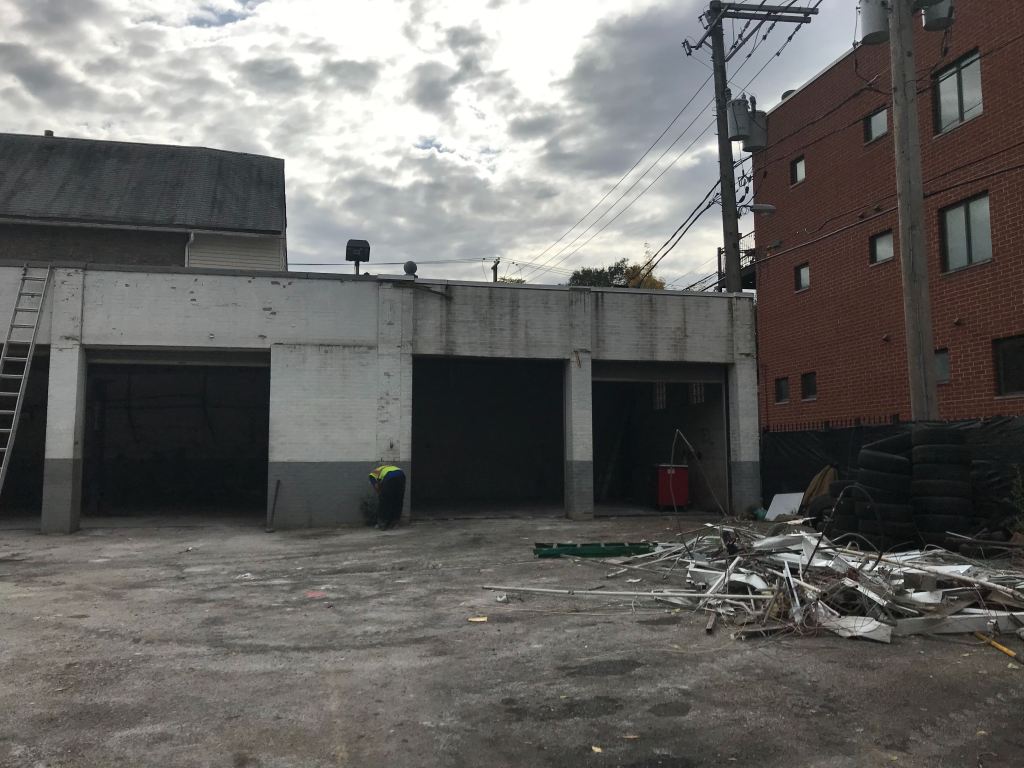 While Shake-It has its own website, the site's information is currently limited to an email address (info@shakeitchicago.com).
Despite impassioned pleas from residents to halt progress on the restaurant and bar, community approval was not actually required for the Shake-It plan because no zoning change was needed.
Ald. Brian Hopkins (2nd) did, however, draft a Plan of Operation — a binding document used by aldermen to help community members outline rules for new businesses.
Tuesday's construction shocked neighbors, who have yet to review the final Plan of Operation for the business. The June version of the document can be found here. (Block Club requested a copy of the most recently updated document.)
During a series of heated community meetings dating back to 2017, the most recent being this past June, Forward Hospitality partners often butted heads with residents who felt the idea behind Shake-It did not make sense in this part of the neighborhood.
Dante Deiana, a Loyola University graduate and a DJ for the Chicago Cubs, is a partner on the project. He told neighbors that of the 16 years he's lived in Chicago, eight were spent in Wicker Park.
"We want to ingrain ourselves into the neighborhood and be very family orientated. We want to be an anchor at that corner," Deiana told neighbors in 2017.
Since then, in an effort to appease neighbors, Deiana and his partners did away with the walk-up window part of the business — a "major concession," he said.
Still, at a community meeting in June, neighbors voiced concerns about late-night noise, parking for delivery drivers, the location of trash cans and other logistical issues.
Mo Yehia, who lives on the third floor of an apartment building across the street from the Shake-It site, said he moved from the Gold Coast to Ukrainian Village because he sought a "quiet block."
He worried the business would disturb his 10 p.m. bed time.
"When I go to sleep, I don't want to hear bass, music or people shouting," he said.
Bobby Rutter, one of Deiana's partners, said in Ohio and in Breckenridge, Co., neighborhoods have benefited from the presence of the Forward Hospitality businesses.
RELATED: Shake-It Vows To Work With Neighbors Before Bringing Boozy Shakes And Burgers To West Town
"The only way we're successful is if we are a good neighbor," Rutter said. "We're not trying to be a bar. We're not trying to be a bad neighbor. If you want our GM's cell phone number, I'll give it to you."
RELATED: Neighbors Want Meeting With Shake-It's Backers To Hear Plans For The Boozy Burger Spot In West Town
In June, Jonathan Splitt, of Chicago-based Jonathan Splitt Architects Ltd., described the specs of the restaurant:
A 1,954-square-foot add-on to the existing 2,045-square-foot building will result in a total of 3,999 square feet.
82 outdoor seats will be included as part of a seasonal patio.
Three Dumpsters will exist enclosed within the property, out of the alley.
Enclosed bike storage will adjoin the patio.
The zoning code allows for up to 300 seats inside the restaurant, Splitt said.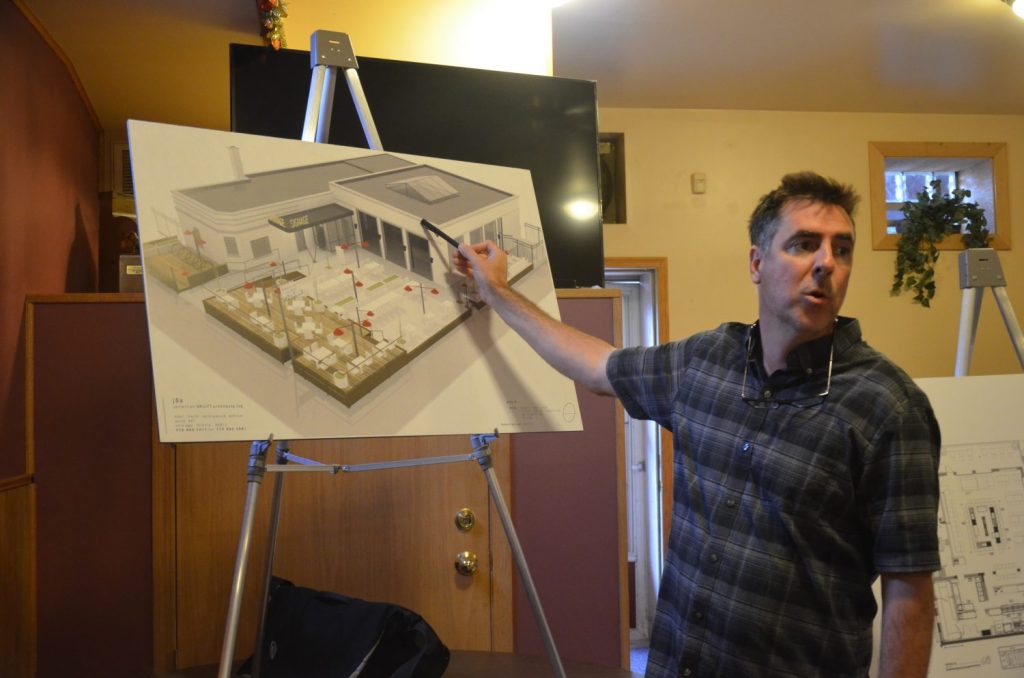 During the meeting, James Beard Award-winning chef Jonathan Sawyer introduced himself to neighbors as the brains behind Shake-It's menu, which he said will be more burger-heavy than booze-focused. Shake-It's initial pitch to the neighborhood in 2017 was heavy on a "boozy milkshakes" idea.
RELATED: Milkshake And Burger Spot, Shake-It, Sparks Ukrainian Village Meeting
Sawyer described Shake-It's menu as burger-based, with vegetarian options. Side dishes and desserts would be available, as well.
Sawyer said the sole focus of his kitchen would be placed on wood-fire grilled burgers and locally sourced produce.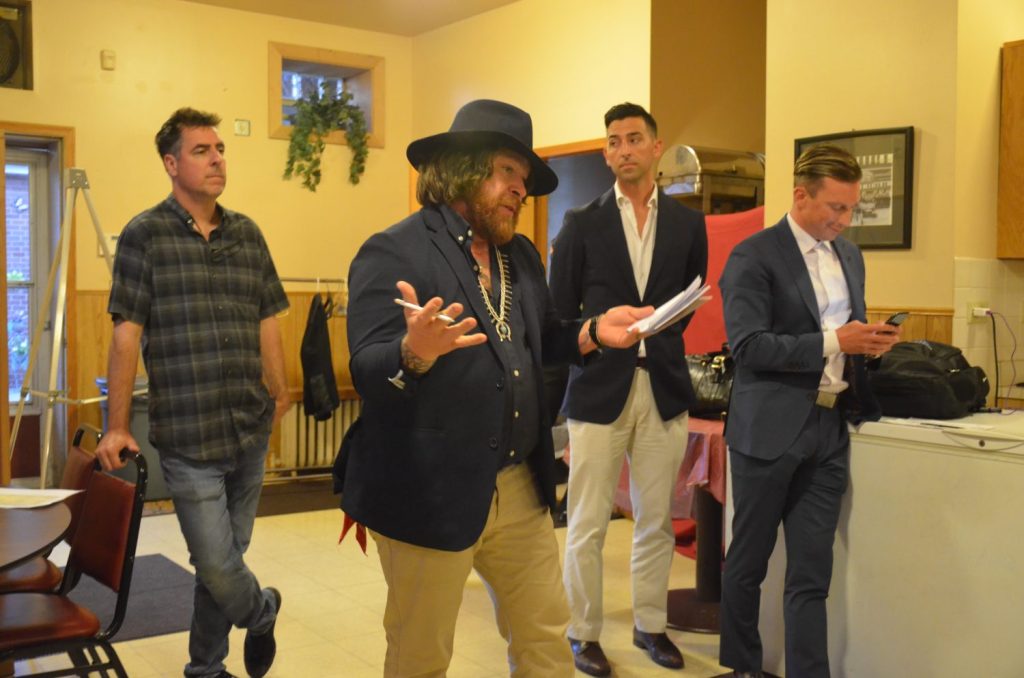 It was unclear how large of a role "boozy milkshakes" would end up playing in the restaurant's final concept. Sawyer said he was not qualified to discuss the beverage element of the restaurant.
At the June meeting, Deiana said the restaurant would serve milkshakes, both "spiked and virgin."
As of Wednesday, Deiana has not responded to requests for follow-up interviews from Block Club.
Do stories like this matter to you? Subscribe to Block Club Chicago. Every dime we make funds reporting from Chicago's neighborhoods.