BUCKTOWN — As the Chicago teacher strike stretched into Day 9, teachers and their supporters descended on Lincoln Yards — the future site of a 53-acre riverfront development set to receive $1.3 billion in taxpayer subsidies.
The message? Schools, not a mega-development sandwiched between wealthy neighborhoods, should be receiving such funding.
In an early Tuesday statement, the Chicago Teachers Union said the city needs to find $38 million to stop the strike, which they say is "less than half of one percent of the CPS budget."
"We are targeting Lincoln Yards because it's being funded in part by TIF money that should be going to our schools," the CTU statement said.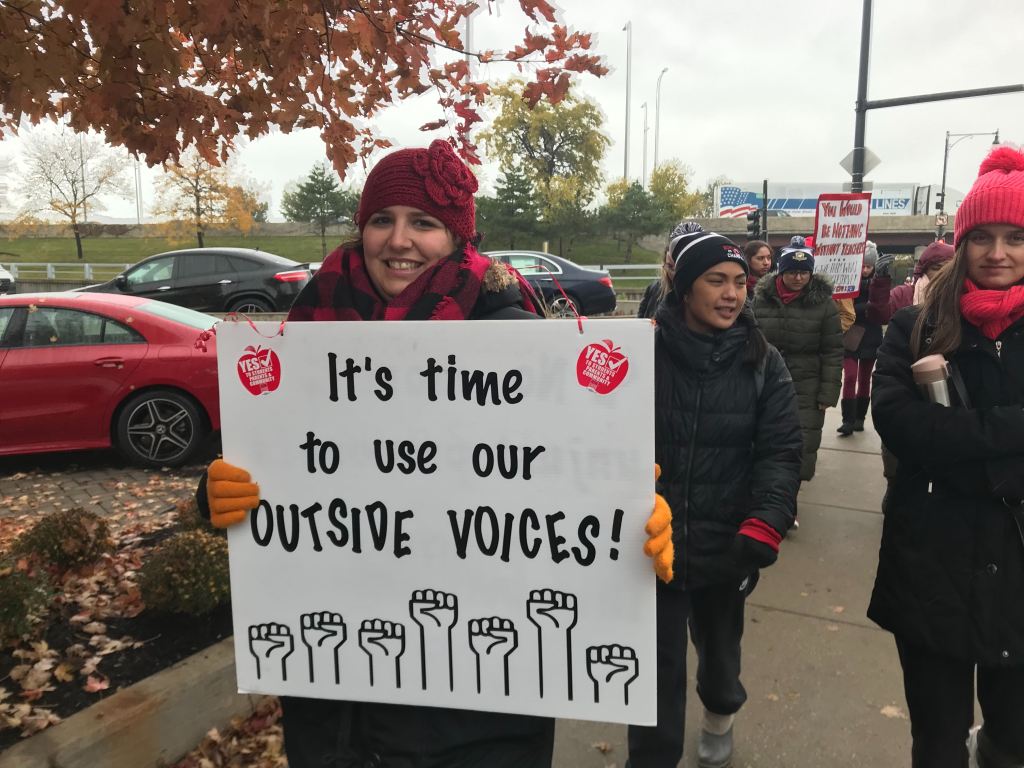 But according to Mayor Lori Lightfoot, who criticized the deal during her campaign for mayor, it's not that simple.
But earlier this month, Lightfoot told reporters there is no Lincoln Yards money "available that we can just shift somewhere else."
The money, Lightfoot said, would come from taxes Sterling Bay pays on the development over 23 years in the form of tax relief.
The deal, while legal, was criticized by many Chicagoans and a Cook County judge as "rushed" and lacking transparency. The original purpose of TIFs, which was to divert tax dollars to blighted areas to spur development, would not apply to Lincoln Yards, critics say.
Teachers said their issue with the development is simple: if there is money to put in a TIF fund for Sterling Bay, there should be money for a nurse and social worker in every school.
Maggie Dixon, who teaches three subjects at Marvin Camras Children's Engineering School on the Northwest Side, has been teaching for nine years and has had as many as 36 kids in a class.
She said she gets frustrated when she hears about private developers getting over a billion dollars from tax payers while schools scrape by.
"Yeah, this is an investment," she said of Lincoln Yards. "But Lincoln Park, Wicker Park already have a lot of businesses."
Julia Kolt, a fifth grade teacher at Bateman Elementary in Albany Park, said the idea of money being "funneled" to Lincoln Yards — located off Cortland Street and the North Branch of the Chicago River near the upscale Lincoln Park and Bucktown neighborhoods — angered her.
"Yes, this is an industrial area that could use development. But it's completely encompassed by Wicker Park and Lincoln Park," she said. "There's a Trader Joe's. … Condos. … Home Goods, BMWs."
Adam Geisler, a social studies teacher at Bateman who has been the school's CTU delegate since 2012, agreed.
"This is a lesson," he said, of the protest. "The city has more than enough money to fund schools. It just doesn't have the priorities."
Ald. Brian Hopkins (2nd), who spent years pushing for the Lincoln Yards TIF subsidy, issued a statement slamming the union for bringing Lincoln Yards into the strike fight.
"I am deeply disappointed that the leadership of CTU believes it is necessary to engage in intentional deception and false narratives as a means to advocate for such worthy and justifiable expenditures of public tax dollar," Hopkins said in a statement, adding that he supports the union's push for more social workers and nurses in every school.
He said zero public funding in 2020 will be allocated to Lincoln Yards and "to suggest that Lincoln Yards is somehow an impediment to meeting CTU's current demands for more tax dollars is completely false."
Ald. Michele Smith (43rd) disagreed, saying deals like Lincoln Yards take money from the school system.
"That why we need to fix the Lincoln Yards TIF to put money towards things that are a genuine public benefit, like a public park for all children and schools," she said in a statement.
Revenues received from TIF districts are designed to support local municipal efforts, including public schools. For every $1 generated by a TIF, 56 cents — 56 percent — goes to CPS.
Daniel La Spata (1st) represents parts of Wicker Park and Bucktown. He said he supported Lightfoot's decision last week to cancel a few active TIFs, an action that led to the generation of $300 million in available revenues. Of that $300 million, CPS received a 56 percent cut.
La Spata said he would support the canceling of more TIFs that have either expired or served their purpose. He also wondered if parts of the Lincoln Yards deal could be renegotiated, but a Cook County judge recently said that the deal was legal — so that likely wouldn't happen unless Sterling Bay agreed to it.
"We can all get what we want if we are willing to make a little sacrifice, and be a little more thoughtful about the structure of these TIFs," he said.
Tom Tresser, a co-founder of Chicago nonprofit Civic Lab, said Lightfoot has the power to "cancel" existing TIFs, which would not free up funds today, but it would make the system more equitable in the long run.
"Kill the Lincoln Yards TIF so this inequitable situation doesn't go on for 20-some years," he said. "End it all now. That's what we want to the mayor to do."  
Do stories like this matter to you? Subscribe to Block Club Chicago. Every dime we make funds reporting from Chicago's neighborhoods.