CHICAGO — The city's first foray into electric scooter rentals officially ends Tuesday after a four-month pilot program that irritated some, thrilled others and left the city to figure out what's next.
During the pilot, Block Club Chicago rode along with employees of Lime, one of the 10 scooter companies that participated in the pilot, which could lead to a permanent program, a new pilot next year or perhaps nothing at all.
An online survey will help the city evaluate how the pilot went. The survey is available online.
The Lime workers, like the others, had to drop off scooters around the pilot areas each morning and pick them up before midnight, using the same tracking app that customers used. Here's a peek inside how the scooters were deployed.
The Morning Shift
Around 4 a.m., hours before the sun will rise over Lake Michigan and turn night to day in Chicago, Christian Williams leaves his home in Auburn Gresham and drives to a warehouse on the Northwest Side.
Once there, he throws on a green windbreaker and begins loading hundreds of electric scooters into several white vans decorated with neon green slices of limes.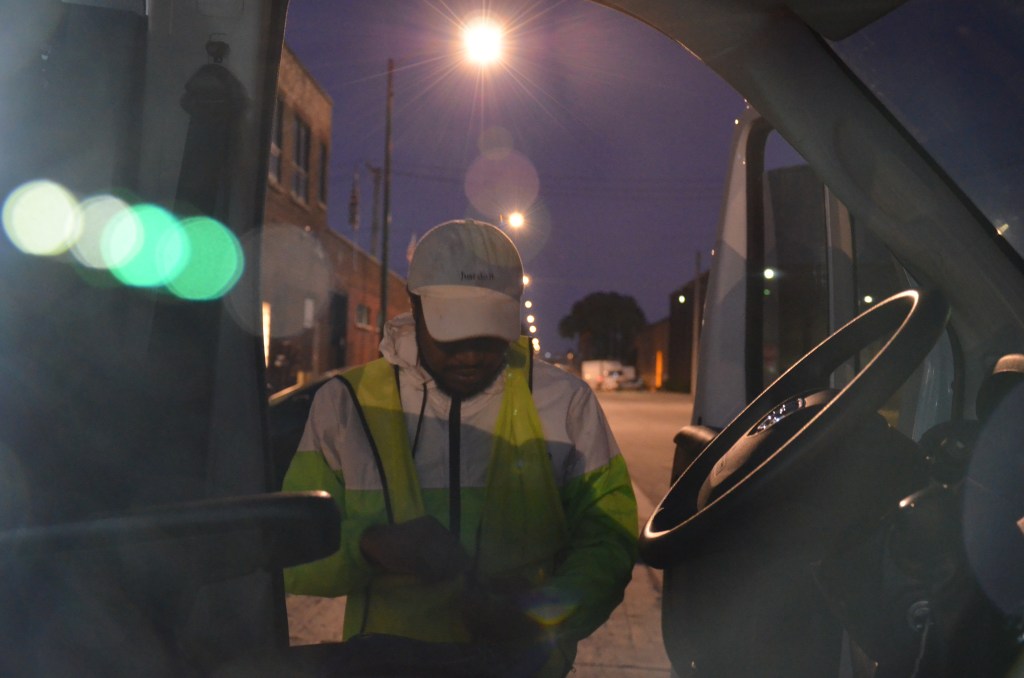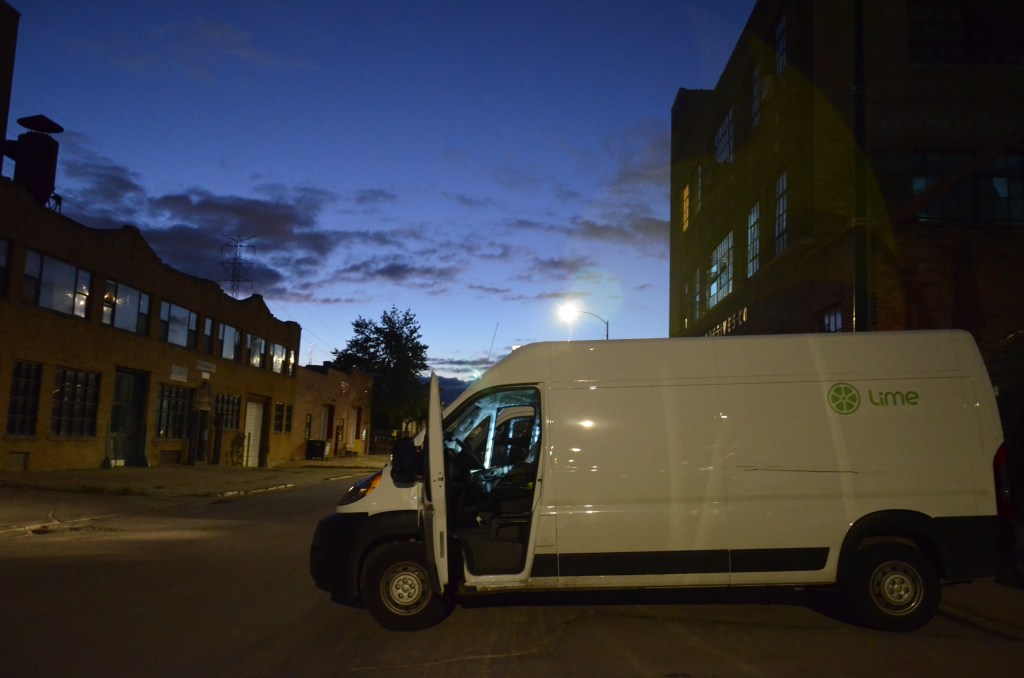 This was every morning last summer for Williams, the shift lead on Lime's morning deployment team.
During the summer, scooters made less-than-positive headlines in Wicker Park, where they have been thrown over the Bloomingdale Trail (the "606") and left a cyclist hospitalized in a hit-and-run. 
The stories that aren't making headlines, however, are the ones Williams said he witnesses every day.
While deploying scooters in the pilot program's "priority zones" — under-resourced neighborhoods on the South and West sides — Williams said he saw that people rely on the motorized vehicles as a primary source of transportation.
"It gets crazy out here sometimes," Williams said. "I've pulled up to a hotspot and there's seven people who will walk up to the van, waiting to get a scooter."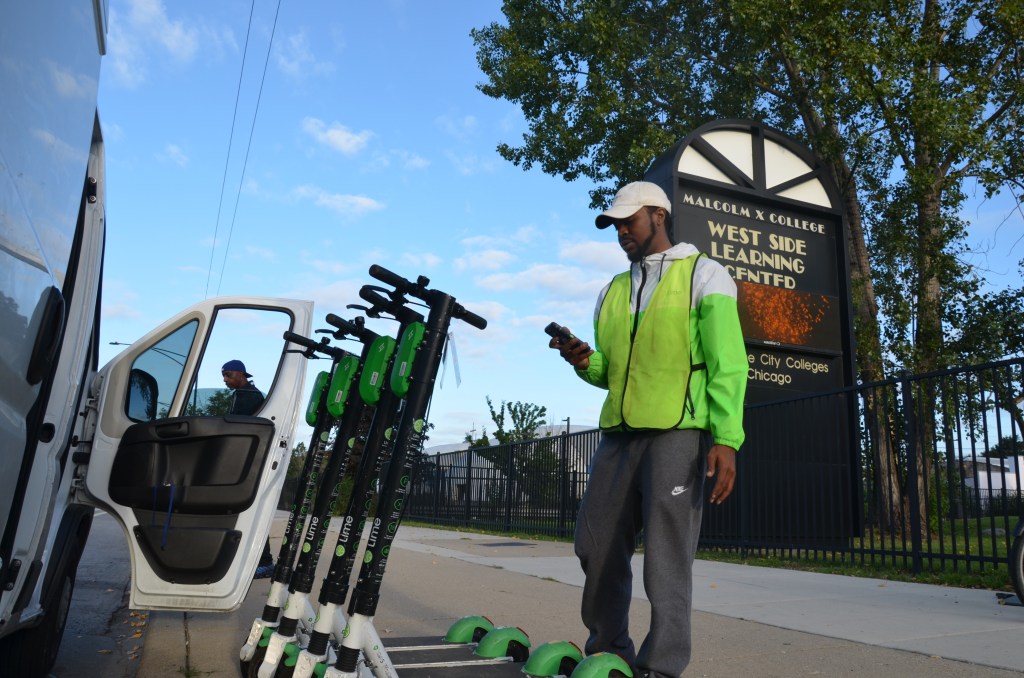 Jasmine Roberts, a Lime staffer who works the overnight retrieval shift, said she agrees with Williams' belief that the scooters are filling a massive gap in Chicago's public transportation infrastructure.
A man recently pleaded with her to leave a scooter in his front yard; it was his ride to work in the morning, he told her.
"It does help a lot of people who aren't able to access public transportation, and business people, who need to be at work in five minutes," she said.
Matthias Donelan, Lime's Chicago director of operations, has data to back up these anecdotes. Around 40 percent of all Lime rides begin and end in neighborhoods inside the priority zones, he said.
These zones include Little Village, Lawndale, Austin, West Garfield Park, East Garfield Park, Homan Square, Galewood, Belmont Cragin, Portage Park and Hermosa.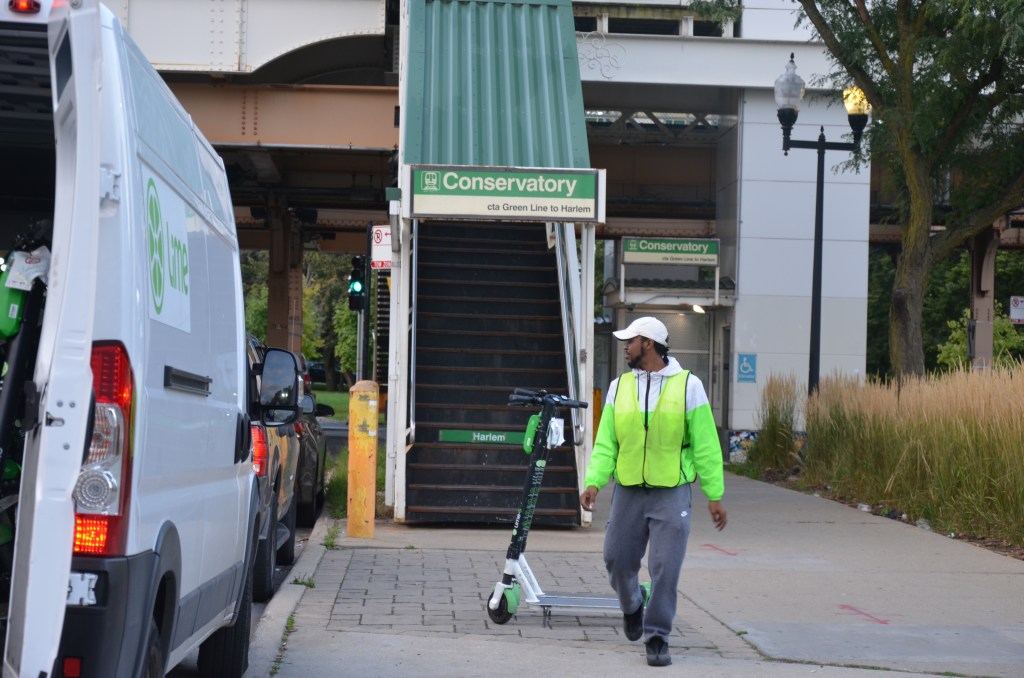 "A large number of rides are happening in neighborhoods that not only have been left behind economically, but have been left behind with very few transit options," Donelan said. "People are looking for another way to get around the city. … People are using it as a first-mile transit option, getting to the 'L,' going from the 'L' to their home." 
'If they say they want scooters, they're going to have scooters'
From 5:30-7:30 a.m., Williams' job is to drive around a big white van and "deploy" clusters of four scooters at "hot spots" before the morning rush hour begins. 
On a Thursday morning in September, Williams left the West Side warehouse where Lime established its pilot headquarters.
Williams has two apps open on his phone: Google Maps and Lime. By 5:45 a.m., he's driving through Little Village. The sun has yet to rise.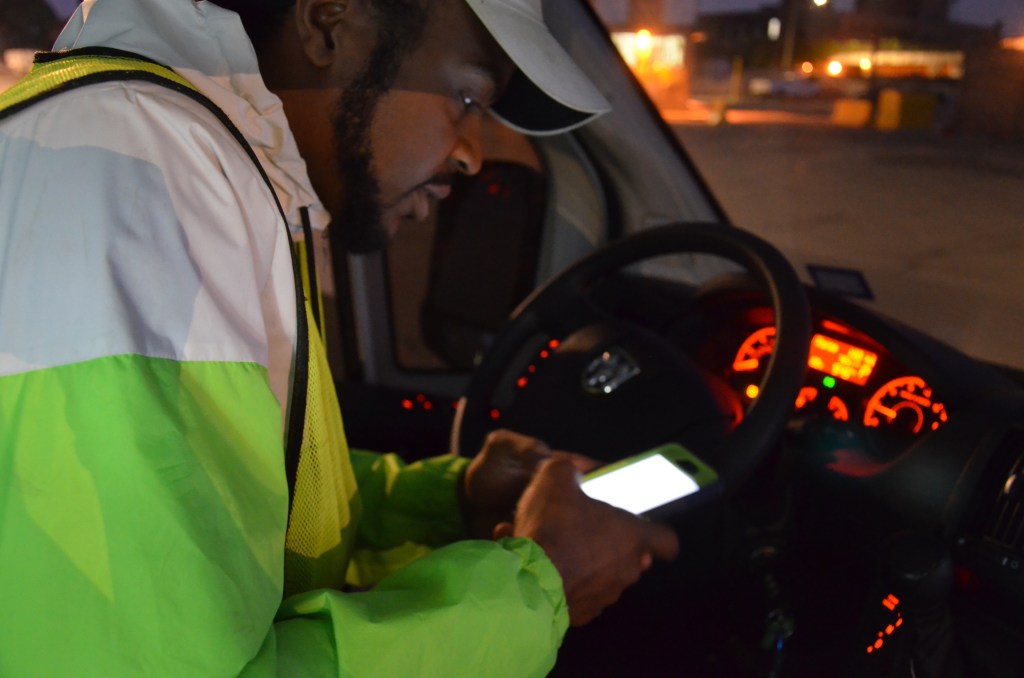 On this morning, he begins at Mount Sinai Hospital, 1500 S. Fairfield Ave. Next, he stops in Lawndale, near the Green Tomato Cafe, 3750 W. Ogden Ave.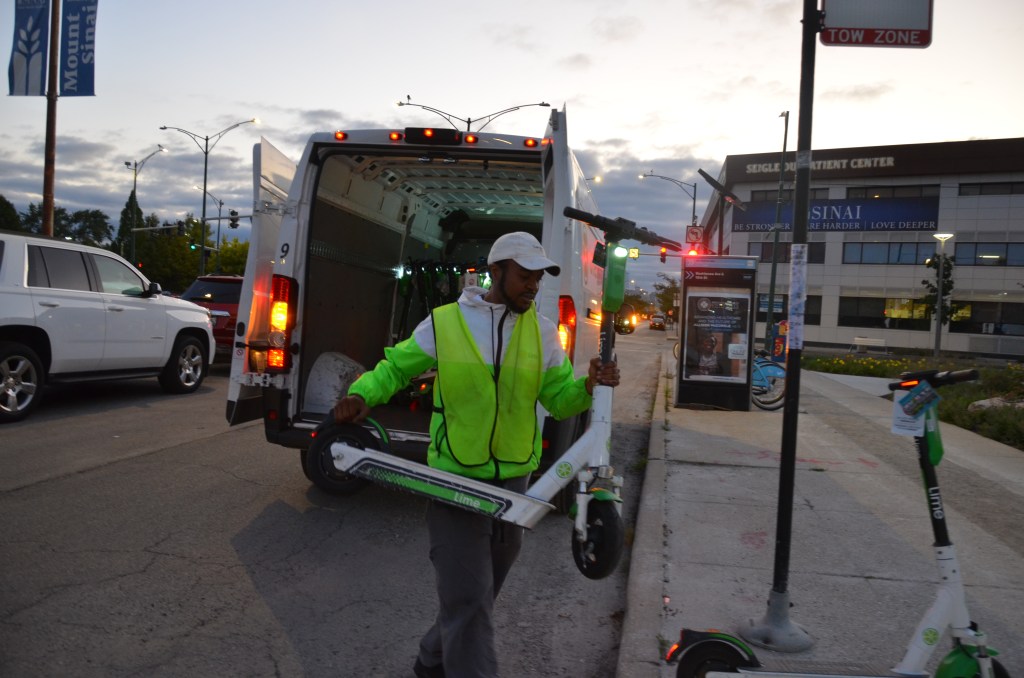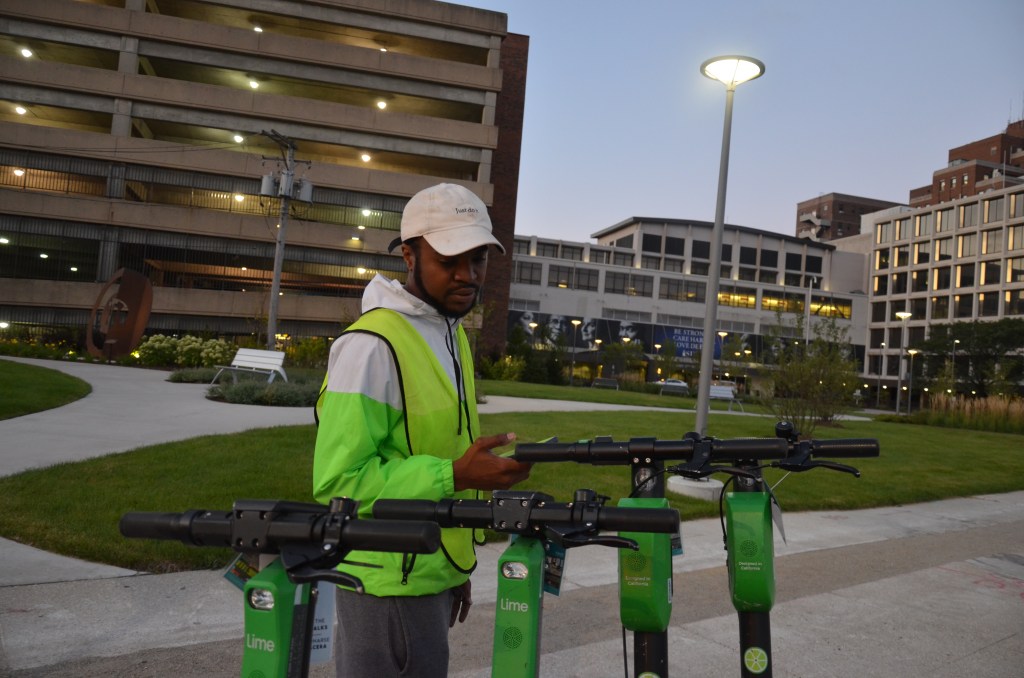 He'll make a couple of stops in Humboldt Park before driving to Garfield Park, where he unloads clusters of scooters at hot spots within and near the Garfield Park Conservatory, 300 N. Central Park Ave.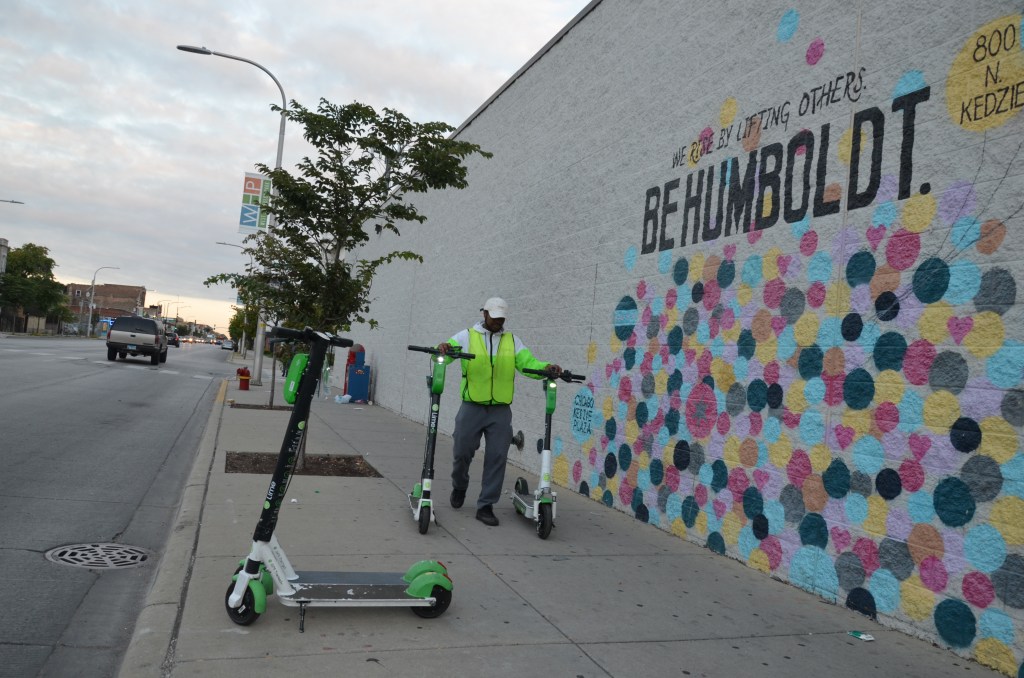 Lastly, he arrives in Austin, the neighborhood where he spends the bulk of his morning. In between bus stops on Madison Street, Williams unloads several clusters of scooters. Some hot spots are within a few blocks of each other.
This strategy is backed by data; Austin has seen particularly high ridership rates. But it's also supported by neighbors who communicate with Williams when he's out on the job.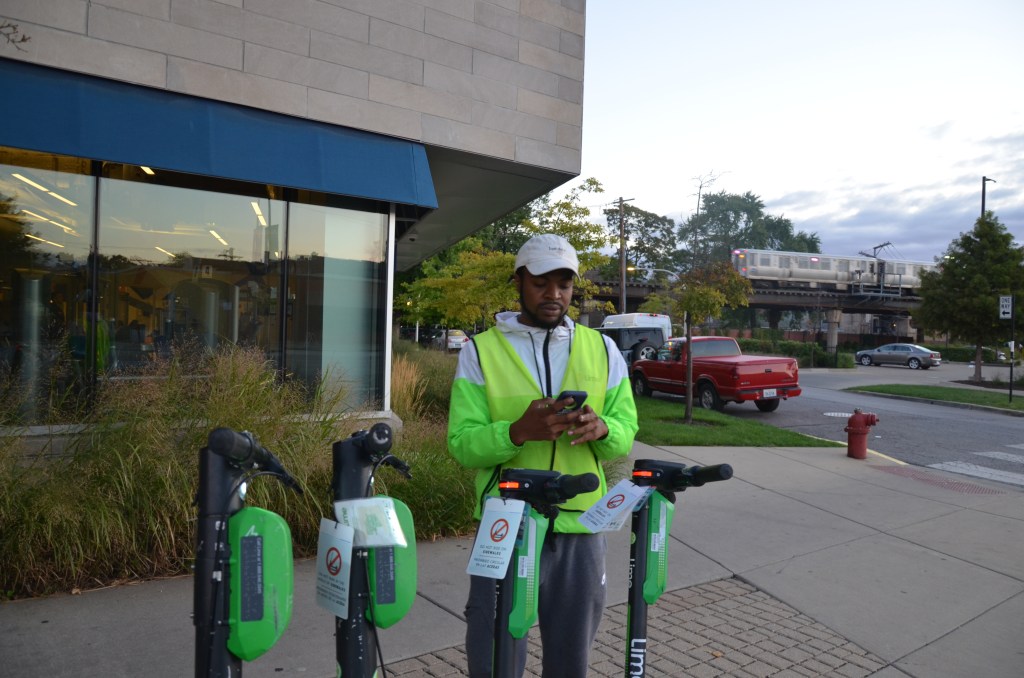 It's common for Williams to drop scooters at these stops and for them to be gone within minutes. If more than four people are waiting, Williams will unload more than four scooters.
"If they say they want scooters, they're going to have scooters," Williams said. "As long as it's in compliance with the city." 
The only downside to meeting residents' needs in real time is that Williams ends up with fewer scooters to satisfy the needs of other neighborhoods. Under the city's pilot zone rules, only 250 scooters can be out at a time.
RELATED: Scooter Safety Training Sessions Pop Up In West Side Neighborhoods
That residents of Austin and other priority zone neighborhoods have come to depend on scooters for transportation did not surprise Donelan, who said he's seen similar data in comparable neighborhoods in other cities.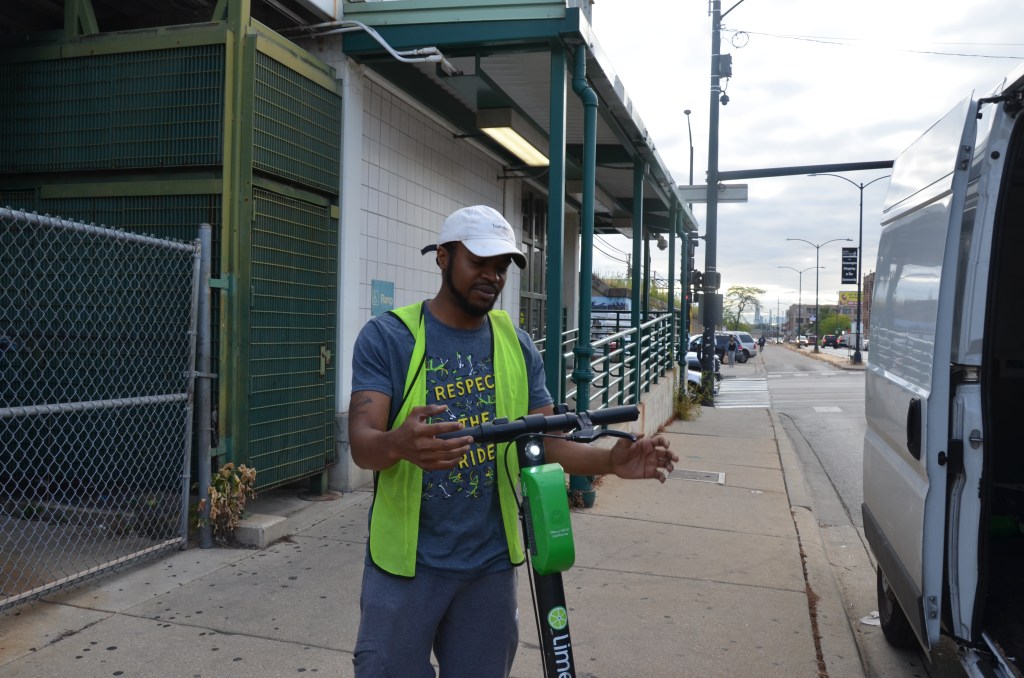 In the Bay Area, for example, Lime saw its ridership rates soar in "communities of concern" — areas designated by San Fransisco County as having high rates of people with minority or low-income status, limited English proficiency and disabilities.
In Oakland, 35 percent of all Lime trips in June were made to or from a person's work and school.
Nearly 80 percent of Oakland-based riders used Lime to get to or from public transit stops.  
Williams said he hopes Chicago will not only bring scooters back next year, but will expand the ridership zones throughout the South Side.
In his own neighborhood of Auburn-Gresham, Williams said he knows many people who do not have cars. They struggle to get around, he said.
RELATED: Love Or Hate Chicago's Scooters? A City Survey Is Asking For Your Feedback
Williams also said he hopes Chicago opts to keep the scooters so he can keep doing this job.
"Before Lime, I never really went many places around the city. I stayed out south, and only went further south," he said. "Being in the neighborhoods, then you get to know the city a lot more. You're encountering many different ethnicities and groups of people, different cultures and everything, just having conversations with them, you get to see what they're into the most."
The Night Shift
Jasmine Roberts, the night shift staffer, clocks in around 8:30 p.m. on a September evening. She commuted in from Valparaiso, Ind., where she lives with her girlfriend and their children.
Her job is extremely time-sensitive; per city rules, all scooters must be collected and removed from the streets by midnight.
How does Roberts find the scooters?
The same way riders do — the Lime app. Using the app, she can locate scooters in real time. Before exiting the van, she "locks" the scooter so that no one can take it as she tries to retrieve it.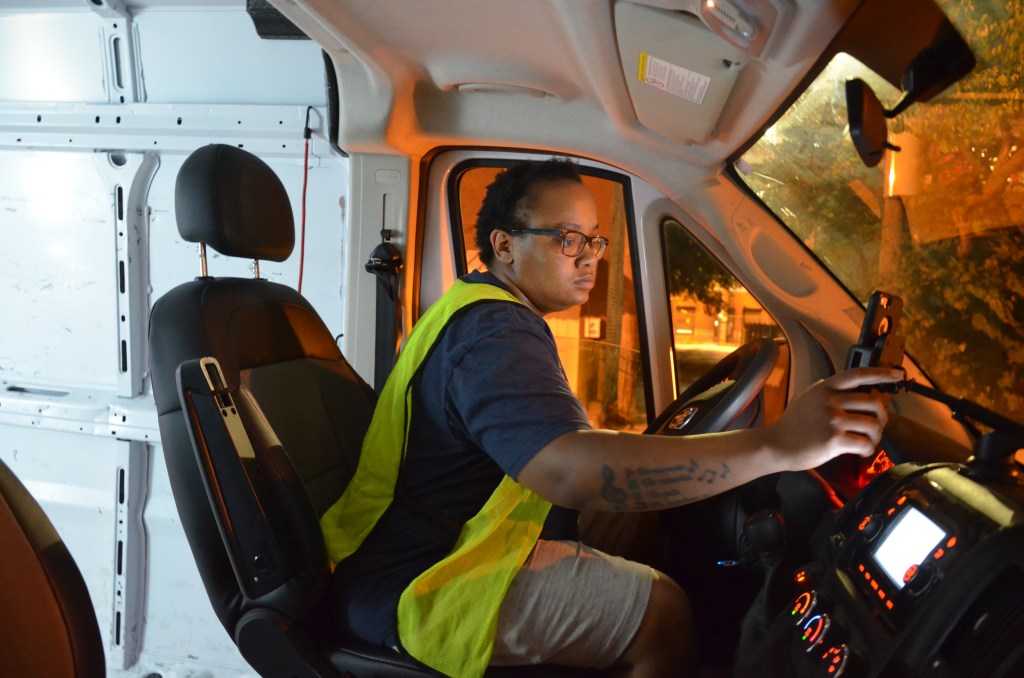 Many scooters are easy to find and retrieve. Several are left behind on sidewalks or near public transportation stops. Sometimes they're in not-so-easy to find spots. 
One time, a scooter was left behind under a bridge, near Halsted Street. Another time, Roberts had to interrupt a couple, who were kissing while standing on a scooter.
Each week, between two and four riders bring scooters into their homes to hoard them overnight.
Because Lime employees can't enter private property, Roberts and her coworkers will leave pamphlets on residents' door knobs, asking them to please leave the scooter outside in the morning. 
Roberts is the only woman on Lime's overnight retrieval team. She said she doesn't feel unsafe doing her job. That's in large part due to her experience as an Uber driver, but also because she's made friends along the way. 
In Austin, for example, a group of men who have gotten to know Roberts have vowed to watch her back. Each night, when they see her white van roll through the neighborhood, they gather near scooters to make sure no one messes with her.
Roberts grew up in various neighborhoods on the far South Side. During her teenage years, she left her house as early as 5:30 a.m., often taking two buses and two trains to attend Walter Payton College Preparatory High School.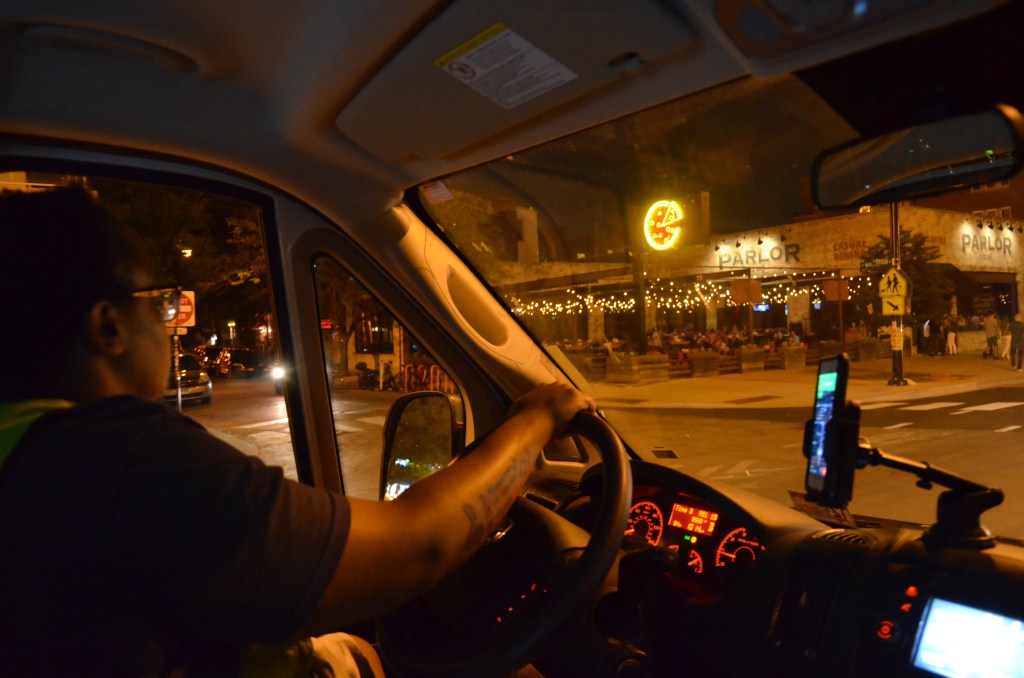 "In the south you don't get to travel that much because public transportation isn't great, and a lot of us take public transportation," she said. "[With scooters], if you're not going too far, you'll legit only spend $2 to get where you're trying to go. They're affordable, they're dependable and they're convenient." 
If the scooter program is approved for next year, Roberts said she hopes it will be extended throughout the South Side. 
"I wish they could extend it south, further south, like more South Side," she said. "You got the red line that goes all the way south. There would be a lot of people benefiting from scooters all the way out there."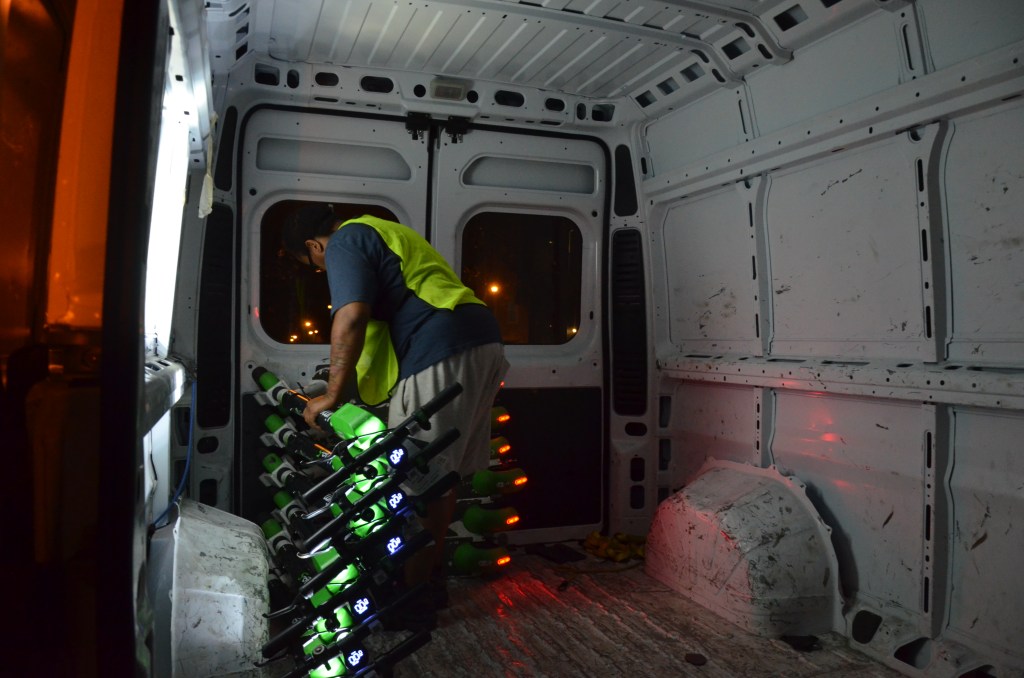 Do stories like this matter to you? Subscribe to Block Club Chicago. Every dime we make funds reporting from Chicago's neighborhoods.