CHICAGO — Starting Saturday, Chicagoans can hop onto electric scooters to get around the city — and there will be many options.
On Tuesday, the city announced it would grant permits allowing scooter companies including Bird, Bolt, grüv, JUMP, Lime, Lyft, Sherpa, Spin, VeoRide and Wheels to each operate 250 scooters in the city for the next four months.
These "e-scooters" are essentially push scooters with electric motors. They allow a rider to stand upright while using a throttle and brakes on the handlebar to control speed and direction. Smaller than bicycles, they're also not nearly as fast — but as a dockless transportation system, they could be more flexible than the city's current Divvy system.
"We have designed a pilot program that will test the viability of scooters as a mobility option in Chicago in an equitable, safe and responsible manner," said Rosa Escareno, a commissioner with the city's Department of Business Affairs and Consumer Protection. "The selected companies will be held accountable to carry out this program on our terms."
Starting Saturday e-scooters will begin operating in the 50-square-mile-zone between Halsted Street and the Chicago River to the east, Irving Park Road to the north, the edge of the city and Harlem Avenue to the west and the Chicago River to the south, according to the city.
[googlemaps https://www.google.com/maps/d/u/0/embed?mid=1PQWKksY4X1a7JNW4h9AO3R1dhC9kylPK&w=640&h=480]
During the rollout of the program, the city identified two zones in the 50-square-mile-pilot area where at least 25 percent of the total e-scooters in operation will be placed each morning.
When announcing this program, city officials also included some rules for the road. In other cities, scooter riders have been scolded by cyclists, pedestrians and drivers for irresponsible and dangerous behavior.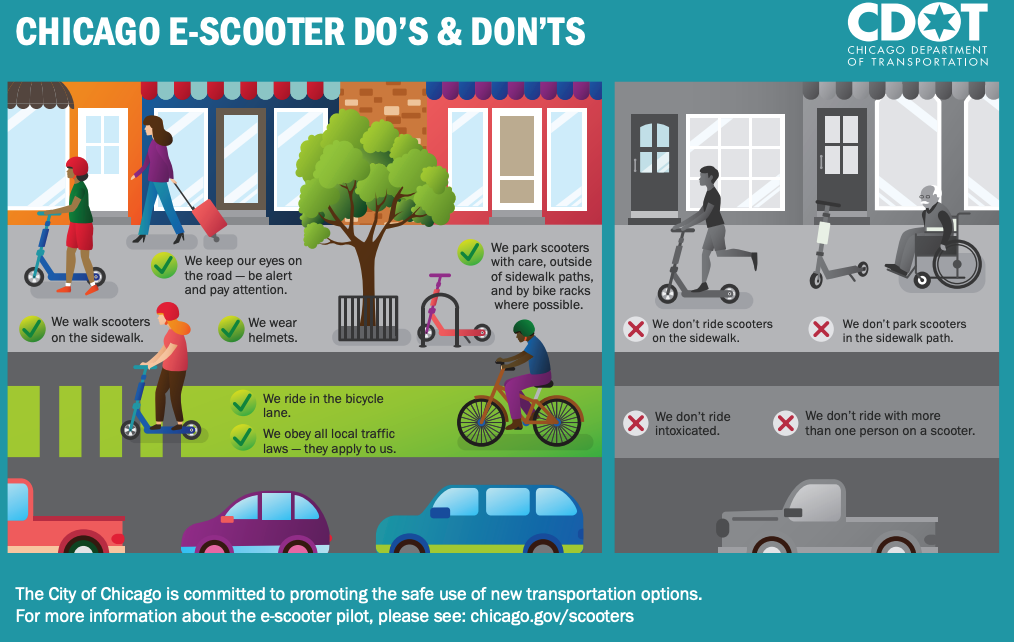 Here are the scooter rules and limitations released by the city Tuesday:
• E-scooters are limited to 15 m.p.h.
• E-scooters users must be 18 or older (16 with a guardian's consent).
• E-scooters cannot be ridden on sidewalks.
• E-scooters may only be used between 5 a.m. and 10 p.m.
• E-scooters must be removed from the public way each night.
• E-scooters must be parked wherever it is legal to park a bike.
• E-scooters cannot be operated outside of the pilot area.
• E-scooters improperly parked must be corrected within two hours.
• E-scooters will have seats to allow for easier access to people with disabilities.
• E-scooters can be unlocked via text for those without smartphones.
• E-scooters vendors will allow a cash payment option for people without a bank account, debit or credit card.
• E-scooters vendors will engage with local business communities to provide free helmets to users.
During the pilot period, vendors are supposed to provide the city with real-time data on their operations, ridership and safety.
"Vendors will be held to the highest standards of accountability in how effectively they manage impacts on the public right of way and how they promote the safety of both scooter riders and other people who are in the right of way," said Kevin O'Malley, managing deputy commissioner for the Department of Transportation.
The city can suspend or revoke a vendor's permit if they fail to adhere to the pilot program's terms.
Last fall, Bird promoted their e-scooters in Bucktown and Lime rolled out their dockless electric bikes on the South Side for a brief period in the spring.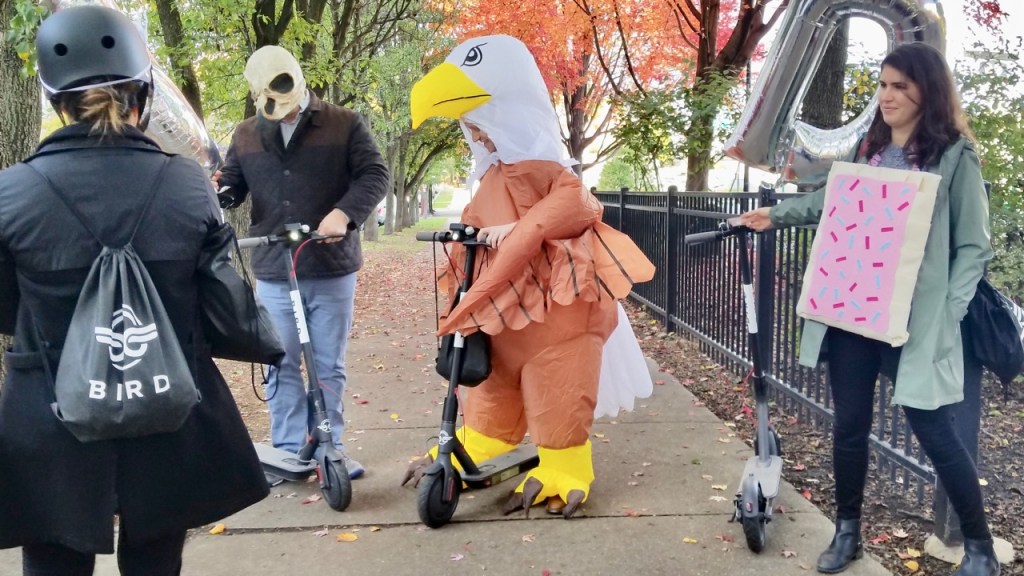 As e-scooter companies have entered urban transit environments they've been a source of controversy, with some cities like Los Angeles struggling to curb the rapid proliferation of electric pay-per-minute scooter with bans and regulations.
People walking or using wheelchairs in other cities are also unhappy with e-scooters on busy sidewalks. And when e-scooters stay off the sidewalks they've been met with hostility from drivers being forced to lag behind a stand-up scooter.  
Because of their dockless nature, e-scooters from companies like Bird and Lime strewn haphazardly across Los Angeles have also been set on fire or thrown into the Pacific Ocean by residents unhappy with their presence.
In the announcement for the pilot program, city officials said they'd be engaged in an education campaign to promote safe riding, encourage helmet use, demonstrate proper parking and riding procedures and make sure Chicagoans are aware of the pilot's "strict" guidelines to ensure safety and minimize sidewalk clutter.
A study published last December by the Chaddick Institute for Metropolitan Development at DePaul University looking at the scooters found they're a cost-effective option for short trips around the neighborhood, but anyone going three miles or more is better off taking the CTA.
As part of the rollout, Lime is also offering Chicagoans without credit cards or traditional banks discounted rides and is partnering with local job training placement programs, like Chicago CRED and Skills for Chicagoland's Future, to help build out Lime's local team and provide new employment opportunities.
The company was not immediately available to provide further details about their discount program.
During the four-month pilot period, city officials will solicit feedback from residents through surveys, calls made to 311, vendor data and regular stakeholder meetings. Then, they'll decide whether or not the scooters can stick around.
For more information pilot program visit www.chicago.gov/scooters.
RELATED
Rental Scooters Are Taking Over City Streets Across The Country, And Chicago Could Be Next
In Chicago, Electric Scooters Will Be A Good Option For Short Trips, But CTA Still Beats Them On Price: Study
Do stories like this matter to you? Subscribe to Block Club Chicago. Every dime we make funds reporting from Chicago's neighborhoods.