RIVER WEST — At about 8:30 a.m. Wednesday morning, Conner Williams sprinted down a flight of stairs at the Chicago Avenue Blue Line stop toward a Forest Park-bound train.
The train's doors were wide open, but Williams wouldn't be getting on — hundreds of other Blue Line riders had already tightly packed themselves into the car like sardines in a can.
"8:20, that's the sweet spot," Williams said with a sigh. "Get here at 8:30 or 8:40 and yeah, you're gonna have a bad time."
Overcrowding on the CTA Blue Line is a well-documented problem that commuters fear isn't going to get better any time soon. At Williams' stop, it will almost certainly get worse.
Above ground, construction is underway on a 188-unit, 12-story apartment complex at 740 N. Aberdeen St., the latest in a series of high-rise residential towers in River West.
The development will replace a parking lot and a vacant 5,000-square-foot building, according to Chicago Cityscape. It will sit snugly behind The Matchbox, a 24-year-old tavern at 770 N. Milwaukee Ave.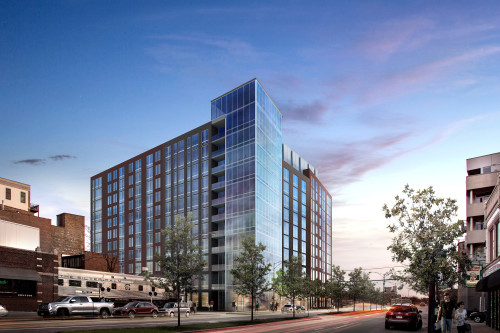 Ald. Walter Burnett Jr. (27th) said neighborhood leaders approved of the development, so he approved zoning requests. And projects like these gel with the current vision of the city's Department of Planning and Development, he said.
"They want less parking," he said. "Especially in those areas [near] CTA stops, they prefer people take the CTA as opposed to drive."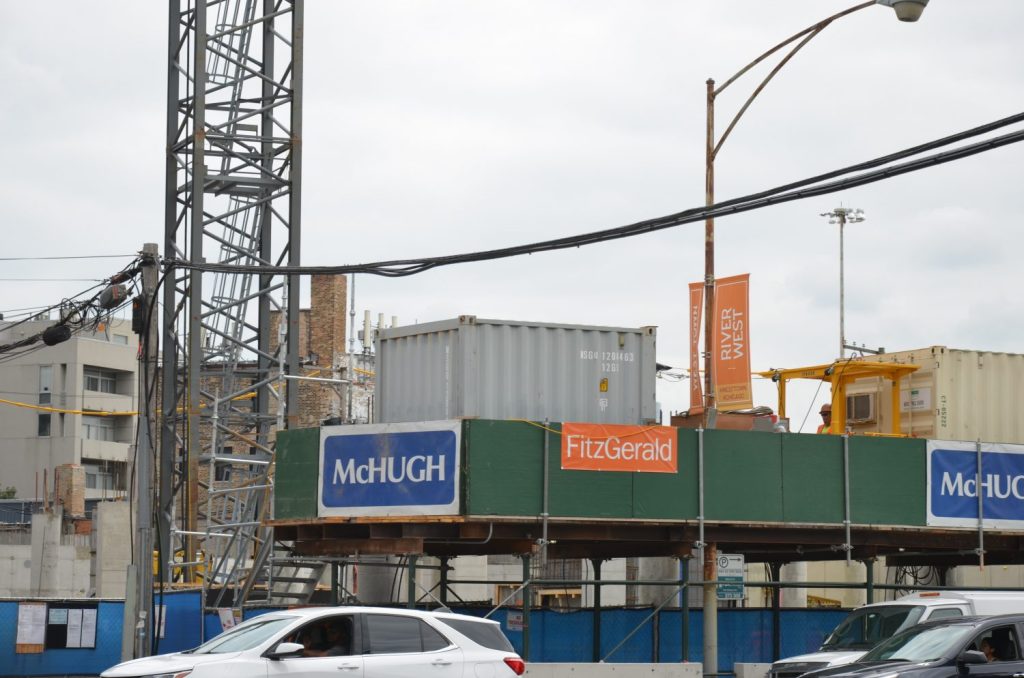 John Bosca, a River West neighborhood leader, said the tower is actually smaller than what neighbors originally approved, which was 14 stories and 190 units.
Nobody likes train overcrowding or road traffic, Bosca said. But the general consensus among neighbors has been that more density will help River West prosper in the long run.
"Right now we don't have the critical mass for a grocery store," he said. "That's the double-edged sword. Some say, 'Oh, we have all this traffic.' But after 7:30 at night, there's not enough critical mass to support a grocery store."  
Critical mass is one thing the neighborhood won't lack for long.
Across Chicago Avenue from the Aberdeen project is the Spoke apartment complex, a 363-unit tower designed by FitzGerald Associates Architects, the same firm working on Aberdeen.
And at 730 N. Milwaukee Ave., a 196-unit tower is currently under construction, Curbed reported.
The Aberdeen complex is being built by Fifield, the same firm working on Logan Square's former Megamall, and will include 80 parking spaces, 2,400-square-feet of ground-floor retail, a pool, gym, co-working area and a dog park.
Fifield did not return calls for comment.
A 2017 Chicago Magazine analysis of average weekday Blue Line ridership between July 2002 and July 2017 found ridership skyrocketed at train stops in Logan Square: ridership increased 109 percent at the California Avenue stop; 64 percent at the Logan Square stop and 75 percent at the Western Avenue stop.
In Wicker Park, ridership increased by 29 percent at the Damen Avenue stop and 54 percent at the Division Avenue stop.
Jenn Krohn, a private wealth manager who has lived in River West for seven years, said it's common to wait for as many as four cars to pass before finding room for herself on the train.
"It sucks," she said. "Sometimes I want to take the bus to the Brown Line."
Erica Lederman, a teacher, said she has to be "pushy."
"If I let two pass, I'm definitely pushing myself onto the next one," she said. "I'm a teacher, so I have to get to work on time."
RELATED: Morning Commute Feeling More Crowded? Blue Line Sees Explosive Growth, Data Show
The CTA is well aware of the crowding, and has been working on a solution since they rolled out their "Your New Blue" initiative in 2013. The $492 million project led to overhauls of stations along the O'Hare branch of the Blue Line.
"The results will include faster, more reliable and more frequent service between O'Hare and downtown, including reducing commute times to and from the airport by up to 10 minutes one-way," CTA spokesperson Jon Kaplan said.
In September 2018, the CTA added a total of 15 trains to the Blue Line. The CTA also added two inbound trips between 8 and 8:30 a.m. and one outbound trip between 5 and 5:30 p.m.
Ukrainian Village resident Michael Pau, who takes the Chicago Avenue bus to the Chicago Blue Line stop every morning, said he hopes increased development will lead to more train cars during rush hour — or even more train lines in general.
"It's good to give them reasons to build the transportation system," Pau said. "[Overcrowding] is not a reason to stop development."
Andrew Wasserman, a Wicker Park resident who lives steps from the Division stop, said he doesn't even take the train during rush hour anymore.
"Either I get up and go to work at 7:20 a.m., or I wait and go in after 10," he told Block Club last month. "Sometimes the most stressful time of my day [will] be getting on the train."
Ald. Brian Hopkins (2nd) addressed the issue of Blue Line overcrowding at a recent Wicker Park Committee meeting. He said the issue isn't a lack of cars — it's a lack of CTA drivers.
Salaries for additional CTA train drivers wasn't an expense former Mayor Rahm Emanuel wanted to approve, Hopkins said.
"We are dropping the ball when it comes to accommodation," he said. "That's a reform. It's going to require some toughness from our new mayor."
After just barely missing his 8:32 a.m. train, Williams said he doesn't believe Blue Line overcrowding is a reason to pump the brakes on incentivized development in River West.
"I'm fine with it, really," he said of the Aberdeen project, specifically. "It's expected."
After chatting for a few more minutes, another train blared its horn and rolled into the station.
Williams popped his earbuds back into his ears, adjusted his backpack and squeezed himself into a car, leaving behind dozens of commuters on the platform.
They'd have to wait.
RELATED STORIES
Neighbors Say There's No Room For Another High-Rise On Wicker Park Corner, But A Final Push From Moreno May Have Sealed Their Fate
Another Millennial-Focused Luxury Apartment Complex Rises Near California Blue Line, Offering A Dog Spa And More
Do stories like this matter to you? Subscribe to Block Club Chicago. Every dime we make funds reporting from Chicago's neighborhoods.