LOGAN SQUARE — Another luxury apartment complex is coming to the area surrounding the California Blue Line station — this one made up mostly of $1,550-per-month studios plus high-end amenities like a dog spa and a rooftop lounge.
Crews are currently at work constructing the 100-unit apartment complex at 2835-45 W. Belden Ave.
The complex, which is geared toward millennials, is expected to open sometime in January of 2020 with pre-leasing beginning about six months prior to opening, according to Anthony Casaccio, president of Inland National Development Company, the developer behind the project.
Casaccio's company bought the site from Barry Sidel and Mark Ordower of Ogden Partners more than a year ago just as the pair were in the middle of getting city approval for the affordable housing component of the project, he said.
The current project, which has already been approved by city planners, calls for 100 apartments, 65 of them studios and 35 of them one-bedrooms.
Of the 100 total apartments, 15 will be reserved as affordable housing per the city's Affordable Requirements Ordinance and an agreement worked out with former 1st Ward Ald. Joe Moreno, according to Casaccio.
Ten of the affordable apartments will be for Chicagoans earning no more than 60 percent of the area median income, while five will be for Chicagoans earning no more than 100 percent of the area median income, he said.
The project also calls for 26 parking spaces and ample bike parking, Casaccio said.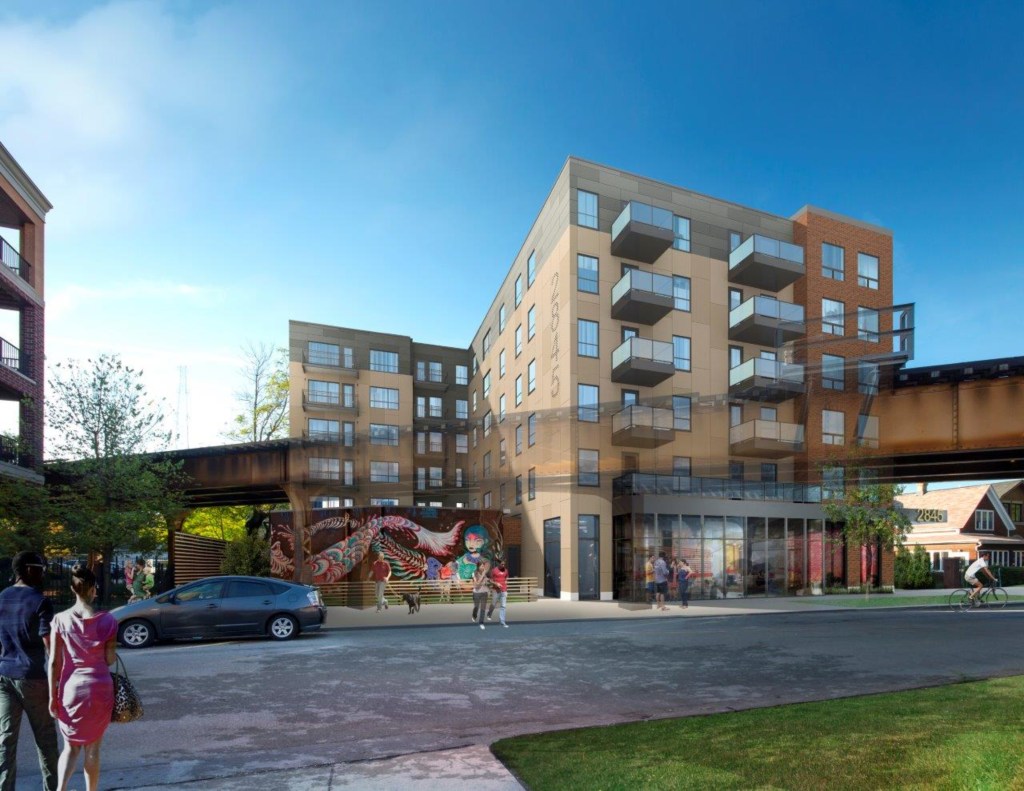 It falls under the city's transit-oriented development rules because of its close proximity to the train. Transit-oriented developments are allowed to offer far fewer parking spaces than regular residential projects.
In terms of amenities, the developer is building a small dog park for tenants in a secured area underneath the "L" tracks and tapping a local artist to paint a mural on the side of the building. Other notable amenities include a dog spa, a spacious common area with Amazon lockers, a co-working spot and a rooftop lounge.
Each apartment will be equipped with smart technology, which will essentially allow residents to operate their lights, A/C and other systems with their smart phones.
The developer is planning to launch a website in the coming days, which will lay out all of the amenities in one place.
"We're very focused on the millennial market," Casaccio said.
Studios, offering an average of 493 square feet of space, will go for about $1,550 a month, the developer said. One-bedrooms, offering slightly more space on average (659 square feet), will go for about $1,990 a month. But Casaccio said those rents were determined about a year ago and suggested they could be higher when the building opens.
The project is the latest millennial-focused luxury apartment complex to rise near the California Blue Line station.
Asked how the complex might contribute to the displacement of Latino families, a concern of many in the gentrifying neighborhood, Casaccio acknowledged longtime residents in Logan Square — and other parts of the city — are being pushed out due to rising housing costs.
He said the city should stop allowing developers to pay an in-lieu fee rather than building affordable housing and provide more assistance to families living in single-family homes.
"There has to be a balancing act and recognition on the part of developers," Casaccio said, adding that he likes the idea of incorporating affordable housing units into his developments.
Speaking about the Logan Square development, he said: "The market is going to dictate it — contrary to what some people might want." He called Logan Square "a total millennial market."
The complex has been in the works for about five years. The original developers, Sidel and ark Ordower of Ogden Partners, first pitched neighbors on the proposal in 2015. At that time, the project called for 95 apartments with 44 parking spots.
In 2017, the project went in front of city planners, one story shorter and five units larger.
Newly-elected Ald. Daniel La Spata (1st), who has publicly called for more family-sized affordable apartments in gentrifying parts of his ward, told Block Club he does not support the project.
"The project does not represent the interests of those who are thinking critically about the housing needs of our community right now," La Spata said.
"Literally every meeting I go into, whether it's people talking about market-rate or affordable housing, people say they want to see housing for families."
Asked how he's navigating the projects he inherited that don't meet his standards, La Spata said he "shares the same frustration a lot of longtime residents [have felt] over the last four years."
"There's very little that I can do to change the past and what's been approved but moving forward we're going to look at a development process that's more inclusive and democratic," La Spata said.
Do stories like this matter to you? Subscribe to Block Club Chicago. Every dime we make funds reporting from Chicago's neighborhoods.