WICKER PARK — In one of his final acts as leader of the 1st Ward, former Ald. Joe Moreno discreetly approved a massive 16-story, 168-unit development at the corner of Division Street and Ashland Avenue — and neighbors are not happy.
For years, the proposed zoning change at 1624 W. Division St. was rejected by neighbors who said the corner was already crowded with new developments, and the packed Blue Line trains couldn't handle another influx of commuters.
But the plan received approval from the full City Council on April 10 — the final gathering of elected officials who served under former Mayor Rahm Emanuel, which included Moreno.
The zoning change — which brings the site's height limit from four to 16 stories — came as a shock to neighborhood leaders who, since 2016, had consistently rejected various iterations of the project citing traffic and density concerns.
Developer Robert Mosky, owner of RDM Companies, is behind the 16-story plan. Mosky also owns the historic bank-turned-CVS building at 1200 N. Ashland Ave.
Wicker Park Committee President Kyle Sneed said the project is tightly sandwiched between three other massive "luxury developments" to recently come to the Polish Triangle area.
"I personally don't see what public benefit there is to significantly upzoning this parcel of land," he said. "This should not have been approved by the City Council. It violated the trust of the community. Moreno went back on his word to us, as a neighborhood association." 
Moreno has not responded to multiple requests for comment. Sara Barnes, the zoning attorney for both Moreno and Mosky, also did not respond to requests for comment.
Mosky declined to be interviewed for this story.
Now, neighborhood groups are leaning on new Ald. Daniel La Spata (1st) to roll back the zoning change and stop the development from being built.
"This gives La Spata the chance to reset the clock," Wicker Park Committee board member Teddy Varndell said. "Pull the plug and go back to the table, and give them what's reasonable for the site. Not the last nail in the Division Blue Line stop's viability." 
Varndell and other residents living near the Division Blue Line station say the trains are so crowded, they have altered their work schedules just so they can squeeze in before or after the morning rush. Otherwise, they'd have to wait for three or four trains before snagging a spot.
But La Spata said he's not ready to "pull the plug."
'There's no room'
Mosky's proposed 16-story tower would replace a parking lot that currently lies smack in the middle of several high-rise developments.
Immediately to the east, at 1624 W. Division St., there's a 33-unit Mosky-owned apartment building.
And just southwest, there's Wicker Park Connection, a 15-story, 140-unit apartment tower at 1640 W. Division St.
West of the site, Vermilion Development is adding 43 condos and 12 townhomes to 1650 W. Division St. (Centrum Partners initially pitched this idea and gained approval from neighborhood leaders, but later sold the project to Vermilion).
For Sneed, this smattering of recently approved high-rise luxury developments hit close to home — literally. He lives just one block west from the collection of projects, on Paulina Street.
Unlike other developers, he said, Mosky failed to work with neighborhood groups. With the Centrum plan, for example, the developer added green space to get the community on board.
Plus, he said, there's just no room.
"How are you going to build it? The site is landlocked," he said. "As a neighbor, I have concerns about how they're actually going to construct something like that. There's no room back there for any type of staging."
The project's architect, Wallin-Gomez Architects Ltd., did not respond to a Block Club Chicago request for comment.
Sneed and other Wicker Park Committee board members have asked La Spata to use his aldermanic prerogative to retroactively downzone the property. While downzoning is perfectly legal, he doesn't want to do it.
La Spata said he wants to assess whether Moreno's move to approve the change on April 10 violated the Open Meetings Act.
"The challenge is, how do we work to modify this development in a way that comes across both legal and in a use of power that is going to be looked on favorably by all parties," La Spata said. "We need a choice that is both legal and reputable."
But Ald. Scott Waguespack (32nd) said he did not believe the Open Meetings Act had been violated on April 10.
"[It's] not applicable, as the meeting was open," he said. "[There's] no requirement to post agenda with each and every item to be voted on in advance."
Regardless of what La Spata decides to do, Waguespack said it's possible nearby property owners could have a legal case that zoning is "capricious" and harmful to their property values or their quality of life.
Increasing crowding on the Blue Line, for example, is a problem, the Bucktown alderman said.
"From our perspective, the problem with high-rise development is that it focuses an area's development potential on a single lot to the detriment of the future development potential of surrounding lots and moves away from the pedestrian-oriented scale of development that maintains people's connection to the street," Waguespack said.
'Unvarnished greed'
Mosky's proposed project has undergone several changes during its long and winding road to final City Council approval.
The project was first presented to neighbors in 2015, according to Chicago Pipeline. At that time, existing zoning allowed for four stories. Mosky wanted 12.
Members of the Wicker Park Committee's preservation and development subcommittee rejected the proposal, citing traffic concerns.
In September of 2016, the project was presented to neighborhood leaders again.
This time, however, Mosky went bigger. He wanted a 16-story, 135-unit building anchored by 9,000 square-feet of retail. Renderings showed 26 studios, 66 one-bedroom units and 38 two-bedroom apartments, DNAinfo reported.
Neighborhood leaders once again voted to reject the proposal, but Moreno moved it forward anyway.
View Renderings Approved By The Plan Commission In 2016 Here
On March 1, 2018, before Moreno brought the project before the Plan Commission, Mosky made a $1,000 donation to Friends of Proco Joe Moreno, according to online campaign records.
One month later, the Committee on Zoning, Landmarks and Building Standards approved the zoning change.
In August of 2018, Jim Panella, vice president of RDM companies, presented a new rendering of the revised proposed tower.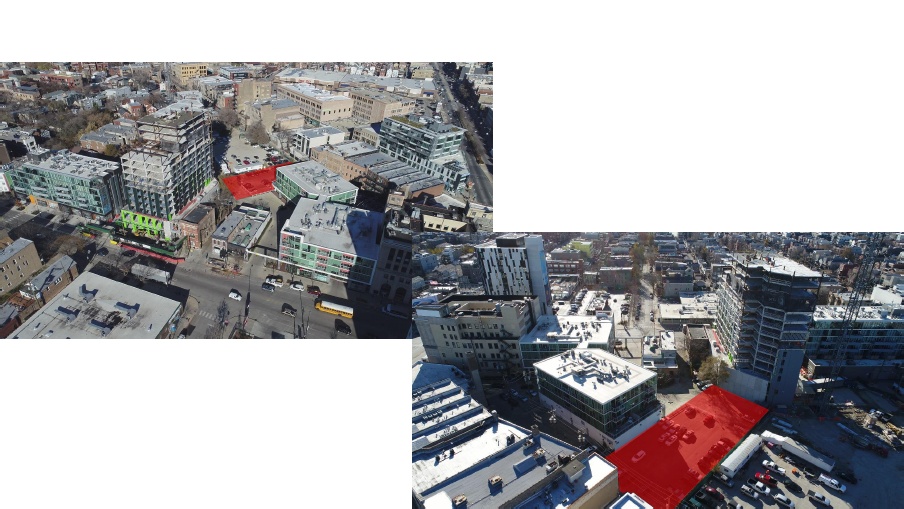 The number of apartments, 121, and parking spaces, 36, matched the plan's third iteration pitched back in March of that year, but there were more studios and 1-bedroom apartments in the new plan.
At that time, Paul Dickman, chairman of the Wicker Park Committee's preservation and development subcommittee, told Block Club Chicago neighborhood leaders did not support the revised plan.
View Aug. 2018 Renderings Of The Site Here
They would rather see a smaller or "mid-rise" mixed-use building as high as 7 or 8 stories, Dickman said.
"Even in it latest form, it's still about seven million dollars worth of free zoning and the worst case of unvarnished greed I've ever seen," Dickman said.
By the end of 2018, Moreno said he planned to put the project on hold due to concerns from the Wicker Park Committee and neighbors along Paulina Street, Sneed said.
On Jan. 11, 2019, Moreno's chief of staff Raymond Valadez confirmed in an email to Sneed, Tamminga and Dickman that the alderman would not bring the plan to a full council vote until they had a chance to weigh in further.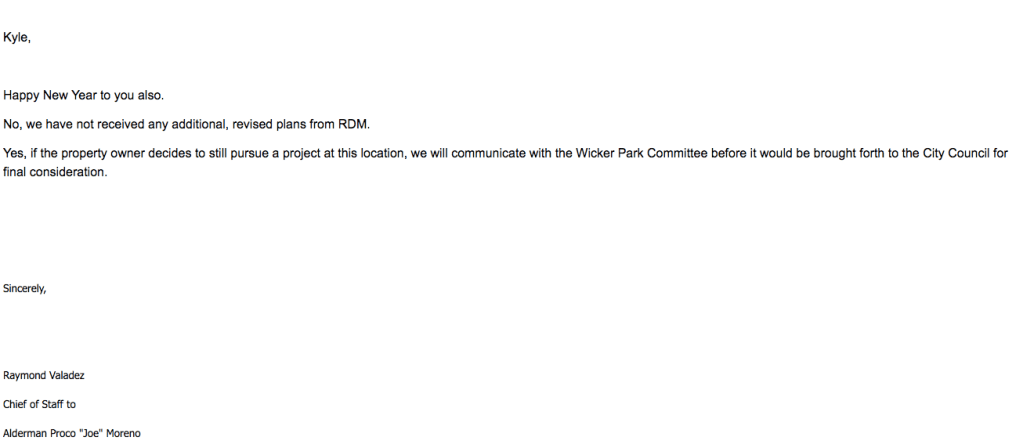 "If the property owner decides to still pursue a project at this location, we will communicate with the Wicker Park Committee before it would be brought forth to the City Council for final consideration."
Three months later and without the group's knowledge, Moreno brought the zoning change before City Council for a final vote.
Ending the 'cash grab'
Andrew Wasserman bought his condo on Paulina Street seven years ago. Back then, it was easy for him to catch the Blue Line train from the Division CTA stop to get to work downtown.
Today, the web developer described his old commute as "unrecognizable."
"Either I get up and go to work at 7:20 a.m., or I wait and go in after 10," he said. "Sometimes the most stressful time of my day [will] be getting on the train.
Wasserman said he believed the majority of his neighbors would ask La Spata to downzone the project.
"[Moreno's] legacy is going to live on in all these buildings, and there's not much we can really do," Wasserman said. "This sort of cash grab that's been going on … is not sustainable and it needs to stop."
Leah Root, community spokesperson for the Wicker Park Committee, told Block Club she hoped La Spata would undo the zoning change.
"You're making a wrong a right," she said.
Sneed said he agreed.
"Isn't this a prime example of when [aldermanic prerogative] should be exercised? That's the biggest question I have," he said. "Also — how did this get approved by the full City Council? It almost feels like there are no checks and balances."
Do stories like this matter to you? Subscribe to Block Club Chicago. Every dime we make funds reporting from Chicago's neighborhoods.