CHICAGO — When announcing that he would not run for mayor in the fall, Mayor Rahm Emanuel told reporters confidently that whoever was going to win the race for mayor wasn't in the race yet.
Boy, was he wrong.
Lori Lightfoot, who entered the race in May of 2018 before Emanuel decided not to run, won the mayoral contest in a landslide Tuesday. Not only is her victory as a black, openly gay woman historic, but she is also on pace to win all of Chicago's 50 wards.
According to unofficial election results from the Chicago Election Board with 85 percent of precincts reporting, Lightfoot got 73.86 percent of the vote to Cook County Board President Toni Preckwinkle's 26 percent.
Lightfoot was expected to win heading into Election Day on Tuesday. She had stormed ahead of Preckwinkle, once the favorite in the race, in the polls in the weeks since the Feb. 26 election.
Both candidates depicted themselves as progressives, saying they wouldn't support a police training academy in North Lawndale and backing the creation of an elected school board.
Lightfoot, former president of the Chicago Police Board, had struggled to stand out at the start of the election. Critics, especially young activists, criticized Lightfoot for her ties to the Chicago Police Department and expressed concern about her suggestion of turning shuttered schools into officer training facilities.
The two had to beat out 11 other candidates, including Bill Daley, in the February election to make it to Tuesday's runoff.
The hotly contested mayoral race marked only the fourth time in the last 100 years there's been an open race for mayor in Chicago. The only other times Chicago has had an open mayoral race in recent history were in 1943, 1947 and 2011, when Rahm Emanuel avoided a runoff and won outright in Round One.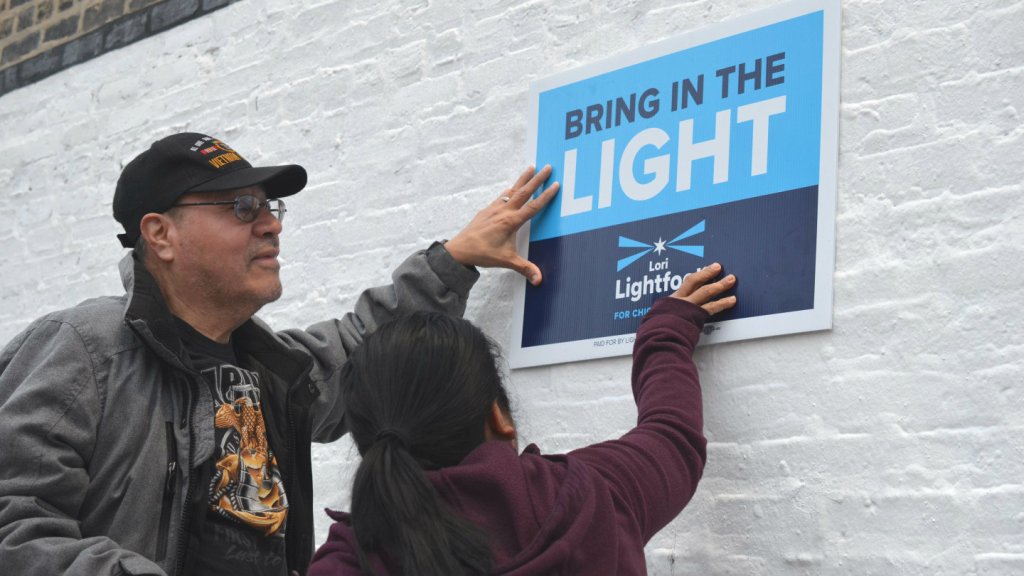 Danielle Mintzlaff was voting in the 47th ward Tuesday morning and said she supported Lightfoot.
"I don't want another Rahm Emanuel in office," Mintzlaff said. That's why I voted for Lori Lightfoot."

Despite the landslide, an overwhelming majority of the city didn't bother voting at all.
Turnout sat at just about 30 percent as of 6:30 p.m. Tuesday, said Jim Allen, spokeswoman for the Board of Election Commissioners. There was an uptick in turnout as the day went on, mirroring what voters did in February.
Allen expects turnout to end up at 33 or 34 percent by the time vote counting ends two weeks from now, beating out the record low.
"It's a shame," said 35th ward voter Molly Wretzky of the low turnout. "I mean what is wrong with people. If you're going to go wave your flags around on the Fourth of July talking about how great democracy is, you better be out here voting and doing your damn job. That's what democracy is about."