CHICAGO — Election Day is here! Not only does this mean we're getting our first black woman mayor and several new aldermen, but it also means all of those yard signs, text messages and TV ads are going to be history soon!
Our reporters are out in the neighborhoods keeping an eye on some of the hottest races — and your polling places. Stay tuned to this live blog for the latest Election Day happenings and stick around tonight for breaking results.
If you see any funny business at your polling place, you can tweet us or call 866-OUR-VOTE, a nonpartisan hotline staffed by local attorneys trained by Chicago Lawyers' Committee for Civil Rights, a Chi.Vote partner.
6:30 p.m. Turnout won't be a record low, at least
Turnout won't be great for the election, but at least won't be historically low.
Turnout sat at just about 30 percent as of 6:30 p.m. Tuesday, said Jim Allen, spokeswoman for the Board of Election Commissioners. There was an uptick in turnout as the day went on, mirroring what voters did in February.
Allen expects turnout to end up at 33 or 34 percent by the time vote counting ends two weeks from now, beating out the record low. He said that's also about 1.5 times better than the suburbs and cities like New York and Los Angeles often see.
Results are expected to come quickly starting at 7:20 p.m., Allen said.
Here's how the votes break down:
25-34-year-olds: 60,000 votes
35-44: 75,000
45-54: 82,000
55-64: 102,000
65-74: 86,000
75+ 54,000
Fact Check Break: Lori Endorsed Who?
With Lori Lightfoot ahead in the polls, several other candidates apparently decided they needed her name on their campaign materials – whether she supports them or not.
Supporters of Ald. Michele Smith (43rd) said Facebook ads calling Lightfoot and candidate Derek Lindblom the "change team" were misleading, since Lightfoot endorsed Smith, not her opponent.
In Uptown, WBEZ reporter Linda Lutton pointed out some misleading signs that pair Lightfoot with Ald. James Cappleman (46th). Turns out, Lightfoot endorsed Cappleman's opponent Marianne Lalonde — but the Chicago Firefighters Union endorsed Cappleman, which you can see if you're walking, not driving, by the sign.
4:30 p.m. 25th Ward Residents Trickle In To Vote
Around 2:40 p.m., 25th Ward Candidate Byron Sigcho Lopez stood outside Pilsen Community Academy, 1420 W. 17th St. taking photos with supporters.
The chainlink fence nearby surrounding the school was plastered with political signs for both Sigcho Lopez and candidate Alex Acevedo, while supporters of each campaign passed out flyers.
Only 132 of 939 registered voters had cast their vote in the 24th precinct as of 3 p.m. During the Feb. 26th election, a total of 376 votes had been cast in the precinct.
Robert Vasquez, an election judge, said the February election and Tuesday's election were among the lowest turn outs he had witnessed since he became an election judge in 1989.
Outside the polling place, longtime Pilsen resident Fernando Rodriguez said he cast his vote for Lori Lightfoot and Sigcho Lopez. The 72-year-old said he had "faith" that both candidates would work to improve the quality of life for Pilsen and the Latino population as a whole.
"I hope they win," Rodriguez said.
Pilsen native Frank Capocci, 60, cast his vote for both Lightfoot and Acevedo.

Acevedo's pledge to address housing issues in the ward resonated with Capoccia, he said, adding that allegations of vote buying tied to Sigcho Lopez supporters concerned him.
Capoccia threw his support behind Lightfoot because "she's not machine," he said. "She's not Preckwinkle, she's not Burke, she's not any of that crap."
He was also persuaded to vote for Lightfoot because she's in support of doing away with aldermanic prerogative. – Mauricio Peña
4 p.m. Hoping For The Evening Rush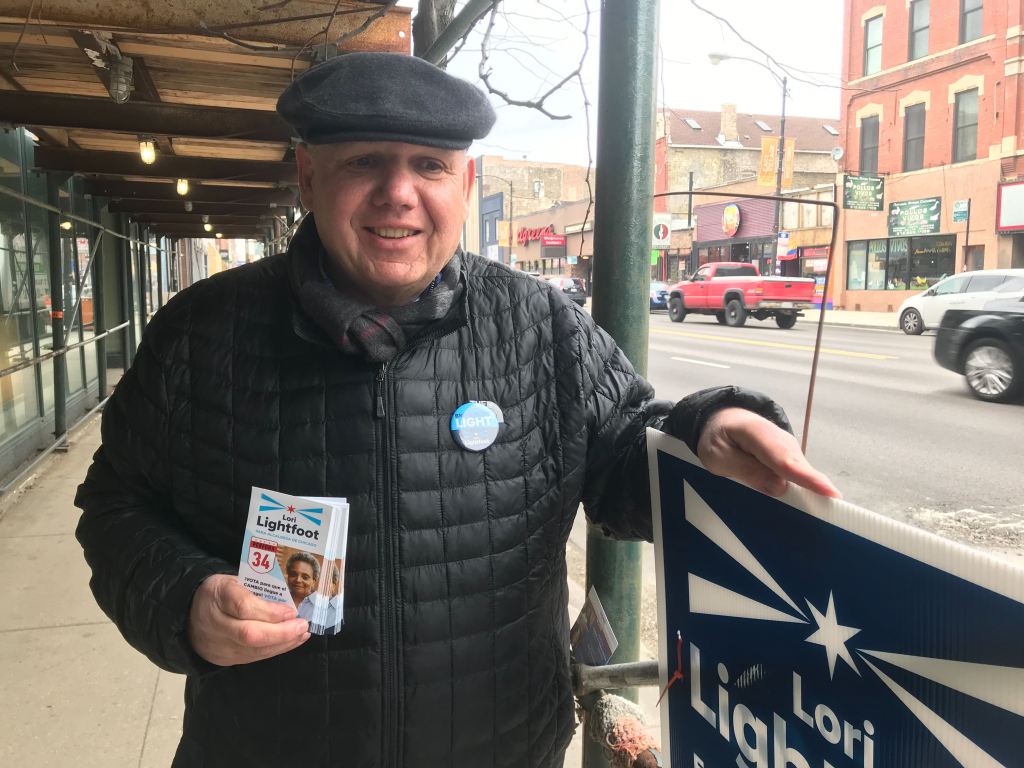 As of 4 p.m., only 85 of the 919 registered voters in the 1st Ward's 36th precinct had voted.
The precinct is inside the Goldblatts Building at 1615 W. Chicago Ave. — across the hall from the West Town Public Library.
The two election judges staffed at the precinct said they hoped to see a rush of voters after work.
One of the judges is nearly nine months pregnant with a due date of April 24. She showed up at 4:45 a.m. to help set up the equipment, and was concerned about how few people had come out to vote.
"Those that want to see change should have come out to exercise their right to vote," she said. "And those who didn't are going to be the ones who are complaining."
Alan Goodstein stood outside the entrance to the Goodblatts Building handing out Lori Lightfoot campaign materials. He doesn't live in the city, but his daughter lives in Wicker Park and he works with businesses in Chicago.
His daughter asked him to help promote Lightfoot Tuesday. If Goodstein were a voter, he said Lightfoot would have his vote.
"I think she's the honest one. I think she'll clean things up." – Hannah Alani
3:30 p.m. Turnout's not looking … great
Turnout isn't looking great with just 23.2 percent of voters having cast ballots as of 3:30 p.m., said Jim Allen, spokesman for the Board of Election Commissioners.
Older voters have been the most active, with people aged 55-64 having cast 81,000 votes.
"It's been an extremely quiet day," Allen said. "It has been an exceptionally quiet day in Election Central." – Kelly Bauer
Here's how it breaks down:
55-64 years old: 81,000 votes
65-74: 74,000
45-54: 61,000
35-44: 53,500
25-34: 42,000
2 p.m. Honoring Ida
11 a.m. Where you at, Chicago?
According to the Chicago Board of Elections, you're not at your polling place.
Turnout for this historic Chicago election remains sluggish Tuesday, with only 284,000 votes cast as of 11 a.m. That brings turnout to roughly 17.8 percent of registered voters, according to the Chicago Election Board.
Voters are choosing between Toni Preckwinkle and Lori Lightfoot for the mayor's seat and there are 15 aldermanic races still to be decided in the runoff election.
Jim Allen, Chicago Board of Election Commissioners spokesman, said early voting was down from the Feb. 26 election on Monday — even though the February election saw near-record-low turnout, with younger people especially skipping the polls.
Compared to the last runoff election in 2015, about 18,000 more voters have applied for vote-by-mail ballots. About 62 percent of those ballots have been returned so far — more than were returned at this point in the Feb. 26 election. 
For all your Election Day needs, check out Chi.Vote.
The Chi.vote website is the core product of the Chi.vote Collective, a new group of nonpartisan media and civic organizations that believe in fostering a safer, more prosperous and more equitable and connected Chicago by creating content and tools of the highest quality and accessibility around city elections.
The founding partners of the Collective are the Better Government Association, Block Club Chicago, The Chicago Reporter, The Daily Line and The Triibe.