PILSEN —  With Ald. Danny Solis missing in action, no new developments will be approved in the 25th Ward for at least three months, when Solis' successor is sworn in, the disgraced alderman's top aide acknowledged Tuesday morning.
In an email addressed to 25th Ward residents, Solis' chief of staff Francisco Lassio wrote that all development projects requiring aldermanic or zoning approval would be decided on by the next alderman. Such decisions are beyond the scope of Lassio's duties, he said.
The email comes one day after Block Club's report on what happens when a ward's alderman — in this case Solis — goes missing. Block Club tried multiple times to reach Lassio for that story.
Since a bombshell Sun-Times report Jan. 23 revealed Solis was wearing a wire, secretly recording Ald. Ed Burke (14th) for the feds, the veteran alderman has been missing from City Hall — and the ward he was elected to serve.
A day after he was revealed to be a mole for the FBI, Solis missed January's City Council meeting. He hasn't been seen since.

RELATED: Where Is Danny Solis? Missing Alderman Won't Step Down — But He's Not On The Job, Either
A new alderman will likely be sworn in on May 20.
After the elections are certified by the Board of Election Commissioners, the City Council will decide on a date to swear in new alderman.
Five candidates are vying for the 25th Ward seat.
Last month, Solis' absence caused two public meetings on a proposed 24-story building at 37 S. Sangamon St. and a proposed 18-story building at 19 N. May St. in the West Loop to be postponed. Carla Agostinelli, executive director of the West Loop group, confirmed the meetings were canceled because Solis or a representative from his office weren't available to attend the meetings.
The meetings won't be rescheduled until "adequate representation" from the ward office can be present, Agostinelli said.
Just last week, the city's Department of Planning and Development had to put a plan to modernize an industrial area inside Little Village on ice, a project a year in the making, in part because Solis is MIA. The Little Village Industrial Corridor is currently located in four wards — including Solis' 25th Ward.
The city department was "unable to confirm aldermanic availability" for the meeting, said Kevin Bargnes, Department of Planning spokesman.
Solis and Little Village Ald. Ricardo Muñoz (22nd), who has been in rehab since he was charged with domestic violence, have been absent at City Hall.
The halt will likely affect projects in Pilsen, as well. Hilco Partners aim to build a giant data center at the old Fisk Generating Station in the neighborhood.
With Solis gone, approval for the spring and summer farmers market and other activities at Mary Bartleme Park in the West Loop have been halted, too, said Armando Chacon, president of the park's advisory council.

While the 25th Ward office can't approve development proposals, Lassio said 25th Ward staff "continues to handle all city service requests."
And Lassio, who has served as chief of staff since July 2018, has been in communication with Solis, he said.
"I recognize the confusion residents, organization leaders and business owners may have with the nature of this unprecedented, ongoing federal investigation," he said. "But rest assured I am in communication with the Alderman for work-related items…"
Ward residents who need city services can reach 25th Ward staff at 773-523-4100, at Ward25Chicago@gmail.com or at the ward office, 1645 S. Blue Island Ave. in Pilsen.
As an elected alderman, Solis oversees a diverse group of neighborhoods including Pilsen, Chinatown, the West Loop, South Loop and McKinley Park.
Solis is paid $115,992 annually and receives access to benefits, which include healthcare, according to city records. Solis will continue to collect a check unless he resigns.
Upon retirement, Solis stands to receive 70 percent of his annual salary.
Read the full email here: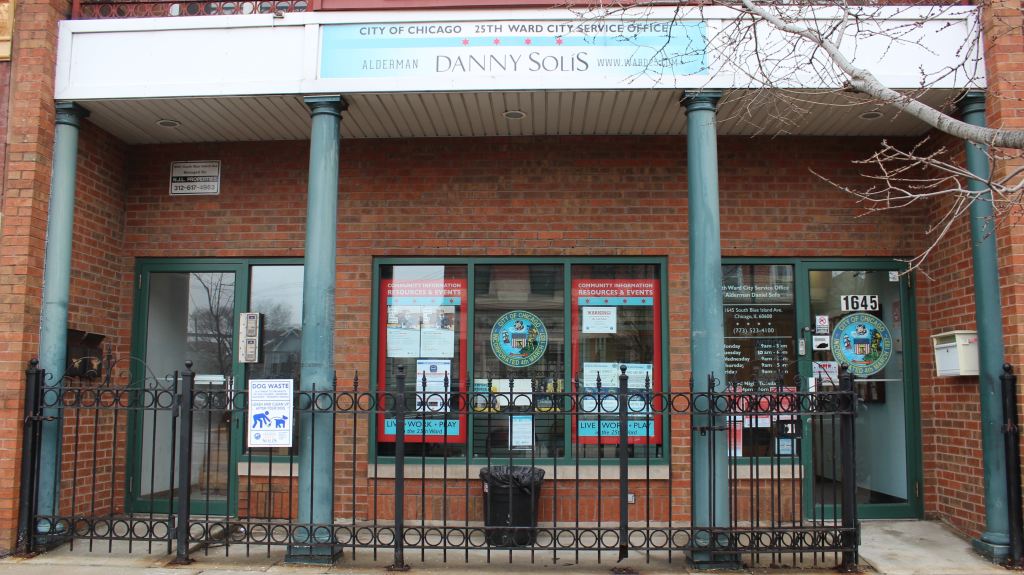 Do stories like this matter to you? Subscribe to Block Club Chicago. Every dime we make funds reporting from Chicago's neighborhoods.