This story comes to us from WBEZ's digital editor and data pro Elliott Ramos. Check out more of Elliott's work here. 
STREETERVILLE — Chicago's a city of neighborhoods, each with its own vibe and flavor. The side streets in Edgewater are lined with tiny libraries that look like bird houses. Wide boulevards and sprawling parks make a big impression in Humboldt Park. And, anyone familiar with the block club signs in Chatham will come away with its fervor for neighborliness.
One element of a neighborhood's vibe is what cars happen to be around. Think: the frequency of muscle cars vs. pickup trucks vs. gas-sipping hybrids.
Yes, America's top selling cars like the Camry, Civic, and Corolla are prominent in the mix of the Chicago's more than 1.1 million vehicles, but we thought we'd tease out where the more interesting wheels are across the city. Where are those Teslas getting plugged in at night? Are Vespas really packed into the Near North Side? Are pickups lining the alleys across the Bungalow Belt?
These are questions for data, and — luckily for us — we have it in hand from our recent investigation with ProPublica Illinois about Chicago's heavy hand in issuing tickets for missing city stickers.
Utilizing city sticker sales data from 2017, we have the lowdown on notable models by ZIP code, but before we start, here's a data nerd alert: We would love to present this by neighborhood, but the city clerk's office doesn't provide addresses, just ZIPs. That's a bummer for Chicagoans with a neighborhood-centric worldview, but we've built a handy ZIP code map to help out. (Psst: It also can tell you what the top ten cars are in your own ZIP code!)
Buckle up!
The Green Belt: Electric Cars & Hybrids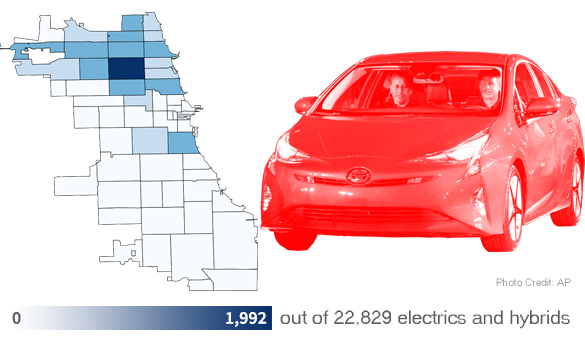 Chicago has more than 1,000 electric vehicles, most of which (600) are Teslas. Given their high sticker prices, it's no surprise the vast majority of Teslas are in ZIP codes that overlay the tonier neighborhoods of Lincoln Park (approximately 124), Lakeview (48), and Streeterville (43).
Compare these to the city's approximately 21,000 hybrids. The ZIP that boasts the most is 60625, which overlays Ravenswood, Lincoln Square, and Albany Park.
Southwest Side: Muscle Car Capital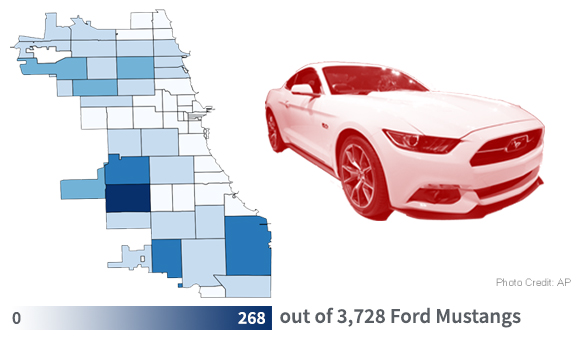 Sure, there are many muscle cars around, but the Ford Mustang has a long pedigree and street cred, with more than 3,700 Ford Mustangs across the city. (The nearest muscle-bound competitor is the Dodge Challenger, with about 1,200 in the city sticker database.) The Southwest Side ZIP of 60629 has the most Mustangs; neighborhoods in the area include Chicago Lawn and West Lawn.
It's not clear why this side of town is the capital. It might have to do with the number of rental car businesses surrounding nearby Midway Airport, but then again, it may just be fun to cruise the Bungalow Belt.
If you like muscle cars and you're not a naturalized citizen of Ford Country, you should check out the ZIP covering the Morgan Park, Beverly, and Washington Heights neighborhoods. It's home to 10 percent of the city's 1,050 Corvettes.
'Where We're Going, We Don't Need Roads': DeLoreans

Chicago has three time machines in the form of DeLoreans, the iconic car from "Back to the Future." There seems to be no discernible pattern of ownership, only that there are three lucky owners scattered about the city. (And, if the movie's to be taken literally, these cars are scattered across three decades!)
Vintage Is In … The Bungalow Belt
Ever see a classic Cadillac El Dorado gliding by? How about a Studebaker? There are three of them driving around town. Chicago gives some older cars a type of sticker designating them as "antiques." City data show 1,600 of these vehicles across the city, with models ranging from James Bond's favorite Aston-Martin to the Volkswagen Vanagon, aka "the hippy bus."
Growl And Meep: Of Harleys And Vespas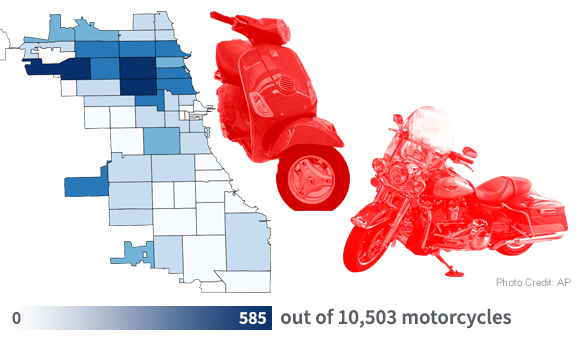 Chicago has more than 10,500 motorcycles, with most in Northwest Side ZIPs associated with Logan Square and Avondale. Personality-wise, the models are worlds apart. Looking for roaring Harley Davidsons? You'll find them on the Northwest and Southwest sides. If you like the melodious "meep" of the Vespa, head to the Lincoln Park ZIP of 60614, home to 50 of the city's nearly 500 Italian scooters.
Subarus Built For Chicago Winters
The Japanese carmaker has spent decades smartly marketing its four-wheel-drive cars, making the hard sell to residents of snowy, mountainous states, but also to lesbians. In Chicago, Subaru owners have coalesced in Lincoln Square, Avondale, and Logan Square.
The Cute And The Compact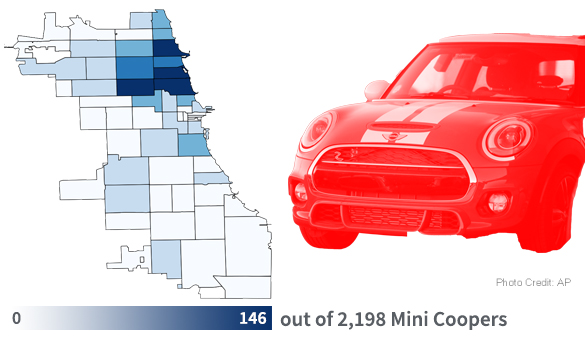 For Chicagoans wanting something small enough to parallel park between lawn chairs set out for wintertime "dibs," smaller is definitely better. Vehicles like the Mini Cooper are found along the north lakefront neighborhoods of Lincoln Park, Streeterville, and Lakeview. Newer Volkswagen Beetles can be found far to the southwest in West Lawn, Gage Park, and Chicago Lawn. Older Beetles are holding out in Logan Square, Uptown, Edgewater, and Rogers Park.
If you want to go even smaller, there are nearly 300 Smart Fortwos (a so-called "micro-car") in the city. If you squint hard enough, you'll find most of them in Lakeview and Edgewater.
Moving Buddies: Flatbed Trucks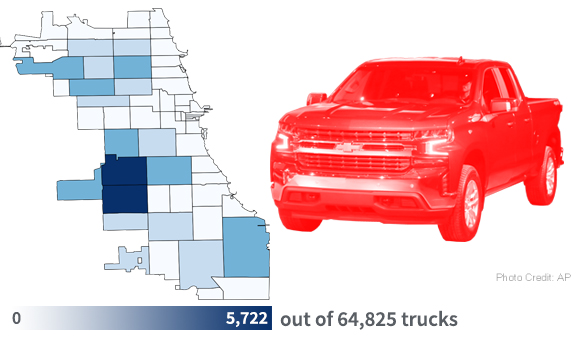 If you need to move a couch, start by asking a pal on the Southwest Side because the hotbed of flatbeds is right around Midway. There's also heavy ownership of heavy lifters on the Northwest Side and in Calumet Heights and South Deering.
Land Rovers: Chicago's Safari Vehicle Of Choice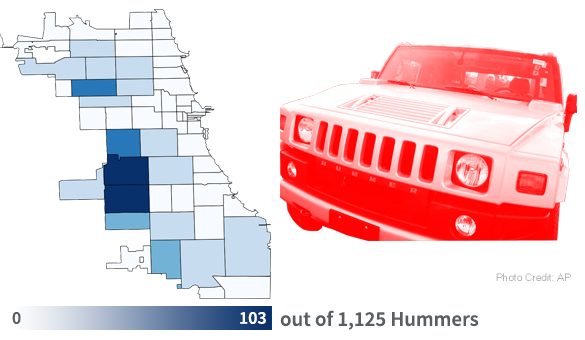 Apparently, Lincoln Parkers feel the most need to purchase Land Rovers. One ZIP in the neighborhood sports nearly ten percent of the city's 3,876 Land Rovers.
The Southwest Side leans toward the more combat-ready off-road vehicles, claiming about 18 percent of the city's 1,125 registered Hummers.
What ride does your neighborhood prefer? Check out the Top 10 vehicles by zip code here: