NORTH CENTER — Over the summer St. Benedict Preparatory School in North Center had a $100,000 security system installed to help protect the school from emergency threats like a school shooting. 

Ahead of the school year's start on Aug. 22, Elgin-based BluePoint Alert's rapid emergency response system was installed at the school and is similar to the red-colored pull boxes typically found in buildings that set off a fire alarms and sprinkler systems. If someone activates one of BluePoint Alert's blue-colored pull boxes, police are notified of the exact location on campus where something dangerous, like an active shooter situation, is happening.

"This system is for when all the other processes and procedures in place have failed," said Rachel Gemo, the head of St. Benedict, a Catholic school. "We do our best to educate our teachers and faculty about looking for warning signs in people. We have a lot of preventative proactive measures around campus as far as having access to the building, we know who is coming in the building."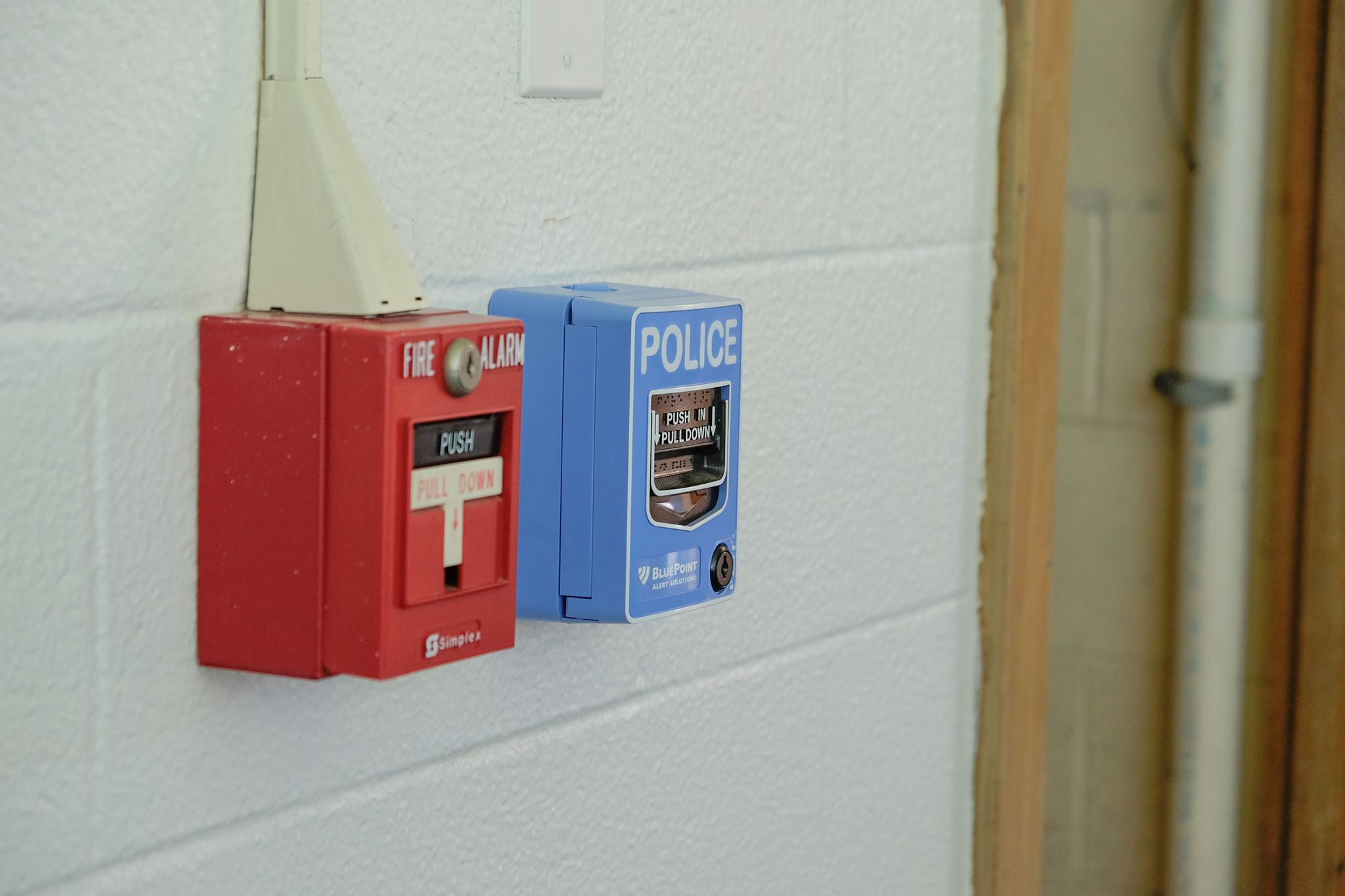 Gemo was visiting with another Catholic school, St. Andrews at 1710 W. Addison St., when she heard about the BluePoint Alert's system from the principal there. After learning a bit more about how the system worked at St. Andrews, Gemo reached out to BluePoint Alert to ask how it could be installed at her school.

RELATED: St. Ben's To Phase Out High School As Enrollment Drops

The security system isn't meant to be a "foolproof mechanism," but it will give the school another tool to keep the students and faculty safe, Gemo said.  
"At the end of the day, if someone really wanted to perpetrate harm, they're going to find a way to do it. This is giving us one more layer of measure to keep kids safe," Gemo said.
Gemo began reaching out to BluePoint Alert in March and during the process representatives from the company came to the school at 3900 N. Leavitt St., which has been around since 1950, to look at its architecture and figure out the best places to install its pull boxes and related equipment. The installation began as soon as school let out for summer and was completed by June 15.

In addition to the pull boxes, the system uses a "command and control incident management portal" to allow silent two-way communication in real time between the school's leaders and staff  so they can make quick decisions, according to a company press release. This allows mobile communication through text, email and voice alerts which grants instant access to security camera feeds.
School staff members have also been given lanyards they can use to activate the security system wirelessly while they're on campus. 

"Seconds makes so much of a difference in a situation like an active shooter situation. Often times when the police get to the place they're getting to, the event is almost over already," Gemo said. "This is a large campus and there's a lot of buildings, there's people everywhere. Having those lanyards gives staff more flexibility in being able to get people away from danger."

Gemo says the lanyards are another tool her staff can use to protect students, as they may not always be near a pull box. As for cell phones, staff may fumble while calling or drop it while trying to get people to safety during an active shooter situation, she said.

"In a crisis situation, it's easy to get nervous," she said. "While a teacher or staff member might be trying to get everybody to a safe place, they can also be calling and alerting the police with just two fingers."

John Shales, BluePoint Alert's co-founder who has a background in school construction, said his team realized the could help secure schools after talking with a school superintendent after Sandy Hook. 

"The school superintendent made a simple comment," Shales said. "We install fire alarm systems so why don't have something like that just for police? We went back and researched and found there really wasn't a system like this in place out there already at the time."

The proof of concept for their initial design was installed in a Burlington school about a year after that discussion with the superintendent, Shales said. In the past four years, his company has installed systems throughout Chicagoland and in other states.

RELATED: CPS Parents Nervous as Kids Return to School After Connecticut Shooting

"Right now we're in 15 different states nationwide. Unfortunately, I wish we didn't need systems like this," he said. "But being prepared, the biggest obstacle to that is the idea it's never going to happen here. Chances are it's not. But one of the things we talk about with schools is it's not the frequency, but the severity of the incident."

A spokesperson for the Office of Emergency Management and Communications, which handles the city's 911 calls, did not immediately return a request for information about how BluePoint Alert's equipment works with the city's computer-aided dispatch system.

Shales said because his company's system keeps people in the building informed of the status of the situation as it unfolds, they can make decisions to get to safety as the situation unfolds in real time.

"Even with schools that have a police officer on site, some of these high schools are huge and you can't be everywhere at once," Shales said. 

The school expects to incorporate drills using BluePoint Alert's new system alongside fire drills this year. 

"We practice even basic fire drills a lot because with the way the kids are and they have to go their different spots," Gemo said. "It takes a while to get everybody into that routine."
Do stories like this matter to you? Subscribe to Block Club Chicago. Every dime we make funds reporting from Chicago's neighborhoods.