WEST LOOP — As three migrant shelters open in the West Loop area, residents said they wish they were informed sooner at a meeting Monday night.
About 100 residents gathered at the Union Park gym to learn more about the city's plans to open temporary shelters nearby.
Nearly 200 migrants moved into the Parthenon Guest House, 310 S. Halsted St. in Greektown, last week. A shelter at 1644 W. Walnut St. recently opened and is housing 100 people as of Friday. A third shelter, at 344 N. Ogden Ave., will open Friday.
Both the Ogden Avenue and Walnut Street shelters will house migrant families with children, officials said.
Since last August, the city has welcomed 14,000 migrants after Texas Gov. Greg Abbott and other border state politicians began sending them on buses to Chicago. The majority of the arrivals are from Venezuela, which has struggled with political upheaval and an economic crisis resulting in severe food and medicine shortages, surging inflation, rising unemployment and violent crime.
Currently, there are 2,200 migrants waiting to be transitioned from police stations and Chicago airports to one of the 21 shelters across the city. Migrants continue to arrive daily by both bus and plane. Four more buses are set to arrive Tuesday, city officials said at the meeting.
Cristina Pacione-Zayas, the mayor's deputy chief of staff, blasted federal officials for a lack of financial support, saying the feds have spent $21 million to address Chicago's migrant crisis, while the city and state have spent over $300 million combined.
City officials continue to meet with government officials to advocate for more federal support, Pacione-Zayes said. Top priorities include fast tracking work permits, funding housing assistance and improving the backlog on asylum applications, she said.
"Once somebody applies for asylum in our country our current immigration policy, we have to wait 150 days before they can see work authorization. We don't have time for that when [the state is] paying for six months of rental assistance. We need people to be able to work especially when we know that there are jobs available," Pacione-Zayes said.
RELATED: Chicago Wants Migrants To Be Able To Work Legally. Here's Why Many Of Them Can't
Most West Loop residents expressed frustration that city officials were giving little-to-no notice of plans to open shelters, echoing neighbors' frustrations across the city. But officials said they rarely know when a location will open in advance.
"With the lack of notice, I apologize for that. I wish … we got that notice from Texas," Pacione-Zayes said. "… I'm not saying that it's an excuse. But I'm just saying that is the reality of the situation."
When residents pushed back, Pacione-Zayes admitted that the city works with a company that notifies the Mayor's Office when a new building comes available that fits the qualifications of a possible shelter. Still, Pacione-Zayes said that notice is often "a couple of days."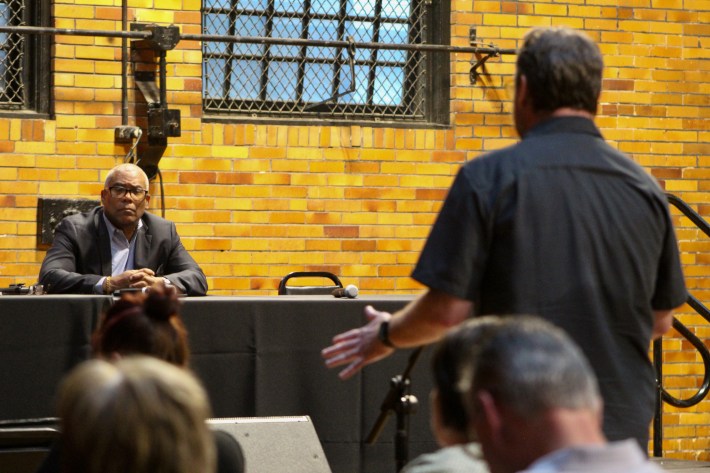 Julie Fitzgerald, who owns Entertaining Company catering near the Walnut Street shelter, said city officials were giving out the wrong address for the shelter, confusing it with the address for her business. As a result, migrants and supplies for the shelter have shown up at her door.
"Please update the address. It is not 1640, we have been there for 28 years. I promise you the address for your shelter is 1644," Fitzgerald said. Officials vowed to update the address.
Ald. Walter Burnett Jr. (27th) said the Walnut Street shelter opened so fast that he found out as it was happening and didn't notice the error.
"I'd like to apologize about that," Burnett said to Fitzgerald.
Other neighbors expressed concern over the money the city is spending to address the humanitarian crisis as migrants continue to arrive. They asked how it would affect the city's budget for other community resources, like housing homeless veterans and capital improvement projects.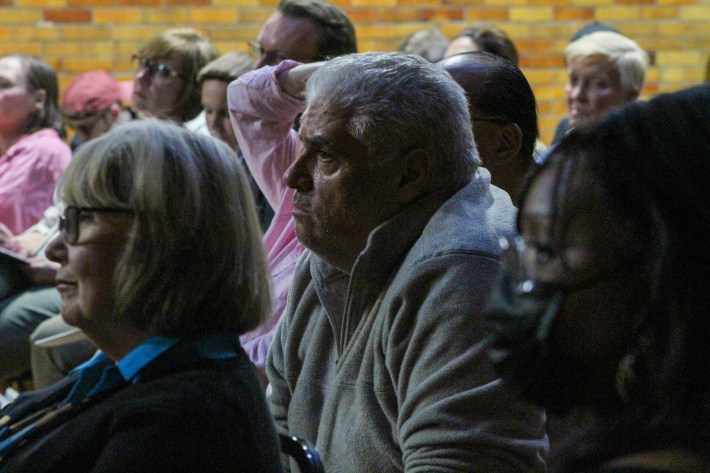 Burnett said the migrant crisis dominated the conversation in a Monday meeting between the City Council's Black Caucus and the Mayor's Office.
"We can't talk about anything else … We can't get a conversation about the budget. We can't get a conversation about anything else because the whole conversation in all of government right now is about the migrants," Burnett said.
Burnett said he's trying to leverage the number of migrant shelters in his ward to get more funding for the neighborhood.
He'd like to improve Union Park and William H. Brown STEM Magnet School, where many migrant children are set to attend classes.
"It needs to be fair … We need to not only help the migrants but we also need to help our people here," Burnett said.
Watch our "On The Block" TV show on The U, CW26 and MeTV.
Listen to "It's All Good: A Block Club Chicago Podcast":