WEST LAWN — More than 30 people showed up for Wednesday's 8th Police District Council meeting at West Lawn Park — which is typically sparsely attended — to discuss the weekend arrest of an asylum seeker living at the district's police station. 
The 21-year-old Venezuelan woman arrested had been living at the 8th (Chicago Lawn) Police District, 3420 W. 63rd St., since July. Last week, officers locked a public bathroom inside the station due to plumbing issues and directed the 70 migrants staying there to share a single portable toilet outside, prompting a protest before the woman was arrested.
After being denied access to the indoor bathroom, the woman and other asylum seekers protested on 63rd Street in front of the station Saturday. Afterwards, the woman was arrested and charged with three felony counts of resisting or obstructing a police officer and cited for obstructing traffic. Police said officers were injured during the arrest.
Block Club is not naming the woman because she has a pending asylum case.
Two additional portable toilets were delivered to the 8th District police station Tuesday, according to a worker who services them. An asylum seeker at the station told Block Club Wednesday the police station's bathrooms remain closed.
At the fieldhouse Wednesday, 8th Police District Council Chairman Jason Huff and council members Al Cacciottolo and Mark Hamberlin were joined by Chicago Police Cmdr. Bryan Spreyne (8th), Ald. Jeylu Gutierrez (14th), organizers from at least three activists groups, volunteers who've been helping migrants and a staffer for Ald. Julia Ramirez (12th).
Spreyne said he attended to directly address questions about the arrest.
"Everything has two sides of a story, so unless I was there in person, I gotta take both stories at face value," Huff said after the meeting. "Who better to answer those questions than the person that's in charge of the district?"  
Jamie Groth Searle, founder of Southwest Collective, told Spreyne she wants the charges against the woman dropped. Volunteers also want the city to standardize how its 22 police districts care for migrants and adopt a bill of rights for migrants.
"Since April of 2023, we have humbly and respectfully requested [a] dignified response to those seeking asylum" that includes shelter, three meals a day, and regular showers, she said. 
Others also asked for the charges against the asylum seeker to be dropped.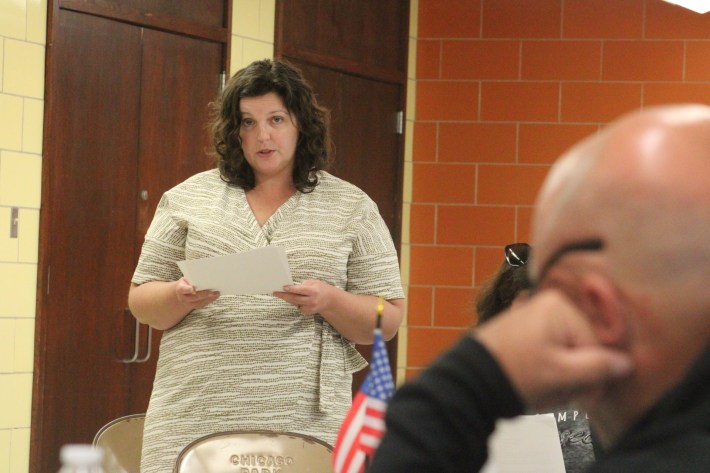 Spreyne thanked the volunteers for their work with migrants. The issues volunteers raised are the result of a humanitarian crisis, he said, and he's done his best to address issues that come up.
"These are unprecedented times that we're going under, I think we can all agree upon that," Spreyne said. "I think what we should also be able to plainly see is misinformation and not lack of communication. I answered through my chain of command quite a few of the issues that you guys [volunteers] bring up. … I'm a reasonable person, and I believe in treating everybody fairly. And I believe my officers do the same."
Spreyne said the district has experienced issues with the bathroom's plumbing for a long time.
"We've had 50 to 100 people utilizing those two bathrooms 24/7. So it has affected the plumbing in the entire building," he said. The bathrooms are in "no condition for anybody, especially children, to be utilizing."
Diane Ruiz, a Southwest Collective board member, again asked for charges against the asylum seeker to be dropped.
Spreyne said he understands the woman is a mother coming to this country to try to find care for her child. The woman arrived in Chicago after a perilous two-month trek from Venezuela to seek medical treatment for her 3-year-old son, who has a cleft palate, leaving another small child in Venezuela with her mother, according to a source who knows the woman. 
But he doesn't have the authority to drop charges and said he can't address some details of the ongoing case.
"I can't get into the semantics or the details of the arrest because she has rights that way. But everybody is innocent 'til proven guilty," Spreyne replied. "So she will get a court date; she was treated very dignified."
Frank Chapman, executive director of the Chicago Alliance Against Racist and Political Repression, said the Civilian Office of Police Accountability (COPA) should open an investigation into the incident. 
"Once accusations are out there, I think we have an obligation to dig in and find out what the hell's going on," Chapman said.
Mackenzie Thurman, a legislative affairs manager for the Civilian Office of Police Accountability was the council's scheduled monthly guest. He said anyone who'd seen or heard about officers mistreating people can submit a complaint to the agency.
Following the meeting, Ald. Gutierrez told Block Club she's spoken about the arrest with Ald. Andre Vasquez (40th), who chairs the City Council's Committee on Immigrant and Refugee Rights.
"It's a hard situation that we're all facing," she said. 
The arrested woman appeared in bond court over the weekend and was released on her own recognizance. Her next court date is Sept. 15.
The next 8th Police District Council meeting is Oct. 16 at the Chicago Lawn library, 6120 S. Kedzie Ave.
Watch our "On The Block" TV show on The U, CW26 and MeTV.
Listen to "It's All Good: A Block Club Chicago Podcast":