CHICAGO LAWN — An asylum seeker staying at the 8th District police station in Chicago Lawn was arrested Saturday after migrants staged a protest because they were unable to access the station's public bathroom, instead sharing a single portable toilet outside for days, volunteers said.
At about 3:50 p.m. Saturday, officers arrested the 21-year-old Venezuelan woman outside the station, 3420 W. 63rd St. She is charged with three felony counts of resisting or obstructing a police officer and was cited for obstructing traffic.
The woman arrived in Chicago after a perilous two-month trek from Venezuela to seek medical treatment for her 3-year-old son, who has a cleft palate, leaving another small child in Venezuela with her mother, according to a source who knows the woman. She has been staying at the 8th District since early July, awaiting placement in one of the city's shelters. Block Club is not naming her because she has a pending asylum case.
Tensions over use of the station's bathroom began late last week when police locked the bathroom Thursday, mutual aid volunteers who are helping migrants at the station said. Officers directed the roughly 70 asylum seekers staying there, many with young children, to share a single portable toilet outside.
Officers told migrants the bathrooms were broken or said asylum seekers were making too much noise inside the station, according to volunteers. Asylum seekers tried called 311 for help, but were rerouted to the police station, volunteers said.
Signs in Spanish posted inside the 8th District station said the bathroom was out of order and people should use the portable bathroom outside, according to a video volunteers shared with Block Club.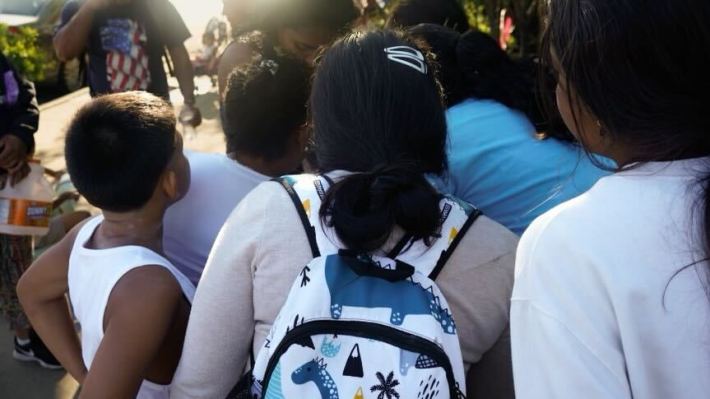 In another video, several people asked officers inside the station about access to the bathroom. A police sergeant responded, "There is nothing we can do. They have a Porta Potty outside, that's it." 
"It's a City problem, not policia, the ciudad," the sergeant tells the asylum seekers. Someone attempts to explain through a Spanish-speaking officer that a woman needs to use the bathroom inside to wash. The sergeant throws his hands up and laughs, according to the video.
"Lo siento (I'm sorry)," he says, shaking his head.
Fed up, the woman and several other asylum seekers took to the street in protest and to draw attention to conditions at the station, volunteers said. Kathryn Zamarron, an 8th District mutual-aid volunteer who attended the bond hearing to support the arrested woman, said she and other volunteers arrived shortly after the arrest Saturday.
In a statement, police said the woman was arrested after obstructing traffic in front of the station and causing minor injuries to the responding officers.
Block Club reviewed a video of the arrest. On the sidewalk in front of the police district, an officer and a sergeant are seen trying to grab the woman's arms, and she quickly pulls away. At least two more officers join and assist in handcuffing the woman. A young boy is crying, and people off camera can be heard saying, "you guys told her she had one more time to do it, and then you arrested her out of nowhere," the video shows. It's unclear what they're referring to. The officers lead the woman into the station, and the video ends.
"The categorization of her resisting arrest is a stretch, and the accusation of her harming officers is a bold-faced lie," said Halle Quezada, a volunteer coordinator who was not present at the time but saw the videos. She said a felony charge could jeopardize the woman's asylum case.
As news of the arrest spread through volunteer networks and social media Saturday night, Chicago Police Supt. Fred Waller, state Rep. Angelica Guerrero-Cuellar and Community Commission for Public Safety and Accountability President Anthony Driver visited the station, according to sources. Ald. Julia Ramirez (12th) also confirmed she visited the scene.
Police reopened the station's bathroom late Saturday night, volunteers said.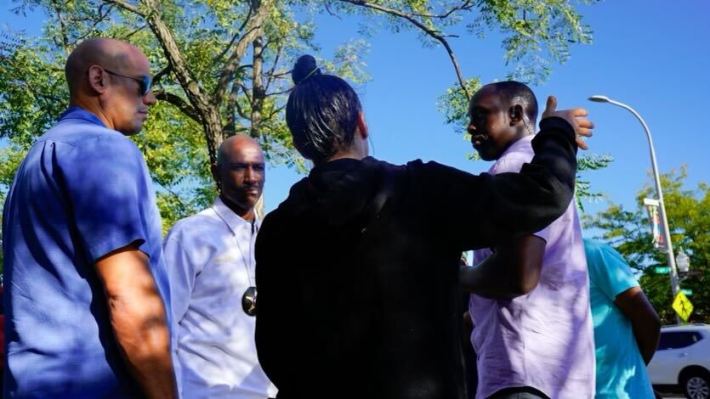 Zamarron told Block Club the case was the result of multiple systemic failures.
"We have a real absence of care in the city. We had a housing and homelessness crisis before people started being bused to us," she said. "This situation [at the 8th District] really is all of those things boiling up, and because people never should have been housed in police stations in the first place. They're not housing centers. They're not appropriate places for anybody to sleep, much less whole families."
Officers at the 8th District "have escalated the situation for months, by their treatment of migrants, by the way that they talk to them [and] their children," Zamarron said. "Also, specifically in this incident by blocking their access to a human need that everybody has: access to a bathroom. Then they further escalated the situation by coming back to arrest this person once everything had already calmed down." 
On Sunday afternoon, the woman appeared in bond court before Cook County Judge Maryam Ahmad, where she was released on her own recognizance. Her next court date is Sept. 15. Volunteers are calling for the charges against her to be dropped.
Resisting arrest is often charged as a Class A misdemeanor, but can be escalated to a felony if officers are injured during the arrest. The Tribune reported Sunday that a police report stated officers sustained a puncture wound, laceration and abrasion during the arrest. 
Asked by Block Club about its decision to approve felony charges, the State's Attorney's Office declined to comment because the case is pending. The Public Defender's Office, which is representing the woman, also declined to comment.
A police spokesperson declined to discuss what prompted officers to arrest the woman.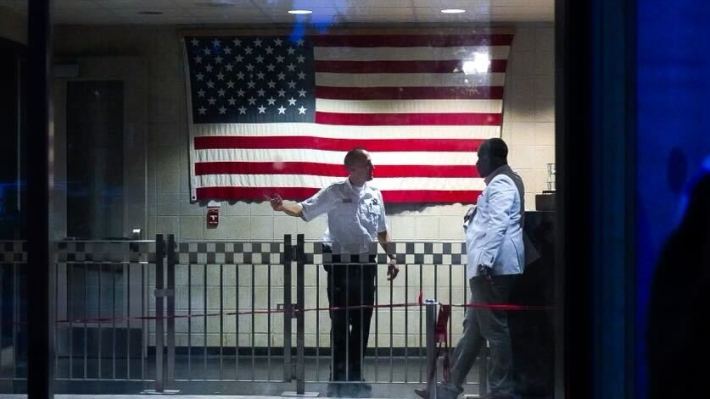 Ald. Andre Vasquez (40th), who chairs the City Council's Committee on Immigrant and Refugee Rights, saw the same video of the arrest that Block Club reviewed. 
"It did not appear like the woman was resisting to the level they're making it seem," Vasquez said.
Ald. Ramirez said migrants living at the district's station are under a lot stress.
"A deeper conversation I want to have with the [City] Council [is], when people are stressed, who are they reaching out to to minimize conflicts?" Ramirez said. "I don't think we've talked enough about that."
The case highlights the challenges of using police stations as temporary shelters. Mayor Brandon Johnson announced a plan last week that would move nearly 2,000 migrants out of police stations and into huge, "winterized" tents.
In a statement, Johnson's office said the "ever-growing humanitarian endeavor" as migrants arrive in Chicago "poses significant infrastructure challenges to an already overwhelmed shelter system, Chicago police districts, our city agencies, mutual aid partners, volunteers, and community residents."
"Sleeping on the floors of Chicago Police Department district stations is not the goal as a Welcoming City and we are committed to transitioning individuals and families from police stations to provide safe and dignified shelter as we support their path to resettlement and self-sufficiency," the statement read.
Asylum seekers who have been sent to Chicago from Texas and other states have been staying in police districts while waiting for spots in city shelters for months.
Since last August, more than 13,000 people, most from Central and South America, have arrived. Buses are still coming daily. Many asylum seekers are from Venezuela, which has been struggling with an economic crisis that has caused severe food and medicine shortages, hyperinflation, widespread unemployment and violent crime.
Temporarily housing asylum seekers in police stations "leads to certain tensions," Vasquez added. "I don't believe officers are best equipped to deescalate, especially when they're [also] sheltering" the people involved.
Vasquez said ultimately the city needs to "decompress" the police districts.
The mayor is "working on doing that in short order," he said.
Watch our "On The Block" TV show on The U, CW26 and MeTV.
Listen to "It's All Good: A Block Club Chicago Podcast":