HUMBOLDT PARK — After nearly 15 years of sourcing, reupholstering and selling mid-century modern furniture and decor, Lynne and Ty McDaniel are getting out of the retail game.
The husband-and-wife owners of An Orange Moon, 2418 W. North Ave., are closing the vintage shop to focus on their growing estate sale business, Estate Sale Goddess. A liquidation sale is planned for 9 a.m.-3 p.m. Sept. 21-24 at the store.
Once the sale is over and the shop is cleared out, the McDaniels will resume hosting estate sales across the Chicago area as they've done for years, Lynne and Ty McDaniel said.
"It's been a great run. We had a lot of fun, met a lot of people, sold furniture not only to Chicagoans, but to people all over the United States," Ty McDaniel said.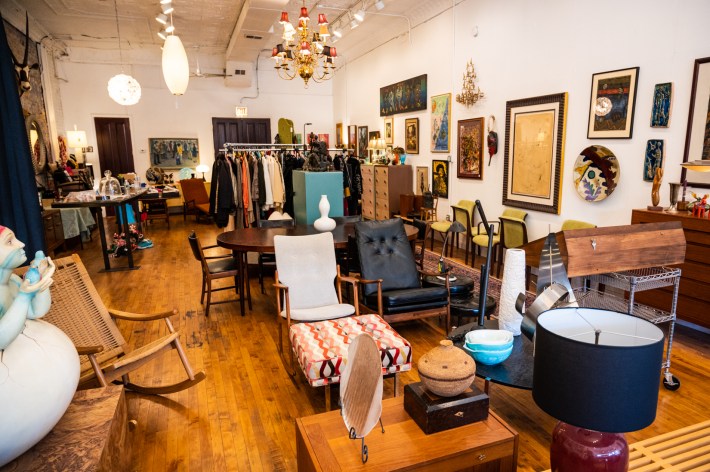 An Orange Moon sells Danish and American mid-century modern furniture, objects and art sourced from auctions and estate sales.
Lynne and Ty McDaniel opened the shop in 2009 in Chicago Lawn, near where they grew up on the South Side. They moved the business to Humboldt Park in 2011 to be closer to their customer base, Ty McDaniel said.
People traveled from all over the Chicago area to buy mid-century goodies from the shop, and online orders came in from as far away as Japan, the couple said.
A well-curated selection and competitive pricing made An Orange Moon stand out from other similar stores, the owners said.
The store's profile was raised, at times fortuitously, by a series of news articles and other happenings, Lynne McDaniel said. One year, the store was selected to be in a Small Business Administration ad that aired during the Emmy Awards, she said. In 2016, "Seinfeld" and "Veep" star Julia Louis-Dreyfus stopped in to buy furniture for her then-college-aged son.
Lynne McDaniel said one of her favorite moments running An Orange Moon was when two fashionable ladies with the French luxury brand Hermès showed up and asked to borrow her vintage furniture for a party.
In the midst of all that, Lynne McDaniel teamed up with other nearby shop owners to rebrand a three-block strip of North Avenue the "WOW District" in hopes of drawing more shoppers to the area.
"One of the things about small business people that I've learned over the years is that we don't sit in our accomplishments, we don't take the time to say, 'Hey, look at what we did. We just did this.' Because we're always onto the next, we have to keep going in order to keep the doors open," she said.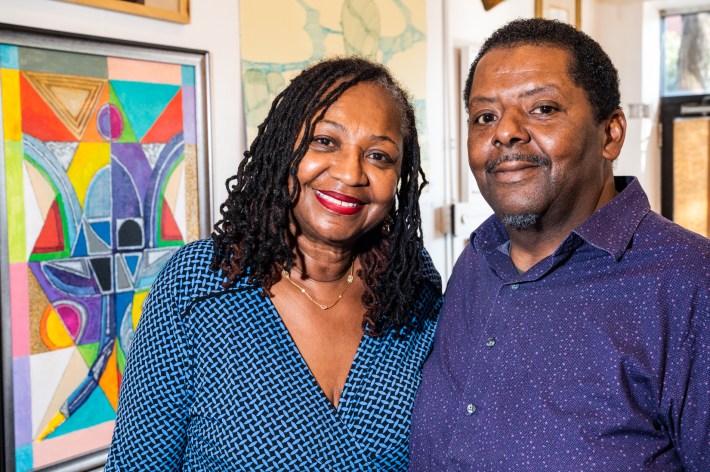 Lynne and Ty McDaniel launched Estate Sale Goddess around the same time they opened An Orange Moon, about 14 years ago.
For a while, Estate Sale Goddess was their secondary business, "the little engine that could," Lynne McDaniel said.
But the estate sale business has taken off in recent years, and the couple said they've found themselves wanting to host more sales, rather than pouring energy into the retail shop.
"An Orange Moon was being neglected," Ty McDaniel said. "Sometimes we wouldn't open the shop for two to three weeks because we were working on an [estate sale] project."
Over the years, the couple has liquidated the estates of several prominent Chicagoans who have made significant cultural contributions to the city and the country, including Chauncey Eskridge, Martin Luther King Jr.'s attorney; author Lorraine Hansberry; and Lerone Bennett Jr., historian and longtime editor of Ebony magazine.
The couple said they find unique enjoyment and excitement in digging through artifacts and discovering designer furniture and art objects no longer of use to their original owners.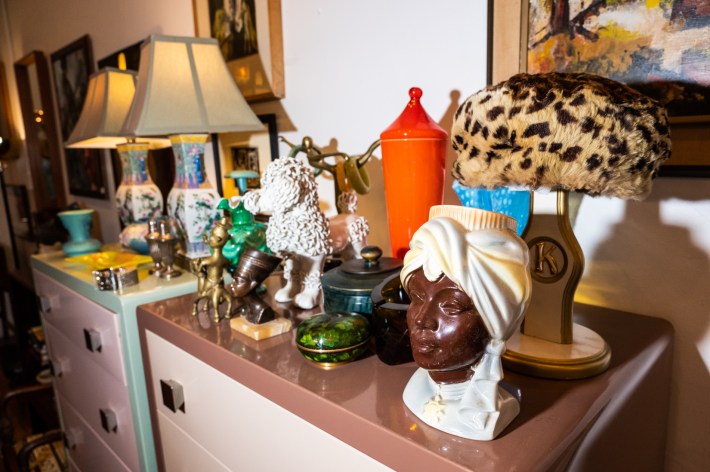 The McDaniels were pursuing careers in clinical therapy when they decided in the 2000s to switch gears and launch two vintage furniture businesses together, initially out of their garage in Chicago Lawn.
Lynne McDaniel was inspired by her mother, an interior designer who studied at the now-defunct Ray-Vogue School, and her father, a hotelier with a special interest in antiques.
"Every Sunday morning after church we'd sneak over to Maxwell Street [Market], and [my father] would go for vintage tools, and I'd look at all of the vintage pretties. We did that every Sunday my whole life," Lynne McDaniel said.
Ty McDaniel said his wife "started dragging him around" to the markets, and eventually he got hooked on sourcing vintage furniture and decor. Discovering an original manuscript by early 20th century composer Scott Joplin at an estate sale was a career highlight, he said.
Closing An Orange Moon will allow the couple to do more digging, which has become their primary passion.
Still, it's not easy saying goodbye to the retail shop, which they said has brought them immense joy and satisfaction over the years.
"I'll miss the customers. With the new customers comes this beautiful glow of excitement and hunger for knowledge and beauty," Lynne McDaniel said, as tears welled up in her eyes.
It comes down to priorities, they said.
"I don't think we can inject the same effort into both businesses," Ty McDaniel said.
For more information about the liquidation sale, go here.
Watch our "On The Block" TV show on The U, CW26 and MeTV.
Listen to "It's All Good: A Block Club Chicago Podcast":