LINCOLN SQUARE — Café Selmarie is closing after four decades in Lincoln Square.
Owner Birgit Kobayashi announced Wednesday she plans to retire and is closing the restaurant, 4729 N. Lincoln Ave., in early 2024.
Kobayashi said in a statement she is "ready for that new chapter in our lives."
"After cooking and baking for decades, it is time to sit down. I want to travel with my husband and have time to indulge in other interests," Kobayashi said. "We have met so many wonderful people over the years and celebrated birthdays, weddings, anniversaries, graduations with them. We witnessed this sleepy North Side enclave blossom into the vibrant, lovely Lincoln Square neighborhood at our front door. We are forever thankful to our customers for their support through all these years."
Eatz Associates, one of the nation's largest restaurant brokers, is representing Café Selmarie in the sale of its assets, including the lease of the space, commercial kitchen equipment and restaurant furnishings, according to a press release.
The Café Selmarie name and recipes will not be sold.
"We have loved being a part of the Lincoln Square community and watching it grow and flourish. We will be celebrating Café Selmarie, our incredible staff, and being a part of Lincoln Square over the next several months. We are excited for the possibilities that this space holds for a new business and know the community will welcome them to the neighborhood," Kobayashi said.
The announcement comes as the beloved café marks 40 years in business this month.
Kobayashi and co-founder Jeanne Uzdawinis, who were neighbors on Giddings Street, started Café Selmarie in September 1983 down the street from where they lived. They were both 29 at the time.
The name comes from the founders' middle names: Birgit Selma and Jeanne Marie.
Starting in a small storefront facing Giddings Plaza, Kobayashi and Uzdawinis sold coffee and homemade pastries, and had the first espresso machine in the neighborhood.
As the business became more popular, the founders broadened the menu and added seating. Over the years, the founders expanded into its current space facing Lincoln Avenue.
For decades, the café has been the anchor of Lincoln Square, drawing loyal customers to enjoy cozy meals, weekend brunch, and its wide selection of pastries, cakes, tortes and pies.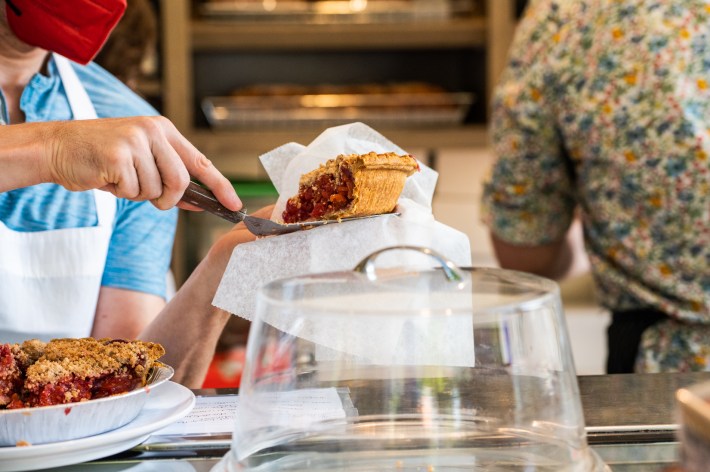 Uzdawinis died from ovarian cancer in 2017. Neighbors remembered her "grace and artistry" and called her the "heart of Lincoln Square."
Then-Ald. Ameya Pawar (47th) had a few blocks on Giddings Street near where the cafe was originally located designated as "Jeanne Uzdawinis Way" in 2018.
In her announcement, Kobayashi thanked Uzdawinis, her general manager and daughter Connie Kobayashi, and staff for their support over the years. 
Kobayashi told Block Club some of her post-retirement plans includes a visit to Japan with her grandchildren, who are in their early 20s and late teens.
Her husband is from Japan and still has childhood friends who live there, she said.
"One of our big things for next year is to travel to Japan for more than just a week and really hang out. Give him a chance to hang out with his friends," Kobayashi said. "I lived in Japan for a year and a half when we were first married. It's like a second home to me, and I missed that."
Closing the business will let her return to places in Japan she saw as a newlywed and visit places she didn't have time to see because of the demands of running a business, she said.
"I've had such a wonderful product run here, and the difficult part is leaving this life behind," she said.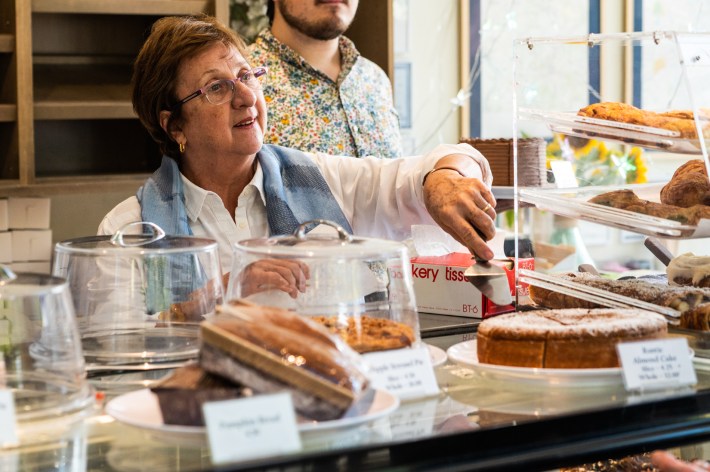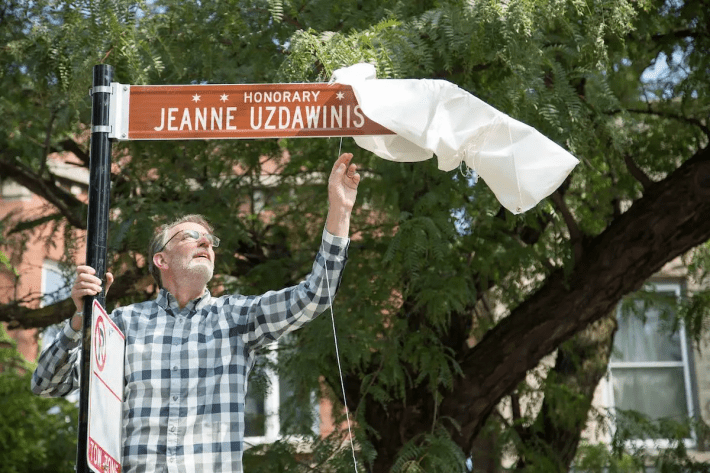 The final months for Café Selmarie will be a celebration of the restaurant, its history and staff, Kobayashi said.
Kobayashi is bringing back some classic menu favorites like the hazelnut cheesecake and apricot-hazelnut tartlets, the first two pastries Kobayashi and Uzdawinis made for each other.
Kobayashi will have a with a special three-course prix fixe dinner available Sept. 21-28, a cookie giveaway and a "Selmarie Through the Years" photo exhibit in their dining room, she said.
The upcoming holiday season will feature customer favorites like Stollen, Linzer Torte, Yule Logs, and their famous eggnog, Kobayashi said.
Watch our "On The Block" TV show on The U, CW26 and MeTV.
Listen to "It's All Good: A Block Club Chicago Podcast":