CHICAGO — Chicago is facing a more than $500 million budget gap for 2024, Mayor Brandon Johnson announced Wednesday — but the city will not raise property taxes this year to bring in new revenue, he said.
Johnson's administration announced the $538 million shortfall in a press release Wednesday morning, and released a detailed overview of their 2024 budget forecast online.
The updated number comes five months after former Mayor Lori Lightfoot announced in a "mid-year budget forecast" that the city was facing an $85 million budget gap for the 2024 fiscal year.
But Johnson's projected budget gap is more than six times higher, which Wednesday's news release blames on the "complexity of the financial situation inherited by his administration."
"Federal Reserve increases to benchmark interest rates to combat inflation have affected the local economy and negatively impacted revenues. The Johnson Administration anticipates costs to support the new arrivals mission to increase in 2024, along with anticipated increases in personnel, pension, and contractual costs," the release said.
Details on how the shortfall will be closed will be released later this fall, when Johnson officially proposes his 2024 budget and alderpeople vet and vote on it at City Council.
Lightfoot announced her spending plan on Oct. 3 last year, and it was passed by City Council about a month later.
But Wednesday's announcement made it clear Chicagoans can expect not to see a bump in their property taxes, a promise Johnson made repeatedly this year during his campaign for mayor.
"I'm not going to raise property taxes. I'm the only person running in this race who made a commitment to that," he said March 15 during a Block Club interview. "For my first term, we're not raising property taxes."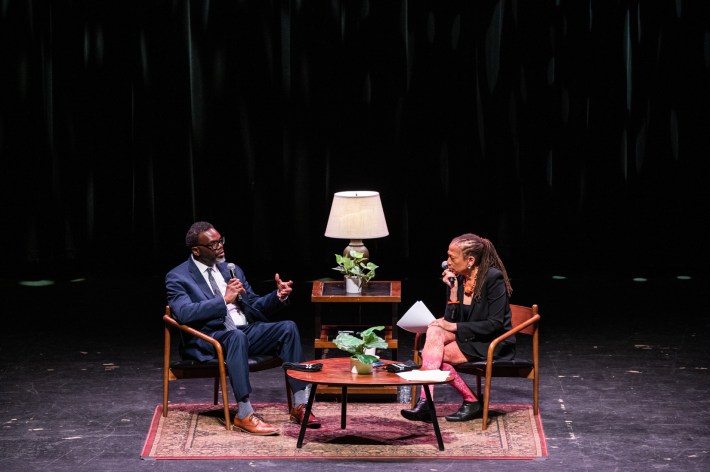 One of the largest holes in the 2024 budget is related to the city's ongoing struggle to shelter thousands of asylum seekers who have arrived in Chicago over the past year.
About $200 million of the 2024 budget gap is tied to the migrant crisis, according to a report by the Sun-Times.
Officials announced last week the city's plans to move 1,600 migrants from police stations into "winterized base camps."
Johnson's office said it will adopt a "multifaceted approach" to close the gap, "encompassing expenditure reviews, revenue enhancement measures, and potential reallocation of resources."
"While specific details of the plan are still under development, Mayor Johnson's administration is focused on minimizing the impact on vital public services, and ensuring that the burden of closing the budget gap is borne as fairly as possible," the release said.
Watch our "On The Block" TV show on The U, CW26 and MeTV.
Listen to "It's All Good: A Block Club Chicago Podcast":