NORTH LAWNDALE — Riot Fest kicks off this weekend in Douglass Park, and the three-day event continues to split neighbors and organizers over questions of public park access versus economic and community benefits.
Riot Fest is Friday-Sunday at Douglass Park, 1401 S. Sacramento Drive and is expected to draw 50,000 people daily, according to the Chicago Park District. This year's headliners include The Cure, Foo Fighters and Queens of the Stone Age.
The annual rock festival has faced opposition from neighbors since it moved from Humboldt Park to Douglass Park in 2015.
Neighbors outraged that Douglass Park was repeatedly booked for private events led to the Chicago Park District changing its rules on approving major events.
Two festivals, Heatwave and Lyrical Lemonade Summer Smash, have since relocated. But Riot Fest has stayed put with backing from the Park District and Ald. Monique Scott (24th), whose ward includes the park.
Debates about the festival have grown increasingly contentious in recent months.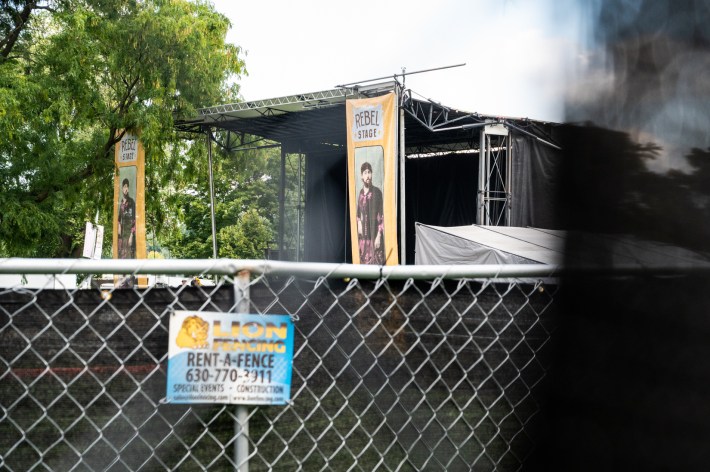 Some West Siders and neighborhood groups have spoken up in support, saying Riot Fest is a net positive that benefits the community's image. Others have vowed to continue fighting, saying the relationship between the fest organizers and community is beyond repair. A local punk band is hosting an anti-Riot Fest show, reminiscent of a similar effort last year.
"REAL PUNX HATE RIOT FEST" was written on fencing surrounding the park as crews finalized setup this week.
Anton Adkins, a longtime opponent of the festival, said efforts to make the festival a better neighbor are too little, too late for a community deprived of resources.
"There needs to be restorative justice. This is the eighth time that's happened," he said. "They can be chaotic elsewhere, because they're bringing controlled chaos to a neighborhood that already has it. Your chaos is profitable to you and yourself only."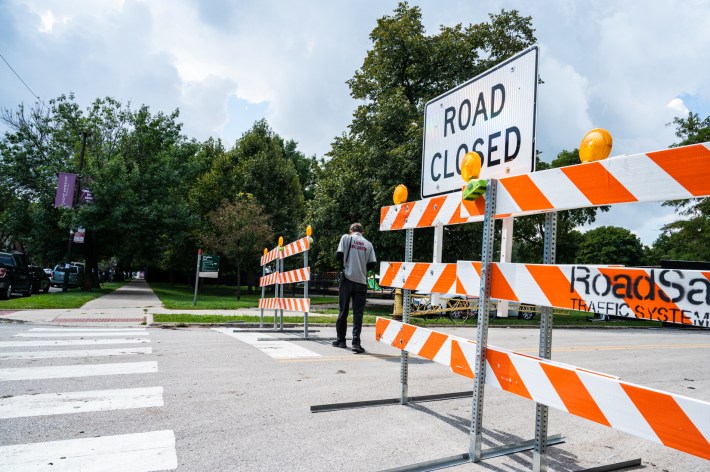 'It Doesn't Feel Like Meaningful Change'
The festival is on the southern part of the park in the section below Ogden Avenue and encircled by Sacramento and Farrar drives. That part of the park is home to soccer fields, tennis courts, softball fields and gardens.
Organizers said some park features will remain accessible to neighbors during the event, including the football field, tennis courts and track-and-field grounds. Tickets to the fest will also be given to those who will help with cleaning and restoring the park after the event.
The running track and turf field next to the festival was still open to the public as of Wednesday.
Riot Fest organizers also plan to put speakers away from hospitals and homes, set hard limits on audio levels to prevent volume surges and implement real-time noise monitoring, they said. Parking also will be further away from the park to prevent traffic congestion for Mount Sinai and St. Anthony hospitals, according to the festival.
Critics have not been swayed by the changes.
Únete La Villita, which has been fighting against mega festivals for years, has criticized the setup and restricted park access for this year's edition. 
Organizer Ana Solano said the festival endangers children who play in the parks, who may stumble upon broken glass or patches of rough dirt after the festival is gone.
Parts of the park have been severely damaged by the summer festivals and not repaired until the fall, Park District records showed.
"They talk about cleaning up and providing jobs but their input to the community should have happened in the past eight years," Solano said. "It doesn't feel like meaningful change, what they take from us is nowhere near what they give us."
Adkins and Solano said they plan to keep protesting to get the festival moved out of Douglass Park. They said they see the pushback and Park District rule changes about large events as encouraging signs.
"We are going to keep talking about it over and over again, and we're going to keep showing up with receipts, facts and information," Adkins said. "When the history gets written, it'll show we didn't quit and you're not putting profit over people."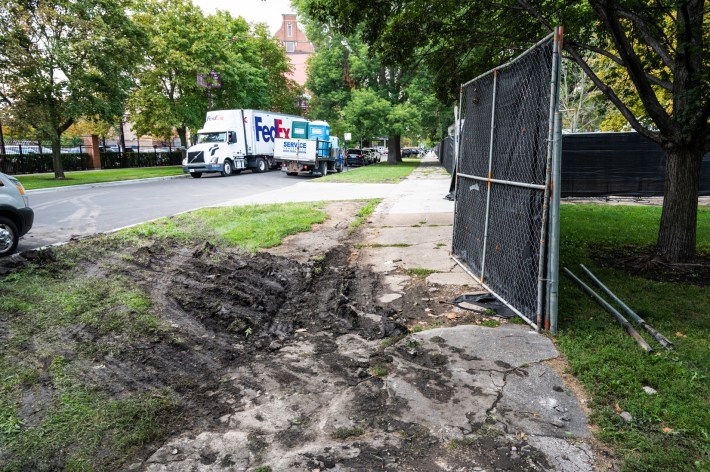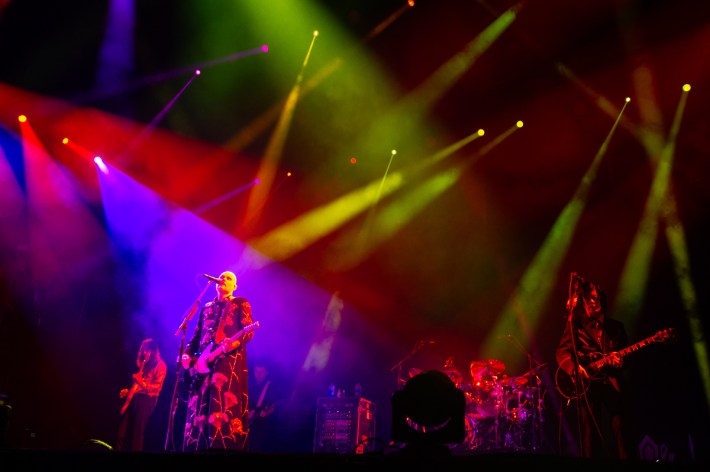 'A Solution That Helps Everyone'
But some North Lawndale residents such as Denita Robinson and Eric Lindsay have come around to supporting Riot Fest.
Lindsay, who runs an Italian ice business that will be a vendor at the festival, has previously complained about traffic, lost access to the field and public urination. 
He was swayed after meetings with Riot Fest representatives about how they sought to employ other local businesses to work at the festival, removing fencing for the track and field on the side of Albany Avenue to allow community access, and increasing traffic control, he said.
After talking with Riot Fest's community engagement director, George Herrera, Robinson feels organizers are making concerted efforts to heed neighbors' complaints, she said.
"This relationship is not just when the festival happens or right before, but it's year-round," Robinson said. "It's imperative to know that we've been hands on with this. But we think he's rectified his issues and wants to do better by the community."
Other groups that have supported the fest include the Douglass Park Advisory Council, the North Lawndale Eagles football team, Little Village Foundation, Illinois Hispanic Chamber of Commerce and the Chicago West Community Music Center.
Robinson said much of the protests against Riot Fest have been largely counterproductive and that simply forcing the festival away hurts North Lawndale overall.
"If you're simply showing up to complain and don't have a plan for resolution, then you're wasting people's time," she said. "There is trash in Douglass Park every day of the year when Riot Fest isn't there. We are out here in the trenches making sure we find a solution that helps everyone."
Scott, who did not respond to a request for comment, previously has said the festival puts North Lawndale in a more positive light and distances the neighborhood from stereotypes on disinvestment and negativity.
Scott has largely dismissed criticisms, saying they come from people living outside of the neighborhood.
"I am here to defend my community from people who don't look like me," Scott said at a Park District meeting to grant the event permit. "When you have people like this come to our community, it can create a positive economic impact. This gives them hope, it helps fuel the businesses in my community."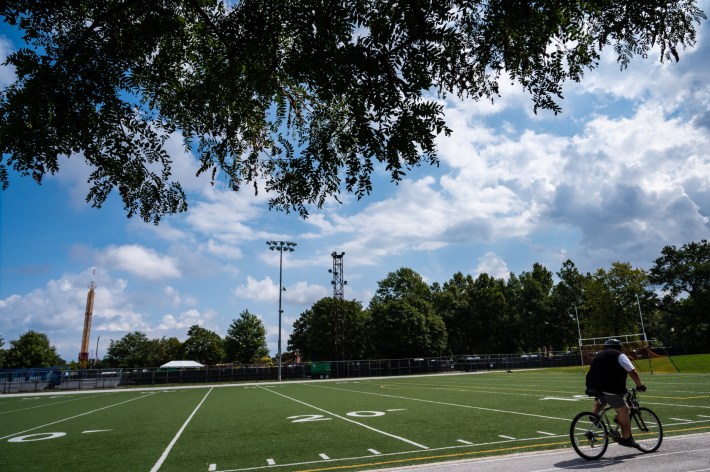 The debate about for-profit festivals in public parks has played out throughout the city, particularly as more raise questions about how much neighborhoods benefit from hosting them.
Riot Fest representatives have said the fest generated $14 million for the Park District since 2015. Private events create profits that benefit the entire public parks system, but that money doesn't necessarily funnel back to specific parks where fests are held.
In response to backlash to Riot Fest and Re:Set in Riis Park, West Side Rep. La Shawn Ford previously proposed he wants major events like Riot Fest to include a 2 percent community benefits tax.
"The festival organizers are going to spend some money to put the park back after their event, but at the end of the day they're going to walk away with a profit and are better off as a result," Ford said in June. "We need the park and the community to be put back whole and made better than when they found it as a result of these events." 
A North Lawndale resident named Rei said the festival is an inconvenience as it hurts park access for him. Although the track and field is available to use, access to it via bike is only open via Sacramento Drive instead of three different entrances.
"I don't see how it's much of an improvement," said Rei, who declined to give their last name. "They seem to care more about partying than the community."
Watch our "On The Block" TV show on The U, CW26 and MeTV.
Listen to "It's All Good: A Block Club Chicago Podcast":