CHICAGO — Police Supt. nominee Larry Snelling pledged to "listen to everybody" and build connections between the police department and communities at a forum Thursday.
The 54-year-old Snelling, who grew up in Englewood, is Mayor Brandon Johnson's pick to be the next police superintendent. After joining the department in the '90s, he was a patrol officer in Englewood and Morgan Park and later taught at the police training academy.
Snelling has testified on the use of force in multiple civil and criminal trials, and he redesigned the department's use-of-force policies, according to the mayor's office. He became Chicago police's counterterrorism chief in 2022. 
"As much as we came here to listen and learn about me, I'm more excited about listening and learning from you," Snelling told the audience gathered at the National Museum of Mexican Art in Pilsen. "We can't do this unless we do this together. I can't help you if I don't listen to you, if I don't hear your voices."
The forum, the first of its kind in the city's history, was hosted by the Community Commission for Public Safety and Accountability, which was created to give the public more oversight on policing issues. More than 100 people attended. The Empowering Communities for Public Safety ordinance, passed in 2021, requires the group to hold a public meeting with the mayor's nominee before the City Council votes to confirm them. 
Before Snelling took questions, the Community Commission for Public Safety and Accountability commissioners unanimously voted to scrap the department's error-ridden gang database, which organizers have long sought to do away with.
Commission President Anthony Driver, whose own father was incorrectly listed in the database, called it an "end to the old ways" and opportunity to start fresh.
"This provision ensures that when it comes to gang data policies, [oversight groups] can collaborate with CPD on what those gang data policies look like," he said. "This is an important moment for Chicago. Under CPD's first-ever Commission-nominated police superintendent, we have an opportunity to get this right." 
Snelling then delivered prepared remarks before taking dozens of questions from commissioners, Police District Council members and residents. Commissioners' questions ranged from improving clearance rates on violent crime to the political pressures and impediments that come with the top job. 
Driver asked Snelling what his "nonnegotiables" are. Snelling said the number one thing he won't compromise on is his integrity.
"I'll walk away from anything before I give up my integrity, what I believe in; those things are ingrained in me," he said. "I made mistakes over the years. I've taken corrective action to build myself, to strengthen myself to do a better job.  …When it comes to my integrity, I will not compromise that for anything."  
The commission's three-member noncitizen advisory council asked Snelling to meet with them to address the "complex challenges" brought by the influx of asylum seekers bused to Chicago from Texas. Snelling said he looked forward to doing so.
Ninth District Police District Council member Erin Vogel asked everyone present to consider "what conditions are necessary in order to eliminate both police and the carceral system." Second District member Alexander Perez asked Snelling to commit to expanding the city's mental health crisis co-responder program; Snelling said he'd like to see teams of mental health professionals, rather than police officers, responding to crises. Tenth District member Elianne Bahena raised concerns about alleged mistreatment of asylum seekers who are staying at police stations.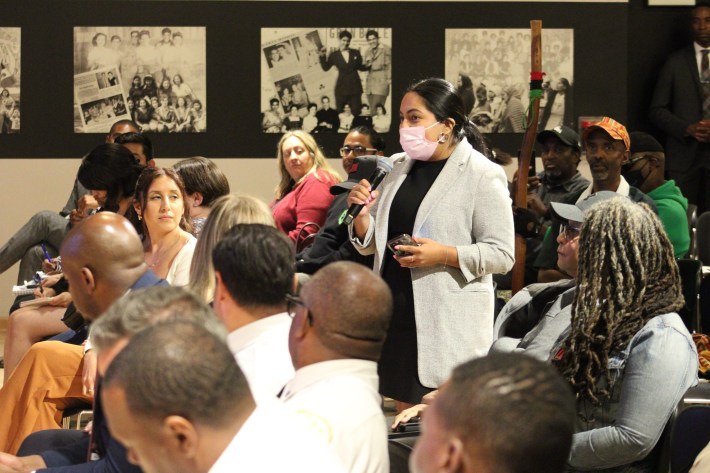 Members of the public asked Snelling how the department can hire more Black officers, what Snelling's plans are to reduce gun violence and the department's response to the influx of migrants. 
Audience members repeatedly asked Snelling about the city's contract with ShotSpotter, and he repeatedly declined to answer specifically whether he supports keeping the technology, saying it's the mayor's decision.
Throughout the nearly three-hour forum, Snelling remained calm and affable, even when taking tough questions. One audience member asked Snelling about a 1997 Internal Affairs investigation that implicated him as one of four officers who threatened a man with drug charges if he didn't get them a gun. Snelling acknowledged the investigation took place but said the article "was not written properly." He said that he welcomes criticism, "but I sleep well at night."  
Following the meeting, Snelling told Block Club he looks forward to more opportunities to meet the public.
"It felt great to stand in front of a group of people and just have a conversation and listen to voices, and just to see the diversity in the room," he said. "I thought it was excellent that people got to stand up and express themselves. And it doesn't matter whether I agree with them or not, whether they agree with me or not. Everybody got a chance to speak, so I thought that was important."
Driver said he thought Snelling did well.
"He's a person who's willing to answer questions, he's willing to sit in the hot seat, he has a very good grasp of the issues that our city is facing, as well as the department," he said. "I think he's again reaffirmed for me that he's the right person for the job."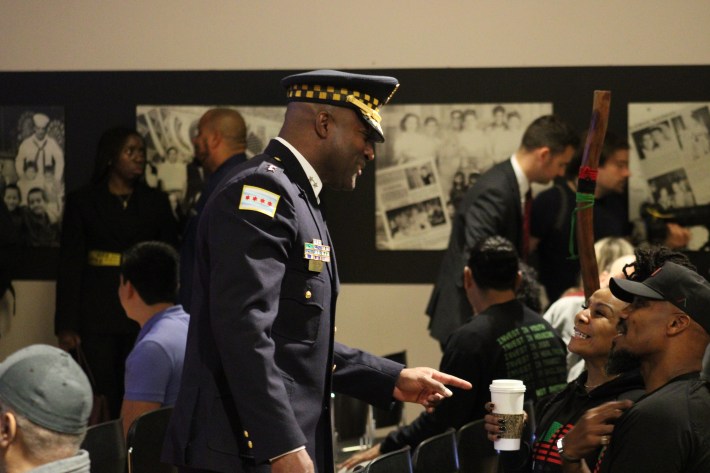 Leonardo Quintero, a member of the 12th Police District Council, said Snelling's responses to residents' questions were "political answers, a lot of fluff."
He noted Snelling's refusal to directly address ShotSpotter or answer questions about his role in training officers involved in clashes with protesters at the 2012 NATO summit, as reasons for concern. He characterized Snelling's role as chief of counterterrorism as "on the street level, code for anti-gang, which really just means anti-Black and brown young people," as another concerning issue.
Angel Novales, who was shortlisted by the commission along with Snelling and is the Police Department's chief of constitutional policing and reform, might have been a better option, Quintero said.
"I think that it still leaves room for people to think if this is the correct decision," Quintero said. "I'm going to trust the process, but [Snelling] wouldn't have been my top choice."
Afrika Porter, a resident of Hyde Park who attended the meeting, said she thinks Snelling is "amazing." Porter listed carjacking, funding violence prevention and alternatives to police, and missing and murdered Black women as her top public safety concerns.
"I'm excited at what I believe [Snelling] is gonna do," she said. "I think he spoke from his heart; he seems very solid to me. I think he was fair in communicating what's needed in the police department."
Kofi Ademola, the co-founder of the youth activist group GoodKids MadCity, was not present at the meeting but discussed Snelling's nomination earlier that day.
"For me, it isn't about who is at the head of the snake; the snake is the problem," he said. "To me, [Snelling] being at the helm of CPD doesn't change the culture" of the department. 
"What I'm more interested in is reducing police presence," Ademola said. "That's why things like Treatment Not Trauma, taking the police out of the equation when someone is having a mental health crisis, to me that's important… Same thing with the Peacebook Ordinance that GoodKids MadCity is fighting for. It's about true violence interruption, violence prevention without police involvement [and] criminalization."   
The City Council must approve Snelling's nomination before he can take the top job. On Thursday, Ald. Chris Taliaferro (29th) postponed a meeting of the public safety committee that was scheduled for this week, but said a vote would be held before the end of September. 
Watch our "On The Block" TV show on The U, CW26 and MeTV.
Listen to "It's All Good: A Block Club Chicago Podcast":