CHICAGO — Mayor Brandon Johnson has tapped a South Side veteran officer to lead the Chicago Police Department.
Larry Snelling was among three finalists nominated for the role of police superintendent following a nationwide search by the Community Commission for Public Safety and Accountability.
Snelling, a native South Sider who began his career more than three decades ago, "at no point" thought he would "find myself in this position," he said Monday. 
"For those who grew up like I did — a resident of Englewood and a student of the Chicago Public Schools — I want you to know the possibilities are limitless," said Snelling, who currently serves as chief of the Department's Bureau of Counterterrorism. "For those who tell you you can't, and for those who believe that you can't because of where you come from, I'm here to tell you that you can."
Here's more on the candidate dubbed the "son of Englewood" by Johnson: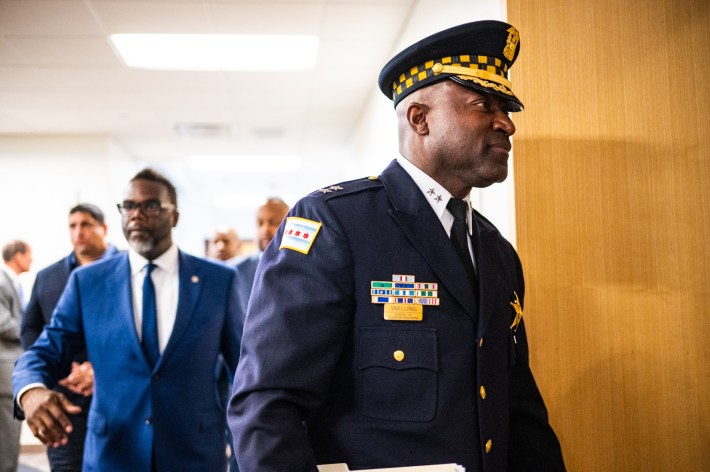 'Humble Beginnings'
Snelling, 54, came from "humble beginnings," he said at a Monday press conference announcing his selection by Johnson. He attended Englewood High School and studied adult education at DePaul University, according to Johnson's office.
Snelling joined the force in 1992, starting as a patrol officer in the Englewood (7th) District. He was promoted to sergeant in the 22nd District in Morgan Park, according to Johnson's office. 
Snelling returned to Englewood's 7th District as a watch operations lieutenant. Soon after, he was promoted to commander. He later became Deputy Chief of Area 2, according to Johnson's office. 
Snelling trained recruits in the physical skills and operations sections at the police training academy near the West Jackson Boulevard District. 
Snelling redesigned the department's use of force training standards around national best practices, Johnson's office said.
Snelling became the chief of the Department's Bureau of Counterterrorism in 2022, where he still works.
Snelling has two daughters who "ran off and left me" after graduating, he said. He thanked them during Monday's press conference.
How Would He Lead The Department?
Snelling's priorities as superintendent include boosting officer training and wellness by adding mental health resources and alerting officers before canceling days off, he said Monday.
Snelling will join forces with Johnson, community leaders, city departments and "constitutional policing" to "address the root causes of violence" holistically, he said Monday. 
Snelling will work toward reforms under the federal consent decree, with which the department has consistently missed deadlines, but would not "force training to meet compliance," he said Monday.
The veteran will focus on creating "community police officers" and building the strength of relationships between neighbors and law enforcement, he said Monday. 
Snelling said he would build upon programs that send mental health professionals in place of police officers to scenes based on "information that we gather before the call," he said Monday. 
What's Next?
According to a city ordinance, the civilian-led Community Commission for Public Safety and Accountability will publish a written explanation for why it nominated Snelling. The board also will collect written feedback and questions for him.
The commission will host a hearing to invite public comments and have Snelling answer questions.
The City Council's Committee on Public Safety will hold a meeting to review and vote on Snelling.
The full City Council will vote on Snelling's nomination.
Should the City Council confirm Snelling's appointment, the civilian-led commission will host at least four public hearings with him in different parts of the city to answer questions from residents.
The new superintendent will take over for interim Supt. Fred Waller. Johnson appointed the retired chief of patrol to the role in May to replace Eric Carter, who retired from the force May 15 when Johnson took office.
Carter had replaced former Supt. David Brown, who resigned in March after former Mayor Lori Lightfoot lost her reelection bid.
Watch our "On The Block" TV show on The U, CW26 and MeTV.
Listen to "It's All Good: A Block Club Chicago Podcast":