HUMBOLDT PARK — Two former boxing champions will host a youth boxing event at the neighborhood's long-running Puerto Rican festival this weekend in hopes of steering young adults away from violence.
Fres Oquendo and Luis Mateo, two Puerto Rican Golden Glove champions, will be at the 30th annual Fiesta Boricua, giving sparring sessions to young hopefuls and introducing kids to a sport they say changed their lives for the better.
The annual Fiesta Boricua is noon-8 p.m. Saturday and Sunday on Paseo Boricua, the stretch of Division Street between Western and California avenues at the heart of Chicago's Puerto Rican community.
During the festival, Oquendo and Mateo will give lessons 3-7 p.m. Saturday and Sunday outside at 2425 W. Division St.
"If it weren't for boxing for me and Luis, we would have been into gangs, drugs, you know, take a wrong turn," Oquendo said.
Through The Fres Oquendo Boxing Academy and Fres Oquendo Foundation, the decorated heavyweight champ from Humboldt Park said the sport of boxing can give young people in the neighborhood opportunities they may not otherwise have had.
"We needed to bring some sports into this, because a lot of kids, a lot of at-risk youth in the community love boxing, love sports, but don't have that connection to go to a local gym or anything," Oquendo said. "We provide those destinies to those underprivileged kids. We provide them hope that they can be something in life."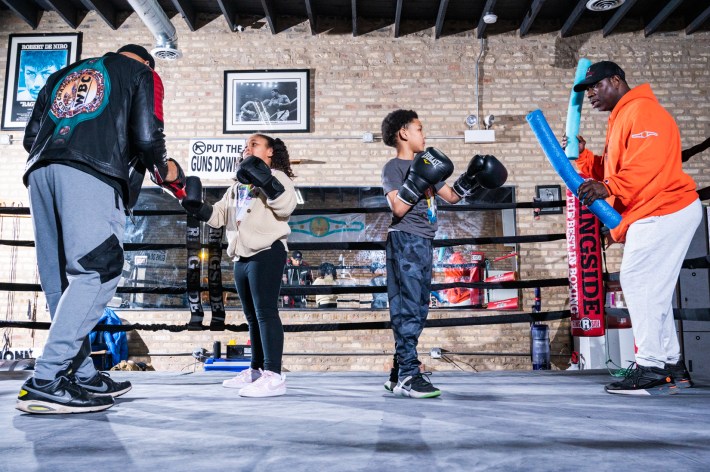 With the support of the Puerto Rican Cultural Center, Oquendo said they are in the "early stages" of opening their own gym.
Oquendo's boxing program is offered at four schools, including Aspira Antonia Pantoja High School, Aspira Early College High School, Aspira Business and Finance High School and Aspira Haugan Middle School.
The program offers health and wellness mentoring, medicinal education as well as yoga lessons, Oquendo said.
Marisela Garcia, 24, said she became involved in the sport when Oquendo's boxing program came to Aspira Antonia Pantoja her senior year.
At a time when she was struggling to balance the "pressures" in her life, Garcia said the program started to feel "more like home" and made her "want to go to school and stay motivated."
She related to Oquendo's experience as "troubled kids" and now wants to help others get involved in the sport and mentor them the way he did with her, Garcia said.
"I remember when I was one of those people seeking out that type of positive vibe; now I get to offer that," said Garcia, who will be at this weekend's youth boxing event at Fiesta Boricua.
At the event, youth will learn basic pad and floor work before participating in the six different sparing sessions each day.
In addition to fighting techniques, Oquendo said he wants to teach the importance of "discipline, solidarity and compassion" that the sport requires.
"Everybody think they're tough … when you going on ring and you start boxing, that's when they'll find out that this is serious. This is not a joke, this is a lot of practice and dedication," Oquendo said.
You can donate to the Fres Oquendo Foundation here. All proceeds will go to the foundation to help buy equipment, boxing gloves and fund a new boxing ring, Oquendo said.
More information about the 30th annual Fiesta Boricua can be found on the festival's Facebook page.
Watch our "On The Block" TV show on The U, CW26 and MeTV.
Listen to "It's All Good: A Block Club Chicago Podcast":