WEST TOWN — A contemporary art gallery in West Town will be closed for months after a truck crashed through its facade over the weekend, damaging the building and destroying a sculpture on display.
Around 2:45 a.m. Sunday, a black pickup truck careened off Chicago Avenue and crashed into Andrew Rafacz Gallery, 1749 W. Chicago Ave., according to a police spokesperson.
Video provided by building owner Nicholas Stocking shows a crowd of people standing near the gallery as the truck rams into its front windows at high speed and smashes through the building.
Additional security footage from right after the crash shows several men leaving the building and walking away. Officers arrived at the scene of the crash Sunday to find the pickup truck still partially inside the gallery, police said.
No injuries were reported, but the extensive damage likely will cost a "pretty healthy five-figure number" to fix, Stocking said. The crash also damaged numerous works of art and destroyed "Sweet Leaf Twilight," a ceramic sculpture made by artist Roxanne Jackson that stood in the front window.
Gallery owner Andrew Rafacz said the gallery will be closed for at least the next two months, which means canceling a long-planned show by artist Shaun Leonardo and missing out on one of the busiest times of the year for his business.
"Everything surrounding Shaun's exhibition is at this point suspended or will have to be rescheduled," Rafacz said Wednesday. "The gallery does this thing that is exhibitional, but it is also retail space. So there's multiple layers to being boarded up that are really damaging to what we're doing, trying to do."
Stocking, who owns numerous buildings in the larger West Town area, said he's heard complaints from tenants this summer about illegal street racing taking place on Chicago Avenue. He thinks Sunday's crash could have been related or perhaps intentional.
"The way that the truck hit the building certainly doesn't look like they lost control of the truck, because they went into the building at a perfect perpendicular angle," he said. "It looked like an intentional act. Based on some of the video and some of the audio I've heard of the people that were in a truck, it seems like they're quite happy with the result."
A police spokesperson on Wednesday said they did not have information available to confirm if the crash was related to street racing. The incident remains under investigation.
Meanwhile, Rafacz said he's still assessing the damage to the gallery and the art that was on display.
"Glass went everywhere," scratching surfaces throughout the ground-floor space, he said.
Rafacz hopes he can reopen by November for his next show, although that will depend on how quickly construction can be completed. He said he is also trying to reschedule Leonardo's exhibition that was supposed to open Sept. 15, but nothing has been nailed down.
Many galleries, including Rafacz's, often book shows and exhibitions months or even more than a year in advance.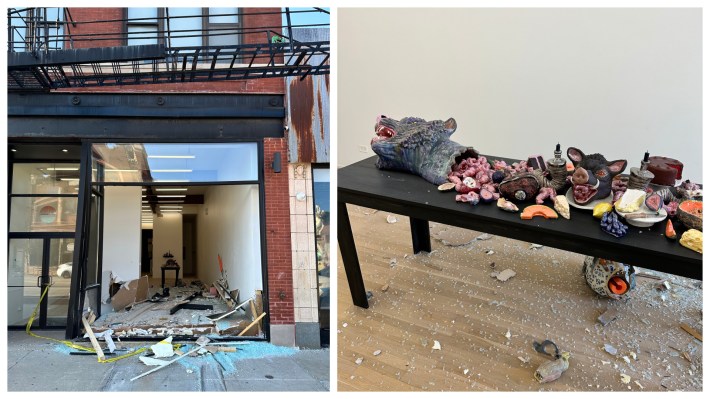 Rafacz has been involved in the Chicago art world for more than two decades.
He moved his gallery from the West Loop to West Town a few years ago to join the growing "Gallery District" on Chicago Avenue and in the surrounding neighborhood.
September is always a popular time for galleries, when they try to "put their best foot forward" and launch new shows, Rafacz said. He was looking forward to participating in the inaugural Chicago Exhibition Weekend in late September, but that's no longer possible, he said.
Despite feeling "more trepidation," Rafacz said he is ultimately determined to remain part of the West Town scene for art-loving Chicagoans and visitors alike.
"Am I going to close up shop and move somewhere else? No. We as a visual arts community of galleries have made a decision to move over here … Everybody's over here," he said.
As he slogs through insurance claims and tries to piece his business back together this week, Rafacz has a simple message to neighbors who might want to help out: Support local galleries.
"There's going to be a bunch of amazing exhibitions opening in September, most of them around mid-September," he said. [I want] to just invite people to come out and see what the galleries are doing here."
Watch our "On The Block" TV show on The U, CW26 and MeTV.
Listen to "It's All Good: A Block Club Chicago Podcast":