DOWNTOWN — A woman covers her face while she's escorted by two people in bright pink vests to the entrance of Family Planning Associates. As she walks through the doors, two men on a loud speaker yell, "Hell is a real place."
That was the recent scene outside the clinic at 615 W. Washington Blvd., which regularly has at least 20 anti-abortion protesters on Saturdays. Last month, the clinic had more than five times that number, with several of them rushing at patients and forcibly trying to hand out religious pamphlets.
The city's "bubble ordinance" concerning disorderly conduct is supposed to protect patients from harassment or unwanted solicitation from protesters at medical facilities. But after witnessing protesters' escalating behavior in recent weeks, Ald. Bill Conway (34th) now wants to establish a quiet zone for the area.
"They're yelling at them, chanting, speaking through a bullhorn towards them. I've seen them handing out literature as well. It's really all of the above," Conway told Block Club. "All of this, of course, is meant to intimidate people seeking services or discourage them from getting access to health care at all."
In Chicago, it is illegal to be within 8 feet of someone who is within a 50-foot radius from the entrance of a medical facility in order to pass out unwanted literature, signs or engage in oral protest, education or counseling. This ordinance is commonly known as the bubble ordinance.
The bubble ordinance was enacted in 2009 to protect women from harassment while seeking abortion services. Violating the ordinance is punishable by a fine of $500 or $1,000.
The alderman said he saw protesters blatantly violating the ordinance on July 22 when more than 100 protesters showed up with bullhorns. Police are usually posted at the clinic Saturday mornings, but were relocated temporarily that day to cover a parade nearby, advocates said.
"[I] went over there and saw 110 protesters out there. They had a bullhorn and were about 50 feet from the door. When patients would show up, they would run immediately towards … the patient and the escorts would stop them or I would stop them," Conway said.
The crowd circled the clinic in protest that day, Conway said. Video and photos posted on Twitter show a group of at least 60 people outside the clinic the following Saturday doing the same.
Bicyclist advocacy group Bike Lane Uprising tweeted about the issue late last month after protesters took over part of a bike line, setting up a mobile church bus as their home base across the street from the clinic.
There was also concern surrounding blocking traffic for cyclists traveling along Desplaines Street, advocates said.
The protests have been led by Juan Riesco of Metro Praise International Church in the Belmont Cragin neighborhood.
Riesco, the controversial owner of Nini's Deli, has faced backlash over his commentary and preaching. The restaurant first closed in 2020 after protesters rallied against Riesco's homophobic comments and street sermons. His brother, José Riesco, was known for standing outside Nini's Deli and making anti-Black Lives Matter and homophobic comments, according to the Chicago Tribune.
Nini's Deli closed last year following widespread condemnation.
Joe Wyrostek, pastor for Metro Praise International, told Block Club Chicago he believes his group hasn't violated the city's bubble ordinance. The group has never been arrested or cited by the police department, he said.
When asked by police, Wyrostek said his group has turned down the volume on their speakers.
"We'll have no problem turning off our speakers by the way, but as of right now, we do it within our 100 feet," Wyrostek said. "We do not ever want to be accused of disturbing the peace which by law means that inside of buildings and properties that you can no longer function because the noise is disrupting your standard business noise level."
Dr. Allison Cowett, medical director for the clinic, told Block Club their staff is used to protesters, but they are concerned loudspeakers are negatively impacting their patients' experience.
"We understand that it is the First Amendment right of folks to protest, but we don't believe it's their right to negatively impact our patients and their right to an abortion," Cowett said.
Although the bubble ordinance is designed to safeguard patients, it's nearly unenforceable, Cowett said. The ordinance states people are not allowed to talk to patients without consent, yet protesters constantly shout things at patients as they walk by.
"They're yelling and screaming at people their own personal beliefs about what they shouldn't do with their pregnancies. … They're not living up to the spirit of the bubble ordinance, which is don't speak to people that don't want to speak to you," Cowett said.
The loudspeaker, located directly outside the clinic's windows, can also be heard inside the clinic, where patients are receiving care just a few feet away. At times, patients and staff cannot hear each other above the noise, Cowett said.
Residents in nearby high-rise buildings have also complained about the noise, Conway said. Protesters start singing worship songs or prayers as early as 7:30 a.m., the volume amplified by portable speakers, he said. At times, the speakers can be heard within a block in any direction.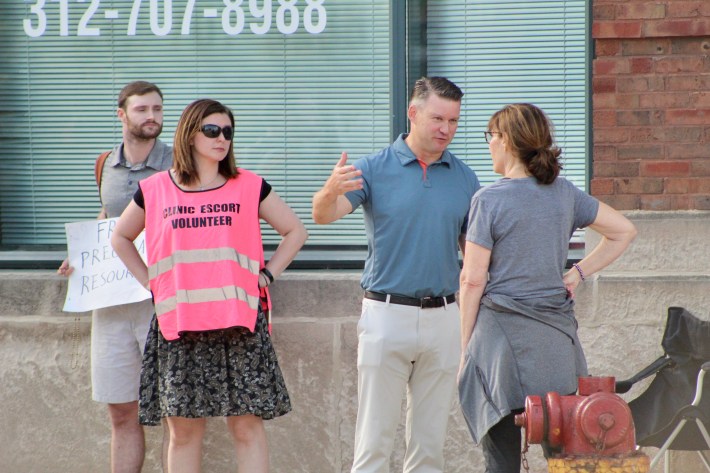 Mayor Brandon Johnson included working to enforce the bubble ordinance in his July transition report.
A spokesperson for the mayor's office said in an email the city has since installed two signs outside the clinic displaying the bubble ordinance and the fine for violating it.
The city also has mobilized the Department of Finance to ticket anyone blocking the bike lines in violation of city law, the spokesperson said. Additional police officers have been dispatched to keep protesters in compliance.
In the meantime, Conway wants to implement a "noise-sensitive zone" for the area that would limit the use of loudspeakers. The alderman is required to work with the Chicago Department of Public Health and police to establish it, he said.
Lena Shapiro, director of the First Amendment Clinic at the University of Illinois College of Law, told Block Club Chicago that protesters are likely to argue that a noise-sensitive zone limits free speech, but if the zone remains content-neutral it could be successful.
"I think as long as it's articulated that the legitimate government interest is preserving the peace of the neighborhood, that's a valid restriction," Shapiro said.
The city would not be able to ban protesters from assembling but could implement restrictions that could limit the disturbance to the neighborhood, such as banning loudspeakers or amplifiers, Shapiro said.
"The regulation has to give those that are protesting outside the clinic a right to be there. … But again, that certainly doesn't mean that they're entitled to do it with a bullhorn. That doesn't mean that they're allowed to threaten or intimidate patients inside either. So, I think that's probably where it's hard to balance," Shapiro said.
Chicago's bubble ordinance was last challenged in 2016 when a group of anti-abortion and "sidewalk counselors" filed a federal lawsuit claiming the ordinance was content-based. In 2019, the Seventh Circuit Court of Appeals dismissed the lawsuit, citing a 2000 Supreme Court decision, which upheld a nearly identical Colorado law.
To establish a noise-sensitive zone near the clinic, Conway would need to introduce a text amendment to ordinance 8-32-065, which lists the five current noise-sensitive zones in Chicago. If passed, this would be the sixth.
The five noise-sensitive zones are:
East Chicago Avenue, between North Michigan Avenue and North Lake Shore Drive.  
East Superior Street, between North Michigan Avenue and North Lake Shore Drive.
East Huron Street, between North Michigan Avenue and North Lake Shore Drive.
East Erie Street, between North Michigan Avenue and North Lake Shore Drive.
North Fairbanks Court, between East Chicago Avenue and East Superior Street.
"People probably think this doesn't happen in Chicago, and it does," Conway said "I think this shows that we really need to increase our efforts across every level of government to make sure folks can access health care and exercise their constitutional rights."
Watch our "On The Block" TV show on The U, CW26 and MeTV.
Listen to "It's All Good: A Block Club Chicago Podcast":