SOUTH DEERING — Local leaders from Beverly to the Southeast Side and beyond are pursuing a plethora of projects that would make it easier for South Siders to bike in their communities — and across the Chicago area.
The first-ever county-wide bike plan, released in May, calls for the creation of a "low-stress network" of trails and dedicated lanes for bikes with a focus on Cook County's underserved communities.
The Lake Calumet bike network study is underway as part of that larger plan. County officials want residents to weigh in on a survey on how to make biking safer from 95th Street to Sibley Boulevard, and from the Indiana state line to Michigan Avenue.
Far South Side and south suburban communities are in "great need" of improved bike infrastructure, said Benet Haller, transit manager for the county's transportation department.
The Lake Calumet study aims to "overcome those gaps" through major investments in bike routes, trails, bridges and other on- and off-street infrastructure while "making sure local folks are aware of those big moves," Haller said.
The resulting plan will outline "what a complete [bike] network would look like and the steps necessary to get there," Haller said.
"We recognize there are all of these nice bike facilities" in the community, like Big Marsh Park and the Burnham Greenway, he said. "But there are notable gaps, and [the gaps] are fairly obvious."
One such project would fill a nearly 3-mile gap in the Burnham Greenway trail. Two existing stretches of the greenway — from East Side to Hegewisch and from the village of Burnham to the Pennsy Greenway trailhead in suburban Lansing — are disconnected.
The state will extend the trail's Southeast Side section through Hegewisch, while Burnham is working to extend the greenway north to the city limits. The county plans to link the two projects with a bridge over several railroads and Brainard Avenue, officials said.
The completed Burnham Greenway will be about 10 miles long, while the Pennsy Greenway connection would connect Chicago with Schererville, Indiana.
"Filling in this gap could allow for long-distance bike travel that would be hard to do otherwise," said Jesse Elam, the county transportation department's director of strategic planning and policy. "It's really just an important corridor to get done."
Should organizers secure enough government funding, all three projects could be finished by 2027, Elam said.
To learn more about the Lake Calumet bike study, click here. To take a survey on the area's transportation needs, click here.
Officials are also continuing to plan for a proposed Lake Calumet Trail, which they say would improve travel between Big Marsh Park and the Pullman National Monument while creating access points for lake visitors.
Plans for the trail currently start near the Harborside Golf Course entrance drive, follow a new bridge over Lake Calumet, then cross over Stony Island Avenue and an adjacent railroad before ending at Big Marsh Park.
The trail could also include a leisurely loop for cyclists and pedestrians, a wildlife viewing area on its east end and boardwalks in low-lying areas, said Tim Gustafson, project manager for the design and engineering firm Epstein.
Construction and engineering is estimated to cost $18.3 million — the largest chunk of which would be $7.76 million to build the portions of the trail which must be on a bridge, Gustafson said during a webinar hosted last week by the Active Transportation Alliance.
The cost is "quite a lot, but … when you're advocating for safe, comfortable, accessible facilities [from which] everyone can benefit, we should not be shying away from how much these things cost," he said. "We should be looking for opportunities to find ways to pay for them."
The Illinois and Chicago transportation departments are also working on separate bike infrastructure projects on 111th Street that would complement the Lake Calumet trail, Gustafson said.
Panelists at last week's webinar also gave updates on efforts to upgrade the Major Taylor Trail and create the Bronzeville Trail and the Englewood Nature Trail.
The Major Taylor Trail still needs safety improvements and beautification efforts that were called for in a 2019 wayfinding plan, said Brenda Dixon, vice president of the Major Taylor Trail Keepers.
Among the plan's unfinished projects four years later are branded directional signs, directional "sharrows" on the street and locator maps at points along the trail.
Interpretive signs with information about Taylor — the first Black bicyclist to win a world championship — and the surrounding community have also not yet been installed.
Supporters also aim to restore and complete the Major Taylor mural at 111th Street, create an overlook deck at the Little Calumet River and build a rain garden along the trail from 111th to 113th streets, where the land drains poorly and is often a mosquito breeding ground, Dixon said.
"Twenty years ago, when our trail was first converted from a railroad line … no amenities or enhancements were ever installed on the trail," Dixon said. "We hope and pray that we can get this done."
To donate in support of the Major Taylor Trail, click here.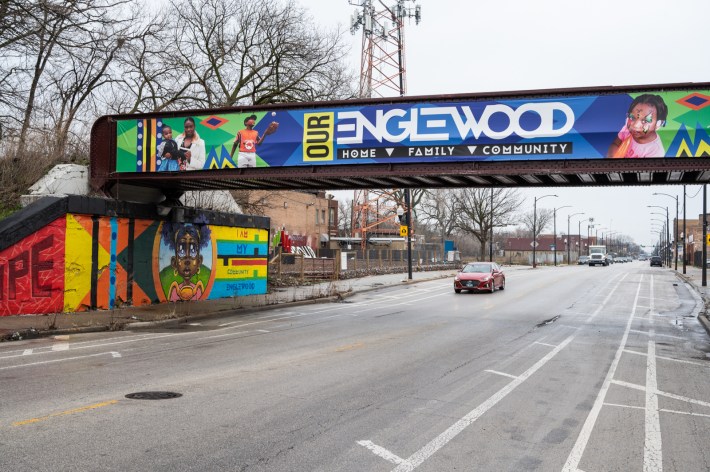 The Bronzeville Trail would redevelop a 2-mile stretch of the abandoned Kenwood Line railway. It would start near 40th and Dearborn streets and go to 41st Street and Lake Park Avenue, near the 41st Street pedestrian bridge to the Lakefront Trail.
The elevated trail, which will be modeled after the North Side's Bloomingdale Trail, will cost around $100 million to complete, supporters said.
To donate to the Bronzeville Trail Task Force, click here.
The Englewood Nature Trail would turn a 1.75-mile abandoned railroad line into an accessible, elevated multi-use trail. The path would run between 58th and 59th streets from Wallace to Hoyne avenues and anchor a new urban agriculture and green space district.
The $72 million project raised nearly $30 million in state and federal funding as of March. City officials must begin building the trail by September 2026 to use a $20 million federal grant awarded to the project last year.
To donate to project organizer Grow Greater Englewood, click here.
Watch our "On The Block" TV show on The U, CW26 and MeTV.
Listen to "It's All Good: A Block Club Chicago Podcast":