GARFIELD PARK — Plans to open a pot dispensary in a well-known Garfield Park restaurant space are not passing muster with some neighbors who passionately debated the topic at a community meeting Tuesday.
Neighbors weighed in on a proposal from HAAAYY Group to convert the closed Wallace's Catfish Corner, 2800 W. Madison St., into the HAY Illinois Adult-Use Cannabis Dispensary at a Tuesday meeting hosted by Ald. Walter Burnett (27th).
The project, which needs approval from the city's Zoning Board of Appeals, could help revitalize a Garfield Park corner and bring more minority participation into the cannabis industry, supporters said.
Others, however, said a dispensary could harm a community already impacted by the War on Drugs.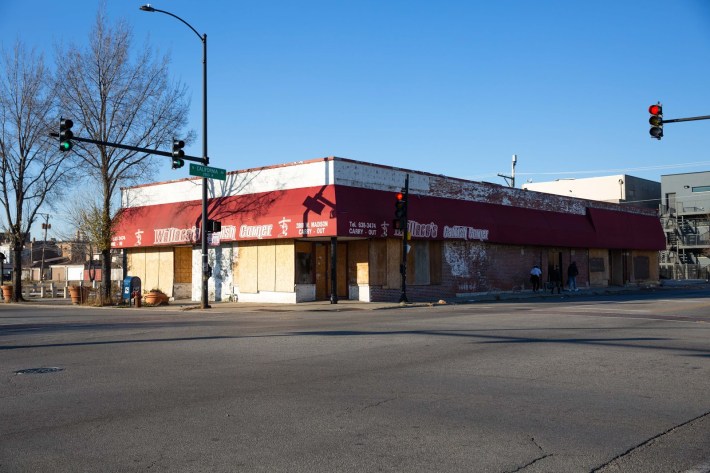 One after another, residents shouted over each other about the harm a dispensary could do to the community. Some complained the dispensary could possibly encourage drug use among children due to its proximity to Marshall Metro High School, that it is in poor taste because of the church communities nearby and a poor use of space compared to other community needs.
"How can we be sitting here in a food desert and contemplate about bringing weed here? This is ridiculous," one woman said.
HAAAYY co-founder Robert Walker was born and raised in West Garfield Park and was pitched the idea of opening a dispensary by attorney Mazie Harris as a means of community wealth building and a source of tax revenue that could bring other businesses to the area.
Walker, 37, said the dispensary would prioritize hiring local workers and plans to employ 20-30 people.
"I'm not a Black face speaking for a white owner," Walker said. "We are being left out of this billion dollar industry and I think it will be a true economic catalyst for the community."
Both Walker and Harris sued the state over its licensing process. The companies they represented alleged the licensing award process was unconstitutional, saying the process was unfairly rigged to prefer veteran applicants over others.
HAAAYY received a license last year as part of a wave of minority applicants to diversify the state's overwhelmingly white cannabis industry. The company dropped its lawsuit against the state after it was awarded a cannabis license, according to industry publication Grown In.
Some in the crowd believe a dispensary would be reclaiming wealth lost to the area and to people of color as a result of the War on Drugs' effect on Black communities.
"People are letting their emotions and personal religion cloud their judgment," one woman said. "Why should we be frozen out of this $130 billion industry? We need to get a piece of this."
Wallace's Catfish Corner, which was owned by former Ald. Wallace Davis Jr., had a turbulent history up until its permanent closure in 2017. It was known as a Democratic hub and campaign stop, with former presidents Bill Clinton and Barack Obama frequenting the establishment.
Davis Jr., who attended the meeting, said he will fight to prevent a dispensary at the restaurant.
"I think this meeting is a moot point. You stepped on some toes, you are targeting me in my community and I don't appreciate it," Davis Jr. said. "I never will give you my blessing to bring that crap to this community."
Burnett said would like to see a dispensary in the area but thinks the meeting's rambunctious turn was not helpful, believing personal religious preferences took up much of the discussion.
"I would love to see an African American dispensary in this area, because we don't have too many of them in the city if any at all," Burnett said. "The community has to know there must be a real legit reason to go against something. The zoning board doesn't just deal with emotional responses."
Despite this, Burnett said he would still listen to the community and decline it if residents were not on board with the dispensary or if the building didn't have adequate funding.
Siri Hibbler, founder of the Garfield Park Chamber of Commerce, believes a dispensary is a viable stream of revenue to the community, though believes HAAAYY should have engaged with more community organizations ahead of time to figure out where the best location is for a dispensary that has the best community impact.
Hibbler said the West Garfield Park area, which she said already has a widespread drug problem, would not be ideal for a dispensary.
"We love supporting Black owned businesses but at the end of the day, you have to pay attention to what the community says," Hibbler said. "Garfield Park is a huge place, people are going to come to it if its in the right place."
Watch our "On The Block" TV show on The U, CW26 and MeTV.
Listen to "It's All Good: A Block Club Chicago Podcast":