PORTAGE PARK — Zoe Nance started playing baseball at Dunham Park when she was 7, continuing to practice there through years of being the only girl on mostly boys teams.
Now 14, the Taft High School student is representing her country and community at an inaugural girls baseball world series tournament in Japan in August. Thanks to friends and family from the Northwest Side who donated thousand of dollars to send her overseas, the Portage Park teen is poised for her biggest athletic opportunity yet.
"I think it's going to be a really good opportunity for me; it's really exciting," Nance said. "I'm really grateful for everyone who donated. It wouldn't be possible without them."
Nance is part of her division's national baseball team for Baseball For All, a worldwide organization working toward gender equity in baseball by providing girls with opportunities to play and coach. Nance applied to the organization's Girls' Baseball Ambassador's Program and was selected to play on the international team this year, said her mother, Zorona Nance.
The Nance family was overjoyed at the opportunity, but needed help covering the airfare and other tournament-related costs like housing and meals since it was short notice, Zorona Nance said.
Zorona Nance turned to the community to ask for help, creating a GoFundMe fundraiser with the goal of raising $5,000. In less than a week, donations poured in, exceeding the family's goal and blowing them away, they said.
"We wanted to make this happen for her and thought that maybe some of the community would step behind her and they really, really, really really did," Zorona Nance said. "It was overwhelming and brought tears to my eyes every time."
Traveling to Japan will give Zoe experience playing overseas, more exposure and a look at another culture that loves baseball, her parents said. It could help her get into college to play competitive baseball, which she is considering, she said.
"For a girl to be able to go and play in baseball World Series in Japan at 14 is a meaningful life experience," Zorona Nance said. "You can put that on a college application."
The support from the Portage Park community, particularly the Dunham Baseball Organization, has been a blessing for the family, which often starts kids young in the sport. Zoe's brother also plays baseball, and her father coaches them both.
"It's always been a tradition in my family that when a child turns a year old, we give them a baseball, so I gave Zoe a baseball," father Jeff Nance said.
From day one, Zoe has loved the sport's competitive nature, often playing with her brothers and numerous travel teams. She pitches, and plays outfield and second base. She tried softball and was on Taft's team this year but didn't like the pace of the sport, she said.
The pride and support from her community is a welcome feeling, but it's not always been an easy road for Zoe.
Playing in a male-dominated sport meant Zoe has had to overcome sexism and stigmas about girls playing with boys, she said. Sometimes she would get singled out, but as her skills grew, so did her confidence.
"I feel like once people actually got to see me play, they realized that I wasn't just performing — like, I'm actually good," she said. "That feels really good."
After graduating from the Dunham Park team, she joined travel teams like Windy City Baseball and the Jayhawks, where she was often the only girl, she said. She also played on the The Humboldt Park Gators, Chicago's only all-girls baseball team that won the national title in 2021. She also plays on the Chaneyville baseball team, an all-girls Chicago-area travel team.
One of her former coaches at Dunham Park, Kyle VanEenenaam, has seen her athletic abilities grow firsthand. Her determination has made her a standout dedicated athlete — one who's better than the boys she plays with, he said.
"She has this grit and a fearlessness that not everyone has," VanEenenaam said. "She clearly has the ability to go with it, but without that mindset, it's a struggle."
Putting herself out there to join new teams and meet new baseball communities in the Chicago area is a skill that contributes to her fearlessness, he said. He was one of 56 people who donated to the family fundraiser.
"There was just never any issue that she was the only female on the team; no one ever talked about it like that," VanEenenaam said. "Zoe was one of the top kids on every team she played … we called her 'Zoe the Baller' because she was hitting balls."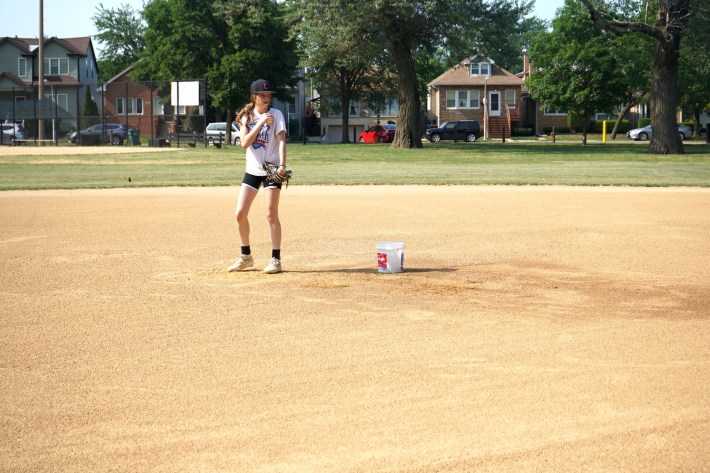 Zoe is preparing for a national tournament in Kentucky next month before heading to Japan. She said she is happy to see more girls playing baseball locally and nationally. The work to change perceptions and have more opportunities for girls in the sport is still a challenge, but she hopes she can play in college, she said.
Parents have even signed up their daughters to play baseball on Dunham Park's district teams because of Zoe, and more girls are on the park's teams now, VanEenenaam and Zoe's parents said.
"I think it's really cool that I can be a role model to other girls that aren't sure if they want to play baseball because they're scared of playing with the boys," Zoe said.
Watch our "On The Block" TV show on The U, CW26 and MeTV.
Listen to "It's All Good: A Block Club Chicago Podcast":