CHICAGO — Drag artist and clothing designer JForPay has spent years honing her signature bright, bold looks influenced by Chicago's drag scene.
JForPay's designs have been featured in shows throughout the city, and some have gained national attention on RuPaul's Drag Race. Now, she's in the early stages of her next fashion line, which she hopes will continue to pay tribute to the city and community that birthed her artistic vision.
"I want my work to reflect the city's abundance," JForPay said. "Chicago's creative spirit is just overflowing and because I've received so much of that from the community, my way of contributing is giving that same energy back." 
JForPay often performs wearing her own designs on Friday nights at Hydrate, 3458 N. Halsted St., as part of the club's Fresh Faces drag competition. She recently won The Star of Chicago pageant April 24 at Baton Show Lounge in Uptown.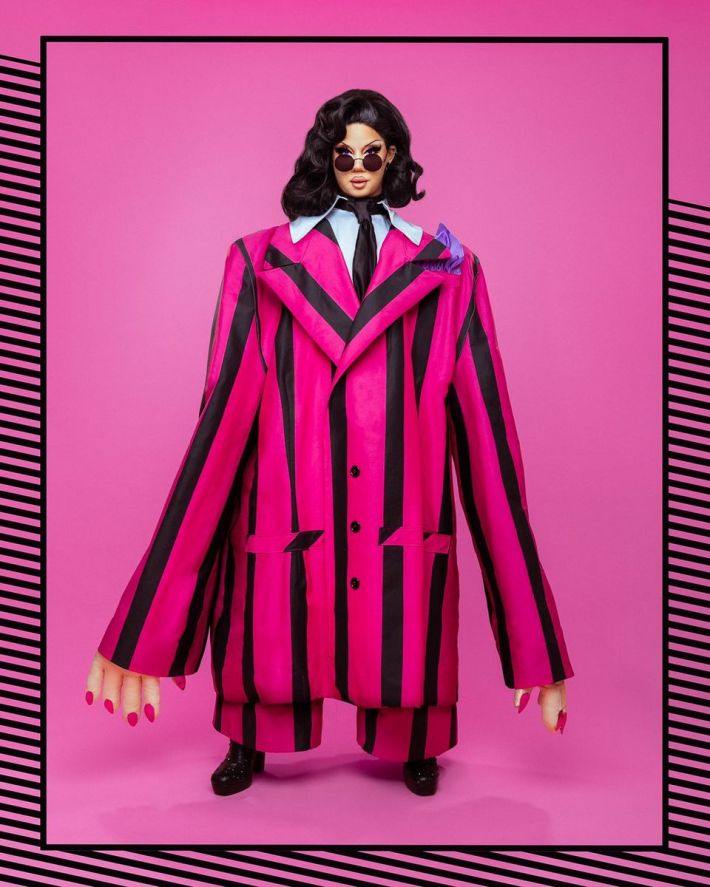 She also helps organize the annual "Chicago Is A Drag Festival" with the nightlife collective A Queer Pride. This year's celebration will be June 23 in the parking lot of Andersonville's Cheetah Gym, 5248 N. Clark St., and will entirely feature trans and nonbinary performers. 
"The way I design is all about moving toward excitement and showmanship and what's going to have an impact," JForPay said. "The sense of wonder and excitement I experience from drag is what I try to convey through my designs because I want other people to be able to experience that, as well." 
'I Feel Like I'm Forging A Different Path'
JForPay grew up in Seattle. She was always interested in the art of drag and dove into the culture while attending the School of the Art Institute of Chicago, where she was introduced to the city's drag scene outside in her off time.
Exploring Chicago's queer nightlife scene "felt like a part of [her] education," JForPay said. She took a few fashion classes in college, but her studies were focused on performance art and video production, she said.  
"Seeing artists like Kim Chi and Trixie Mattel perform was like a night class," JForPay said. "Chicago has such a rich nightlife scene, so I was getting as much knowledge from seeing these artists in the club scene as I would in my classes."
The experience was cathartic for her as an arts student, she said.
"Being in that intense academic environment, it felt like there was a lot of free rein for expression, but at the same time, I needed something that was more tangible and visceral," JForPay said. "I feel like going out in drag after class was the sort of chaos I needed to counterbalance that more academic experience." 
The Sunday night party "Queen!" at Smartbar, 3730 N. Clark St., was one of the first spaces where JForPay started to develop her identity as an artist, she said.
The weekly dance party features Chicago house music, led by local DJ icons Derrick Carter, Michael Serafini and Garrett David.  Attendees are encouraged to show off their latest drag looks on the dance floor, JForPay said. 
"That's such a quintessential Chicago drag experience, and I think my drag and design point of view was born in many ways in that space," JForPay said. 
JForPay started performing in drag and designing looks as a natural extension of her hobby. It wasn't until about five years ago that she started to think of drag and design as a career, she said. 
"It started with me saying, 'How can I do this without spending a ton of money? Well, I'll teach myself to sew and make pieces for myself,'" she said. "It was a natural transition where I got into drag and realized I couldn't buy Akira or Charlotte Russe stuff and just act like it's cool. I have to make something custom, so that every time I go out, I feel better and might get a better booking for the next time because I look cool." 
Each Outfit 'A Performance In Itself'
While creating custom designs is "very satisfying," JForPay said her biggest strength as a designer is "being able to work with people wherever they're at." 
JForPay said she's most inspired by "bright colors and loud materials." 
"Growing up, I never internalized how those things can be considered tacky," JForPay said. "I was always just magnetically drawn to them. It's hard for me to work in more subtle color patterns or with simpler materials because it doesn't excite me in the same way."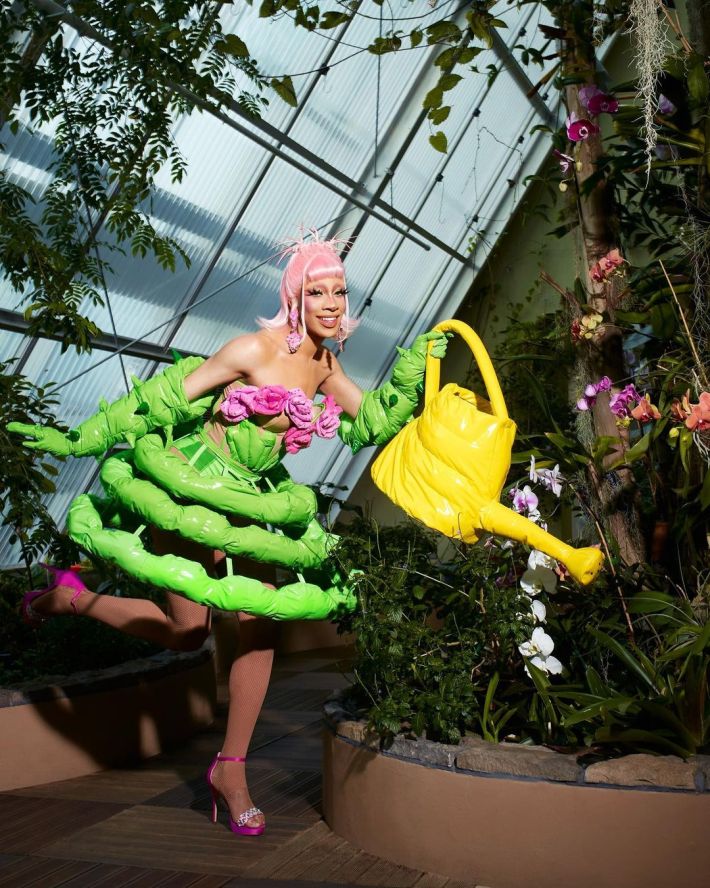 There's "a lot of fluidity" in JForPay's drag designs, she said. She takes a similar approach when creating each style, blurring the lines of what's considered a costume or an outfit, she said. 
"I like to make the outfit a performance in itself, how I can create it so that there's a reveal or some sort of transformation no one will see coming," JForPay said.
JForPay has put on two fashion shows to showcase her designs since 2019. She hopes to finish her next fashion line by early next year, she said.
Each of her designs are handmade and "tailored to people's bodies." She typically hires models she knows from the drag community and customizes the pieces for them. 
"It's rare that I get to create throughlines between my pieces when I'm making looks for drag shows, because I'm often working with other people's perspectives," JForPay said.  "Designing a fashion line is a moment for me to be able to sit down and create a set of 12 or 14 looks that have a story across them, which is not something that drag designers typically get to do.
"In some ways, I feel like I'm forging a different path or approaching the world of fashion from a different entrance."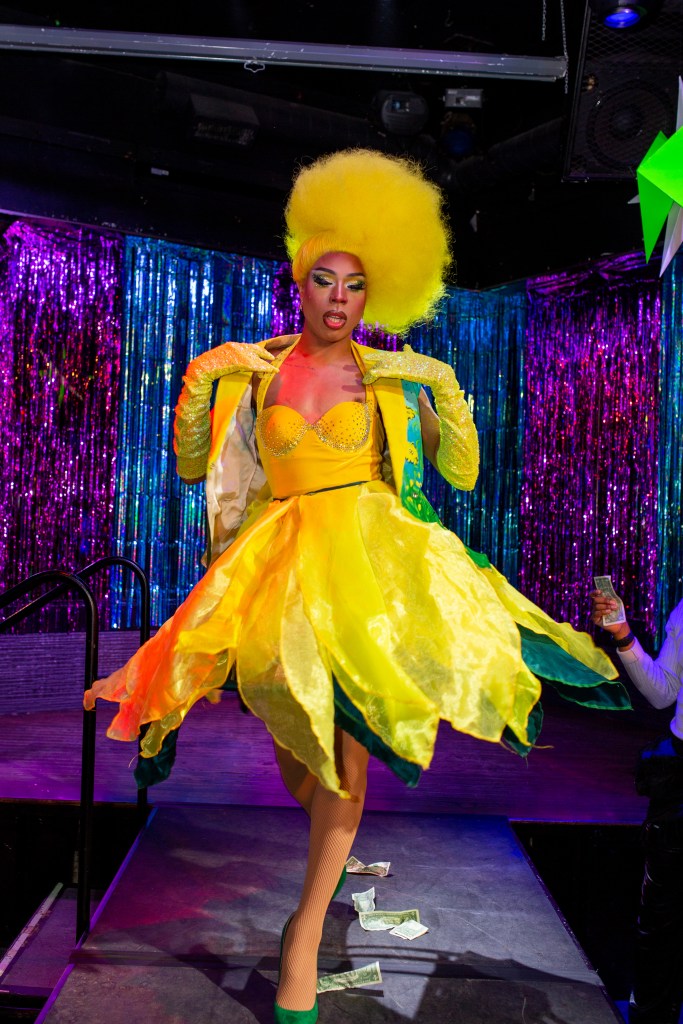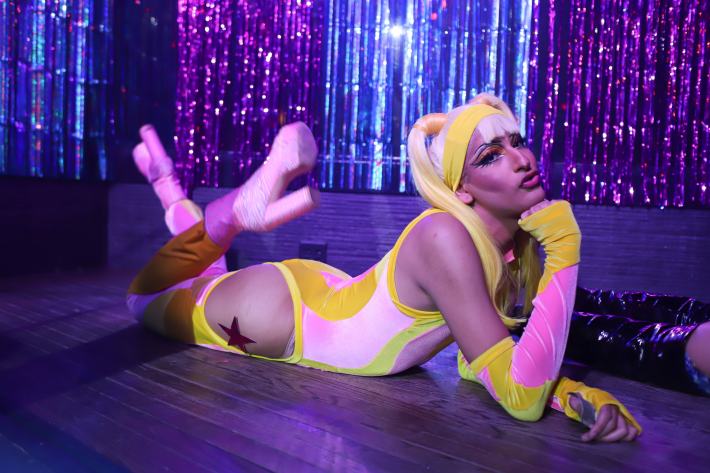 All of JForPay's designs have been deeply influenced by her experiences growing up within Chicago's "diverse, abundant" drag scene, where she's been able to forge meaningful connections with the entire community of creators, including musicians and DJs as well. 
JForPay's style is a combination of her "perspective and reflection of the community [she's] a part of," she said. 
"The city is a place that feeds me in ways I wasn't fed by Seattle, where I grew up," JForPay said. "The tension here is both beautiful and heartbreaking. It's an incredible city that continues to inspire me and hopefully will for a long time."
Watch our "On The Block" TV show on The U, CW26 and MeTV.
Listen to "It's All Good: A Block Club Chicago Podcast":