LOGAN SQUARE — A long-drawn-out plan to revive the decaying Congress Theater faces another major setback as the developer could lose millions in critical city funding.
Baum Revision is asking the city for $27 million in tax-increment financing (TIF) to overhaul the historical Congress Theater at 2135 N. Milwaukee Ave. and the surrounding retail shops and apartments.
Development officials have said the city funding is crucial to pulling off the $88 million project, which has struggled for years to get off the ground for financial reasons.
But now that key funding is in limbo because the Fullerton/Milwaukee TIF district, the source of that money, is set to expire next year, according to Ald. Daniel La Spata (1st) and David Baum, principal of Baum Revision. TIF funds must be spent on eligible projects within a certain timeframe, or the money is no longer available.
La Spata is scrambling to save the highly-anticipated project by extending the terms of the Logan Square TIF district for another three years. The Illinois General Assembly approved a 12-year extension in late May, but La Spata said he will only request another three years on the TIF when he brings the proposal to the full City Council for final approval.
"It is not hyperbolic to say that the Congress Theater development does not happen without the extension of the TIF," La Spata said in an interview with Block Club.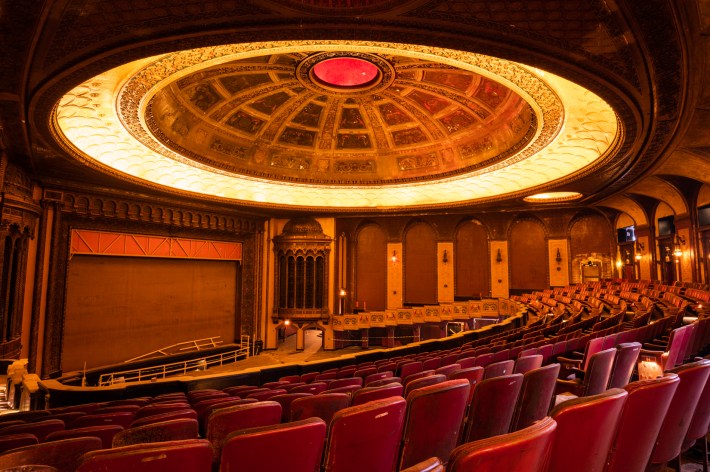 Tax-increment financing districts capture new property tax growth in a designated area for a set period of time, usually 20 years or more, and divert it into a special fund for projects designed to spur economic development and eradicate blight.
Baum said an extension is necessary because they don't have nearly enough time to do the ambitious preservation project under the current terms of the TIF, which requires all projects using those dollars to wrap by the end of 2024.
"The approval process took us to a point where the work can't be completed in that timeframe, and without those funds, we don't have a project," Baum said in an email.
The expiring city funding is the latest setback for the Congress project.
Baum's development proposal was held up for months over a "good jobs" agreement between AEG, the theater operator, and local union UNITE HERE Local 1. Then former South Side Ald. Susan Sadlowski Garza temporarily blocked the proposal over labor concerns in March.
A labor agreement has since been reached, and a key city panel is expected to vote on the plans this month, but City Council now needs to sign off on extending the TIF district for the project to move forward, La Spata said.
"We're not seeking any more money than what's in the redevelopment agreement — we're only seeking more time," the alderman said.
The scramble for city funding also comes after years of failed attempts at redevelopment and long stretches of inactivity during which many neighbors have questioned whether the Congress will ever reopen.
The city shut down the Congress in 2013 for code and safety violations after embattled former owner Eddie Carranza defaulted on $4 million in loans.
Developer Michael Moyer set out to redevelop the theater a couple years later, and even secured TIF dollars and layers of city approval, but his plans fell apart after he defaulted on $14 million in loans.
Baum took control of the project in 2021, hoping to finally restore the 2,900-seat 1920s music venue back to its former glory.
The developer's plans also include roughly 5,400 square feet of retail and restaurant space along Milwaukee Avenue and Rockwell Street, 16 apartments and affordable offices and work space on the second and third floors. Fourteen of the apartments would be reserved as affordable housing.
Baum officials have said they're committed to overhauling the historical venue. Beyond the delays, the theater's worsening condition and other factors, including high interest rates, are driving up costs, Baum has said.
The renovation is now estimated to cost $88 million, up from $70.4 million last year.
"It's been a bit of a game of whack-a-mole. Every time we think we've figured it out, pricing goes up," Baum said in February.
La Spata Slammed For Lack Of Transparency
La Spata is drawing pushback from other community leaders for his handling of the expiring TIF district.
La Spata announced the extension proposal in an email newsletter to constituents in mid-May, but he should've held robust community meetings around the issue, said Andrew Schneider, former 1st Ward aldermanic candidate and president of Logan Square Preservation.
TIF funding is a public subsidy and is therefore a public matter, Schneider said.
"I don't think a single paragraph in an e-newsletter is enough notice or community process. This TIF didn't expire for another six months. We could've easily had some public meetings and discourse around this," Schneider said.
Ald. Carlos Ramirez-Rosa (35th), whose ward covers part of the TIF district, said La Spata approached him about the extension in April, but went ahead and sent the proposal to the state legislature without heeding his concerns, which he found disappointing.
"I said I had concerns and any such move should involve community input and a robust discussion around the rationale for extending it and what projects would be funded through the extension," Ramirez-Rosa said.
"I told him I'd be willing to have those conversations, but I felt very strongly that we needed to speak with community groups about such an issue. And that's where I left it, so I was shocked when I saw the news."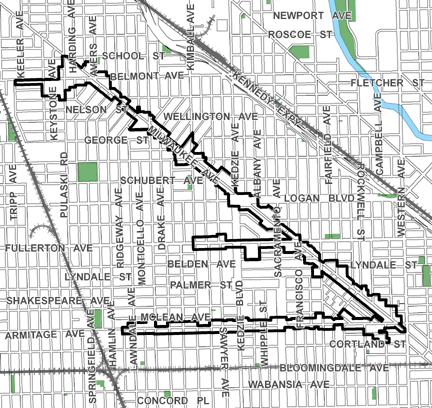 Chicago's tax-financing program has long been fraught with controversy. Many critics have argued the funding largely benefits affluent parts of the city and strips investment and resources away from the struggling communities the program intends to help.
Schneider said there's no guarantee funding from the extended Fullerton/Milwaukee TIF district won't go to projects that don't serve Logan Square residents or siphon away resources from other neighborhoods that need more investment.
"This is a system which we have watched monopolize resources for wealthy communities at the expense of the rest of the city," Schneider said. "I don't know how our policymakers can look at Milwaukee and Fullerton and say with anything resembling honesty that the area is blighted and needs TIF."
But La Spata said he's asking for an extension of no more than three years explicitly for the Congress project and residents will get a chance to weigh in on how any additional dollars captured by the special taxing district should be spent.
"That's absolutely a community conversation that should be had. But right now, the sole focus is to get that additional time that we need to complete the Congress successfully," he said.
La Spata said he wouldn't be requesting an extension if the Congress weren't such a "catalytic and transformative" project.
"The interest and and the energy that it brings to Milwaukee Avenue as a whole is going to be really, really beneficial for our community," he said. "I don't take this lightly. Like everyone else in Chicago, I've been reading Ben Joravsky's work [on TIFs] since college. I know what a fraught tool TIF can be, which is why we're trying to be very transparent in the steps we can take. Our commitment is to do everything above board as possible."
Watch our "On The Block" TV show on The U, CW26 and MeTV.
Listen to "It's All Good: A Block Club Chicago Podcast":