LOGAN SQUARE — After a years-long effort to revitalize Congress Theater stalled and fizzled last year, another developer has stepped forward to take over the beloved Logan Square venue, which has sat empty for nearly a decade.
Baum Revision, a Chicago-based developer with a reputation for restoring historical buildings including the Green Exchange and Margies Candies buildings, is "seriously exploring" reviving the Congress, Ald. Daniel La Spata (1st) told Block Club this week.
The Baum team is working with a court-appointed receiver who took over the property at 2135 N. Milwaukee Ave. after the previous developer, Michael Moyer, defaulted on his loans. Baum is seeking to assume control of the building, and overhaul the historic theater as well as the surrounding apartments and retail space, La Spata said.
La Spata said Baum is looking to pick up where Moyer left off and execute most of the redevelopment plan approved by the city in 2018. Those plans called for a complete restoration of the theater; construction of a 30-room hotel, 14 affordable apartments and 16,000 square feet of retail space in the surrounding 160,000-square-foot theater building.
The plans also called for the construction of a 72-unit residential building next door, but that component could be nixed as La Spata said he doesn't believe Baum is looking to build the apartment tower.
While the plan is in the early stages, La Spata said he expects to host a community meeting on the developer's outlines next month. David Baum, one of the managing principals of Baum Revision, declined to be interviewed for this story.
"There are aspects of this that still need to come together, but it's an exciting plan," La Spata said.
Right now, the Baum team is focused on securing financing to rehab the theater, La Spata said. Restoring the deteriorating nearly century-old theater will be costly; the project under Moyer was expected to cost at least $69 million.
While Baum officials haven't shown him a financial plan, La Spata said he's "optimistic" the development firm can pull off a project of this scale given their history successfully restoring several historical buildings in the city and across the Midwest. In addition to the Margies Candies and Green Exchange buildings, Baum has redeveloped structures such as the 1920s Marmon building in the South Loop and a turn-of-the-century sugar beet processing warehouse in Madison, Wisconsin, among others.
"Michael Moyer's arrangement fell apart because he lied to the city and the community about his financial stability and where his dollars were coming from," La Spata said. "It's beneficial to have a developer [Baum] with a proven track record of getting meaningful projects done to be actively looking at a project like this."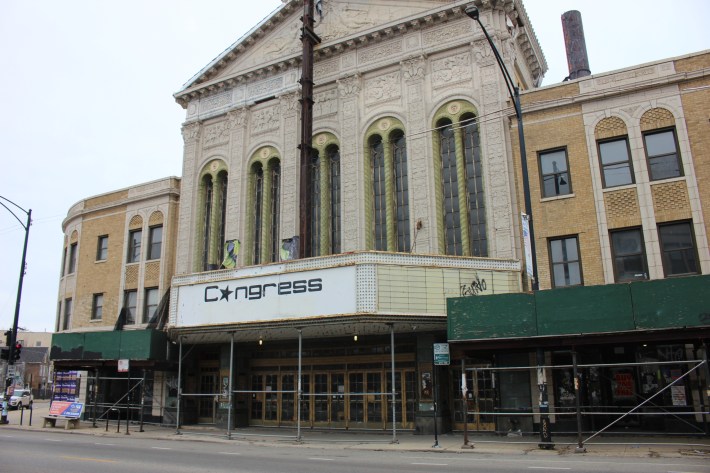 Built in 1926 as an ornate movie palace, the Congress Theater hosted everyone from Chuck Berry to Jerry Lee Lewis in its heyday. It's been empty since the city shut it down in 2013 following a string of code violations and crimes that occurred in and around the theater during shows.
Moyer, who redeveloped the Cadillac Palace Theatre and Hotel Allegro in the late 1990s, bought the old movie palace for $16 million in 2015 with the goal of bringing it back to its former glory.
In 2018, city officials gave Moyer the green light to restore the theater and allocated $9.7 million in tax-increment finance (TIF) dollars toward the project.
But Moyer's project never really took off. Months went by without much activity on the site, throwing into doubt whether the ambitious project would ever be realized.
Last summer, Los Angeles-based lender AEG Worldwide sued Moyer for allegedly defaulting on $14 million in loans on the theater in 2018, the same year he won city approval. The lender alleged Moyer owed a total of $24 million because the loans resulted in another $10 million in fees and interest.
Following the lawsuit, a judge appointed a receiver to manage the upkeep for the theater, which has deteriorated in recent years.
La Spata said the Baum team approached him about three weeks ago about taking over the property and starting fresh. The alderman said the next step is for neighbors to weigh in on Baum's plan, which could include TIF funding.
Moyer was never awarded the TIF dollars the city allocated to his project because he didn't sign the city's redevelopment agreement, La Spata said. Should the Baum team decide they want TIF funding, they'll have to re-apply through the city, the alderman said.
"It's still a possibility to invest TIF dollars into this project, but we do want to hear the community on that," La Spata said. "We want to hear from folks about what are the kinds of benefits they want to see for the community that makes that public investment worthwhile."
Whether or not TIF funding is approved, Baum's project would breathe new life into a theater that has been beset with problems for years.
The city banned the theater's former music genre of choice, electronic dance music, or EDM, for all current and future owners in 2014 following a series of safety-related complaints. Former owner Erineo "Eddie" Carranza was threatened with foreclosure after defaulting on a $4 million loan a couple years before that.
"The potential for what this space could be is so great," La Spata said. "I really want to hear from our neighbors in terms of what they hope the impact … is going to be."
Subscribe to Block Club Chicago. Every dime we make funds reporting from Chicago's neighborhoods.
Already subscribe? Click here to support Block Club with a tax-deductible donation.
Listen to "It's All Good: A Block Club Chicago Podcast" here: