WASHINGTON PARK — A parcel of former public housing land on the South Side could become private homes for a nearby tennis center, but not everyone is on board with the plan.
The Chicago Housing Authority board voted unanimously Tuesday to start the process to sell the land at 5400-02 S. Dearborn St. to Kamau Murray, founder of XS Tennis Village, for $25,500, its appraised value.
The land is part of the former Robert Taylor Homes, which once stood along a 2-mile strip of State Street east of the Dan Ryan. The high-rises were razed in 2007, and the land has been empty since.
Murray opened the $9.8 million tennis facility on the former public housing site in 2018. Now, he is looking to expand.
Murray is in the process of assembling several lots for a $10.8 million project to build a mix of 39 two-flats and townhomes between Dearborn and Federal Streets for visiting athletes and XS Tennis employees. Four units would be set aside for affordable housing. 
As part of the expansion, the City Council last month approved the sale of six city-owned parcels to the world-renowned tennis coach for $302,000.
Ann McKenzie, the CHA's chief development officer, said Tuesday that Murray approached agency officials about his plans. Murray said he's eyed housing at the site for years.
The sale of the CHA land must be approved by the U.S. Department of Housing and Urban Development.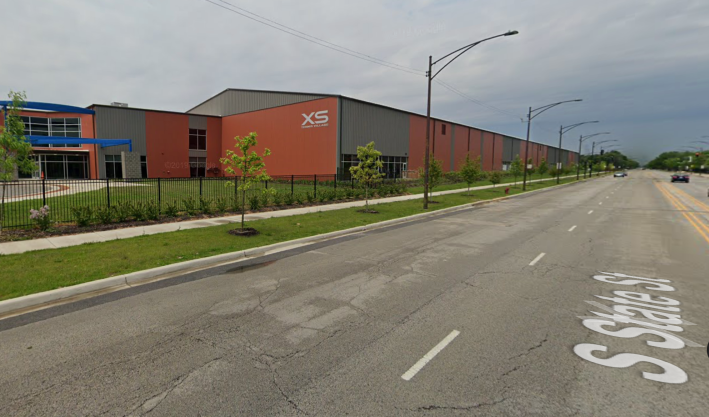 The pending sale is part of a decades-long pattern of the housing agency failing to replace public housing developments as promised and selling the land for private projects, including the Chicago Fire soccer training center and a $150 million Near South Side high school.
RELATED: The Chicago Housing Authority Keeps Giving Up Valuable Land While HUD Rubber-Stamps The Deals
The CHA promised to replace the 4,400-unit Taylor complex with about 2,400 units of new mixed-income housing, 600 of them reserved for public housing residents. So far fewer than 850 units have been finished altogether, including 350 for CHA residents, and acres of land remain empty. Nothing has been built on Taylor property south of 47th Street except Murray's tennis facility.
Murray told the board plans for residential units were at least "four years behind." He also said he wants to create workforce housing so his employees can walk to the center. The four affordable housing units will be built in the project's first phase, Murray said.
"We created XS Tennis as a community anchor, and so far we are still the only ones south of 47th Street, so we are on a mission to try to change that," Murray said. "My name and my legacy is tied to that building and all the land around it. I hope this 4,000-square-foot lot helps me build a six-unit building and we can continue our mission providing a new community built around sports and education."
CHA board members applauded the tennis coach's efforts to breathe new life into the community with free programs and summer camps for CHA families. Murray also pointed out his work to renovate nearby Terrell Elementary — the school his father once attended — which closed in 2004.
Murray also appealed to CHA officials to fill in the empty Taylor land with more housing.
"I do think that XS Tennis could be bigger and better if we had more housing south of 47th Street," he told the board. "I encourage us all to work together. Make it happen. Don't leave me down there by myself."
XS Tennis did not return a call for further comment.
'It's Frustrating To Keep Having To Fight For Housing'
Despite being years behind in its commitments to restore public housing, the CHA has pushed forward with strategies to use vacant land for "long-term public and private investment" and "creative, community-building purposes" such as "performance or sports spaces," ProPublica reported last year.
The agency sold the 13.5 acres for the XS Tennis complex for half of its $4 million value after Murray's team agreed to provide free tennis lessons and tutoring to low-income youth.
HUD signed off the deal, saying it was "in the best interest of the public housing residents."
Tuesday's decision comes two months after the federal government greenlit CHA's plan to lease 23 acres of public housing land to the Fire pro soccer team despite protests from former residents of the ABLA Homes, who have been fighting to return to the neighborhood.
It also comes nearly a year after the CHA approved a land swap with Chicago Public Schools to make way for the proposed high school on the site of the former Harold Ickes Homes on the Near South Side. Part of that deal includes an agreement with Southbridge — a housing development adjacent to the land — to provide 244 units of low-income units for former CHA residents.
Housing advocates think the CHA is trying to "get out of the affordable housing business" by outsourcing the responsibility to the private sector.
Organizers Rod Wilson and Etta Davis have been on the front lines of all of these battles as leaders of the Lugenia Burns Hope Center, staging protests to get former Mayor Lori Lightfoot to prioritize public housing residents who feel they're being systematically pushed out of the neighborhoods they've called home.
"This is another thing from the past administration who put the interests of private investment over the interests of the public," Wilson said Tuesday. "Only a portion of the land that was supposed to come back has actually been returned, and yet they gave a block of this land to Kamau and even subsidized him when he built XS Tennis.
"Now, they're selling more and more of it for private endeavors."
Davis agreed.
"That land was supposed to be returned per the CHA's Plan for Transformation. … The CHA keeps talking about how they don't have any money, but what happened to the $400 million they were sitting on?" Davis said.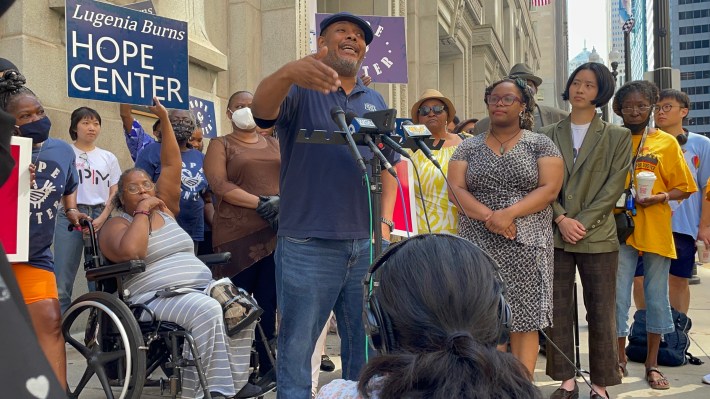 Tens of thousands of people remain on the waiting list for public housing vouchers, but people still have to fight the CHA to keep its promise to rebuild housing, Davis said.
The activist also said the number of affordable housing units the CHA once promised to return to the Near South Side dwindled from 402 to 200. She and others protested to city officials — including Ald. Pat Dowell (3rd) and then-Mayor Rahm Emanuel — which resulted in a pledge to bring back 44 more units.
"It's frustrating to keep having to fight for housing, but we're going to continue to be out here because it's too many homeless people who need the housing," Davis said. "We have to continue to make sure that the government knows and that the CHA knows that they need to get the funding for the housing so that it can be built."
Now that a new mayor is in place, the Lugenia Burns Hope Center activists said they are hopeful they will finally be heard. Both have met with Mayor Brandon Johnson, who campaigned on commitments for more public and affordable housing.
"An average two-bedroom in the city is $2,200 a month. That's crazy," Wilson said. "We need housing for these families who cannot afford to live in the city. We're not gonna let this go through. We're working as hard as we can to make sure that doesn't happen."
Listen to "It's All Good: A Block Club Chicago Podcast":