Editor's Note: This story has been updated. A previous version indicated pregnant women detained at Cook County Jail were being handcuffed while giving birth as recently as 2019, which was incorrect.
GARFIELD PARK — Lanise Washington was in intense pain throughout her 12-hour labor.
At one point, a nurse had coldly thrown Washington's feet onto a bed, she said. Her son, Malik, was premature — he weighed less than 2 pounds — and he had to be revived after temporarily dying.
"Little girls shouldn't be popping out babies," Washington remembered the nurse saying.
It was 1996, and Washington was a 21-year-old recent college graduate — and she knew no one deserved to be treated this way.
"I looked her dead in the eyes and told her, 'By the end of tonight, I'm going to have your job,'" Washington said.
Washington reported the nurse to a doctor at the hospital, and she was told the woman lost her job. Her baby got better, and Washington was able to take Malik home when he was 3 months old.
But the experience made Washington think deeply about how racism is ingrained in medical institutions and affects women of color. She wanted to ensure no woman giving birth ever felt what she did.
Black women of all ages, backgrounds, occupations and income levels carry the fear they will not live to see their child's first breath.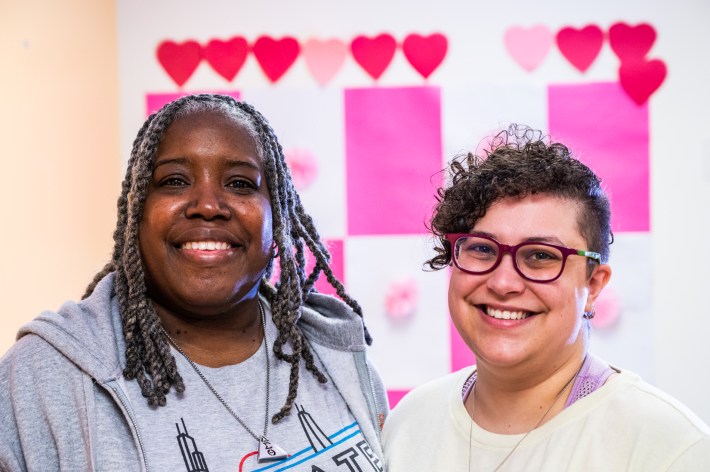 In Chicago, Black women are almost six times more likely to die during pregnancy or in the first year after birth than white women, according to a 2019 report from the city health department. Nationally, Black mothers are three times more likely to die than white women from something related to pregnancy.
To address those maternal care disparities, Marillac St. Vincent Family Services in East Garfield Park has been helping Black pregnant women and young Black mothers for more than 40 years through its Project Hope program.
The organization provides two doulas throughout participants' pregnancies, aiding them at the hospital during birth, teaching them medical advocacy and assisting them with early parenting.
And Washington, now 49, is among the doulas making sure Black women are getting the care they need.
'Maternal Deaths Are A Real Epidemic'
Marillac's doula program was created more than 28 years ago to provide free services that create birth equity among people of all backgrounds. The staff primarily works with Rush Hospital, though mothers and doulas can use other medical facilities.
Before Marillac started its doula service, most of its clients with children were people who had already given birth and were seeking child care, said Marillac Executive Director Maureen Hallagan. Now, its 24-hour program connects Marillac to clients from the beginning of their parenthood journey, providing them care and knowledge that can save the lives of moms and babies and prevent physical and mental trauma.
"Support services like this really do work, and it saves a lot of lives," Hallagan said.
Program manager Laronda Castine said Marillac's two doulas, Washington and Natalie Moss, have separate responsibilities: Moss cares for girls and women 12-25 around the Garfield Park community, and Washington works with women detained in Cook County Jail. 
"The doulas have been instrumental assisting the parents and getting [them] the information they need," Castine said. "The fact that we have had zero deaths with children in our care speaks to the importance of having programs like this."
Marillac's doulas are uniquely poised to help Chicago's Black parents.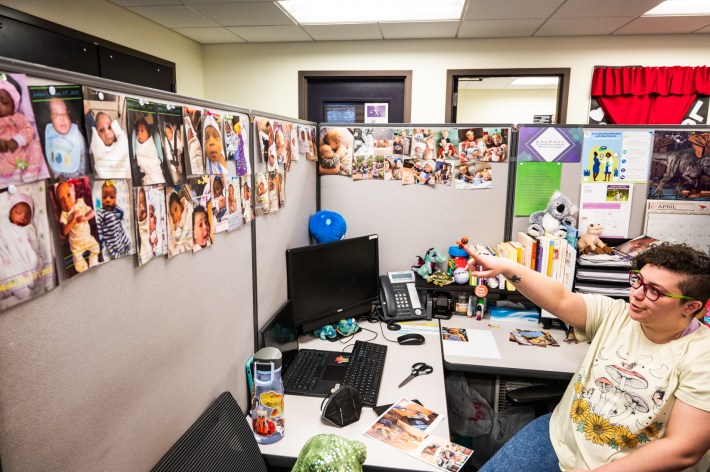 The doulas are culturally aware of health disparities that affect Black women — which can make a big difference in preventing deaths and injuries since systemic racism continues to jeopardize maternal and infant health, Castine said.
"Maternal deaths are a real epidemic. We hope to be able to reach out to more moms to provide a positive influence," Castine said. "These losses affect the child and the whole community. It takes a lot to make up for that."
And Moss and Washington work one-on-one with parents, teaching them about their options and helping them create a birth plan for a safe delivery, Hallagan said.
That can be especially key because doctors often don't believe Black women's feedback about health treatments the same way they do other patients'.
Moss, 28, said she remembers a woman, one of her clients, who asked a doctor to help her move onto her side to give birth. The doctor did not and, despite the mother's pleas not to, the doctor used a vacuum to help remove her baby, Moss said.
The woman had third-degree internal tears and needed a blood transfusion, Moss said.
"The doctors did not care about her," she said. "They were completely dismissive of her needs. [Patients] should not have to use specific language with a doctor to get the care that you need, but this is the reality."
And when the program started, mothers were vulnerable to medical procedures that were sometimes unnecessary, like C-sections, Hallagan said.
Part of the doulas' work is teaching patients exactly what they need to know and what terms they can use to advocate for themselves with doctors.
Moss said some of the people she interacts with at Marillac also don't know the full extent of health care options they have, which can contribute to health disparities for Black mothers.
"The doulas help tell the young mothers, 'You know your body, and you know if there's something wrong,'" Hallagan said. "There's a lot that's been said and written about doctors not believing a [Black] woman when they say something is wrong."
As medical providers sometimes fail to take Black mothers seriously, the doulas step in to support them and reinforce their choices with providers. Hallagan and Moss — who are white and white-passing, respectively — said medical staff sometimes treat them more favorably than the Black mothers and staffers they work with.
"We're not that removed from when textbooks said Black people have higher thresholds of pain than white people," Moss said. "Most forms of modern medicine never had women or people of color in mind. Overcoming all the barriers and giving them the care they deserve is so fulfilling."
Building 'A Sisterhood'
Castine and Hallagan said Marillac's doula program has created a sense of family for the mothers involved, as they stay closely connected with the doulas and other families even after their childrens' early years.
The impacts the doulas have made for Chicago's moms range from the big to the everyday.
Washington works with pregnant women detained in Cook County Jail, helping the women plan their pregnancy care for the time when they are detained and after their release. Establishing trust with the moms-to-be is especially important, she said.
"They built a sisterhood from this group. It's important that they trust us for the sake of their babies," Washington said. "We tell them, 'The baby needs to eat. It needs nourishment that they can't be deprived of.'"
Moss works with mothers with higher risks, such as eclampsia, and works to help all moms-to-be understand potential risks and concerns for them and their babies.
"Simply having us in the room makes them feel like someone will listen to them, we can get something done," Moss said.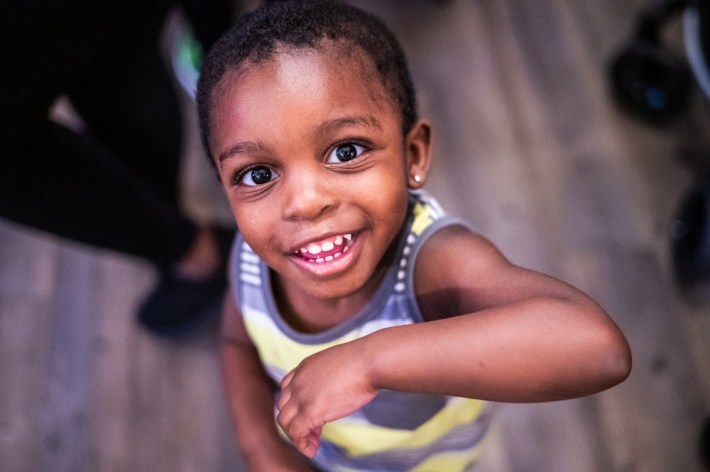 Though Chicago's moms have come to trust the project, Moss said she often gets mixed reception to her work in hospitals: Some doctors are unreceptive to the doulas' involvement, while some are delighted and relieved.
Regardless of how the doctors feel, the doulas work hard to be there for their patients, they said.
Moss and Washington said when they have not been allowed in the birthing room during the pandemic, they get creative by talking on the phone with their patients or caring for them virtually through Zoom calls.
The patients are "looking for us to be there, for us to be that help and support they need," Washington said. "Those relationships we build with them help [with their] labor and in the delivery room. I know what steps it takes and what they're going through.
"All mothers just want their baby to be OK."
That ethos has helped created a bond between Washington, Moss and the patients — but also between the women who have sought their care.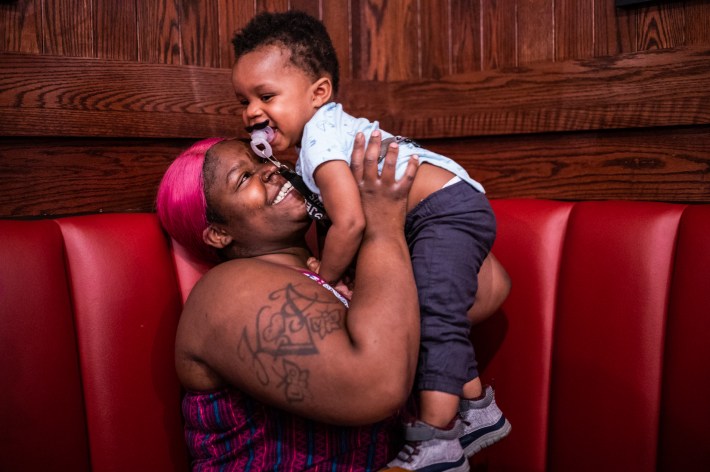 Valeria Jeffries, 21-year-old mother to Taeshawn and Aaliyah, said Moss was instrumental during Taeshawn's birth and for care afterwards. She said the doulas helped improve her parenting skills, and she intends to stick around for Marillac's child care services.
The program and her children helped turn her life around, Jeffries said.
Jeffries' children "helped give me a purpose for what I want to do in my life," she said. "When you don't get a lot of love out here, your baby can be the one that gives it to you. All I know I need to do is take one look at my kids and know that everything is going to be OK."
Tyshawn O'Neal, Jeffries' partner, participates in doula programs with her and the children. He said working with the doulas and mothers has improved his parenting skills and gives him a rewarding experience, making him proud as a dad.
"They're the only thing that keeps me going, that's who I do it for," O'Neal said. "They always love coming up here to see the kids and Ms. Natalie. As long as we have a roof over our heads and the kids are happy, we are happy, too."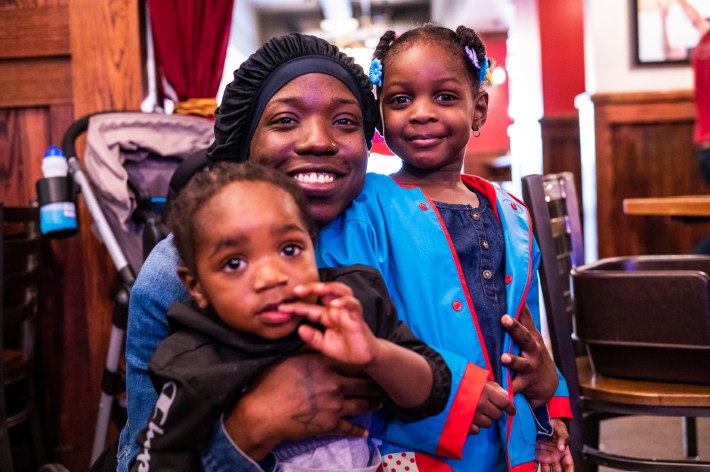 Jonnetta Shepherd, a 26-year-old mother of Mesa'i and A'Mari, said she got involved with Marillac in 2020 shortly after her daughter was born. As a single mother who has faced homelessness and domestic violence, the program helped her cope with the hardships and care for her children, she said.
"They help me get diapers, wipes and other essential needs for my kids. I feel like they are a strong shoulder to cry on when I really need them," Shepherd said.
Juanita Morton, 24, said the doulas provided diapers, food and baby supplies for her 2-year-old son, Dakoto, and taught her parenting skills. And the program connecting her to other moms who are making it work through tough situations brought her closer to them, she said.
"If we don't have something, they always make sure we do," Morton said. "A lot of parents … don't have help. Since I don't really have a family, I consider everybody in this room my family."
People who want to donate to Marillac St. Vincent's services can click here to support its work.
Listen to "It's All Good: A Block Club Chicago Podcast":