AVONDALE — Officials have cleared out all of the Northwest Side tent cities along the Kennedy Expressway because of construction, but local leaders and advocates helped residents move into apartments and shelters.
Residents of the long-standing homeless encampments — about 35 in total — were matched with temporary or permanent housing as part of a coordinated effort between city and state officials, which received an influx in state funding, officials said.
The Kennedy Expressway has for years served as shelter for dozens of people experiencing homelessness, with residents forming tight-knit communities.
Local leaders and neighbors have consistently teamed up with social service agencies to talk through housing opportunities with residents and bring them meals and basic supplies.
Those conversations came to a head in April when Illinois Department of Transportation officials notified community leaders all of the encampments had to be disbanded immediately.
The 10 impacted encampments were along the expressway at Armitage Avenue, Ashland Avenue, Division Street, Kimball Avenue, Belmont Avenue, Sacramento Avenue, California Avenue, Logan Boulevard, Fullerton Avenue and Damen Avenue, according to a city document shared with Block Club.
State transportation officials told Rep. Will Guzzardi and other leaders the three-year, $150 million overhaul of the Kennedy Expressway, which started in March, posed serious safety risks to people living underneath the expressway.
In an emailed statement, IDOT spokeswoman Maria Castaneda said "public safety is our No. 1 priority."
"These types of projects involve the use of large heavy machinery to remove and repair the structures and roads. Multiple tons of steel and concrete beams will be removed, resulting in falling concrete and debris," Castaneda said.
"Additionally, the use of hydro-demolition (extremely high-pressure water) is used to remove the bridge decks, posing an additional safety risk."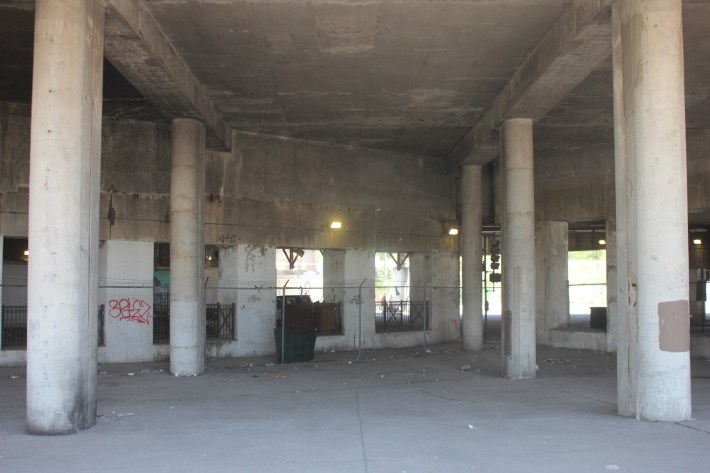 Guzzardi joined forces with officials and groups — including alds. Carlos Ramirez-Rosa (35th) and Rossana Rodriguez-Sanchez (33rd), Rep. Cristina Pacione-Zayas and the Chicago Coalition for the Homeless — to help residents find stable housing.
Some residents were sent to a hotel in the West Loop or shelters as a stopgap measure, while others were connected with apartments, Guzzardi and Ramirez-Rosa said. Case managers are helping those in temporary accommodations find permanent housing, they said.
"They were incredibly excited to have a private bedroom and a hot shower for the first time in a long time," Guzzardi said.
Ramirez-Rosa, who was at one of the encampments April 28 when officials cleared out the area, said the residents "were all very happy, given the situation."
"It was a good outcome," he said.
The group was able to match all of the residents with housing thanks in large part to $500,000 in state funding allocated to the effort, Ramirez-Rosa and Guzzardi said.
The funding came from the Illinois Department of Human Services, Ramirez-Rosa said.
A spokesperson for the state agency declined to comment, deferring questions to the city's Department of Family and Support Services.
A city spokesperson couldn't immediately answer questions Thursday.
Guzzardi, who pushed for the state funding with Pacione-Zayas, said the interagency effort should be replicated throughout the city to address Chicago's homelessness crisis, which has worsened in recent years.
"We really pulled together," Guzzardi said. "I think it just speaks to the power of elected officials at every level — [officials] who have shared values, shared priorities and open lines of dialogue and communication and how much we can accomplish when we're unified in our goals."
The effort underlines the importance of the Bring Chicago Home ordinance, Ramirez-Rosa said. The ordinance, which has been in the works since 2018, calls for hiking the city's real transfer taxes on sales of properties worth $1 million or more to fund homelessness services in the city.
The effort stalled last year when not enough alderpeople showed up for a City Council hearing.
"If we were able to get people into housing for half a million dollars along the Kennedy, imagine what more we could do with many more millions of dollars," Ramirez-Rosa said.
"We have shown that we can succeed in getting people into shelter and housing if we have the resources available. It makes it clear that we have to increase the resources for housing."
Listen to "It's All Good: A Block Club Chicago Podcast":