CHICAGO — The April 19 City Council meeting was a going-away party of sorts.
Goodwill was flowing, and alderpeople spent most of their time praising outgoing Mayor Lori Lightfoot and their 12 retiring or defeated colleagues who wouldn't be back for a new term starting in May.
Amid the celebratory atmosphere, though, returning alderpeople were quietly maneuvering and organizing for the next four years. And veteran Ald. Scott Waguespack (32nd), chairman of the council's powerful finance committee, handed out gifts to veterans and rookies alike: black USB flash drives containing a reference guide on how to serve in the council.
Waguespack's flash drives have been in demand as the council goes through a period of historic transition. Among the retiring alderpeople is former finance chair Ed Burke, who joined the council in 1969 and has long dispensed favors and knowledge to his colleagues. And like his predecessors, Mayor-elect Brandon Johnson has worked with allies to handpick the next leaders of the council and its committees. 
Yet City Council still doesn't have an official onboarding and transition process for its members, despite widespread agreement on the need for one. Five years ago, council leaders and other city officials wrote a comprehensive handbook for alderpeople — but in the fallout from Burke's indictment on corruption charges, the document was never publicly circulated.
The lack of formal training for alderpeople is concerning as Chicago is routinely named the most corrupt city in the country. Since 1969, 37 alderpeople have been convicted of a crime.
Alderpeople, starting with rookies, haven't consistently received guidelines for setting up their offices, connecting with constituents or serving as legislators.
For example, Ald. Jeanette Taylor (20th), elected in 2019, said her training didn't teach her how to communicate with residents. Was it proper, for example, to gather residents' contact info or use their collected data for purposes like mass mailings? 
"I don't move without my community," Taylor said. But for a first-time public officeholder, "there's no book to talk about engaging the community, or what community engagement should look like."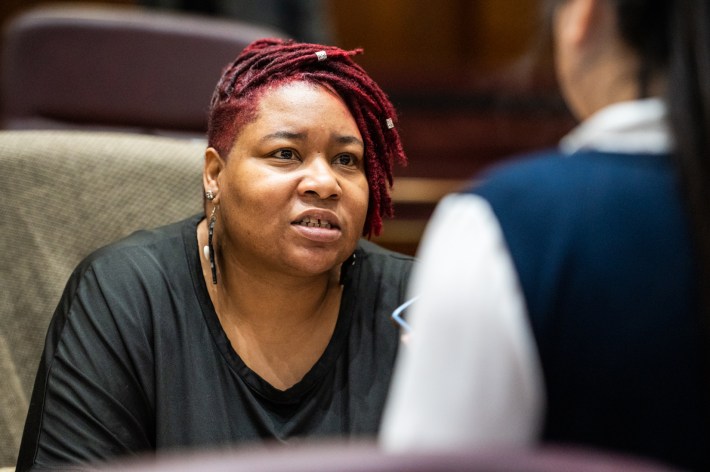 Because of her uncertainty about outreach, Taylor said it took some time for ward residents to realize she was now their alderperson and they could contact her office about "potholes, garbage, and trash, and stuff like that.
"If people were more engaged with us, we could've gotten some of that stuff done faster," she said.
Now, amid shifting alliances and a possible power vacuum, both veteran insiders and independent-minded progressives have been offering incoming alderpeople their own training sessions and how-to guides. 
The organizers of these sessions also have an interest in attracting new allies and, perhaps, putting those allies in their debt. As the city's former inspector general, Joe Ferguson, put it: "Nothin's free."
'State Of Dependency'
For years, alderpeople received no direct training except for guidance and paperwork offered to them by Burke, the dean of the council, whose 54-year tenure ends this week. 
"I was shocked," said Ald. Carlos Ramirez-Rosa (35th). 
After Ramirez-Rosa was first elected in 2015, Burke offered him and other rookies a large binder of information. Its 31 sections contained lots of reference material — including organization charts for the city clerk and treasurer's offices, a pension summary and ward maps. But the massive tome didn't advise alderpeople on how to do their jobs.
When he worked for a member of Congress, Ramirez-Rosa said, he had access to clear, thorough documentation on every legislative task imaginable.
"If I had a question about what can a Congressional office do, what is forbidden, what is permissible, who do I reach out to, who to call, that kind of stuff," it was all laid out "in plain English."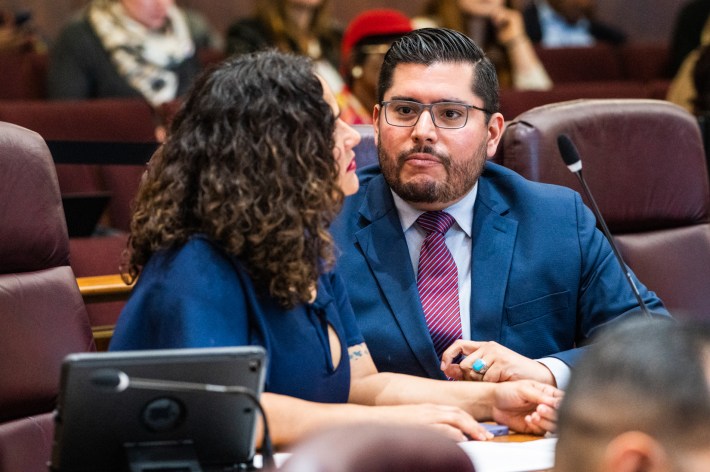 Such was not the case with the Burke binder. So, Ramirez-Rosa said, he resorted to contacting peers to figure out how to get things done—with confusing results. "I'd call this alderman, I'd get one answer. I'd call another alderman, I get another answer."
Ald. Sue Sadlowski Garza (10th), also elected in 2015, had a similar experience.
"We were all ushered into Ald. Burke's big office," Garza recalled. "He just basically gave us a binder."
But she also found it inadequate. For example, it didn't help with a fundamental challenge: "There was nothing about setting up an office," including finding a space, negotiating a lease and procuring phone lines and other equipment.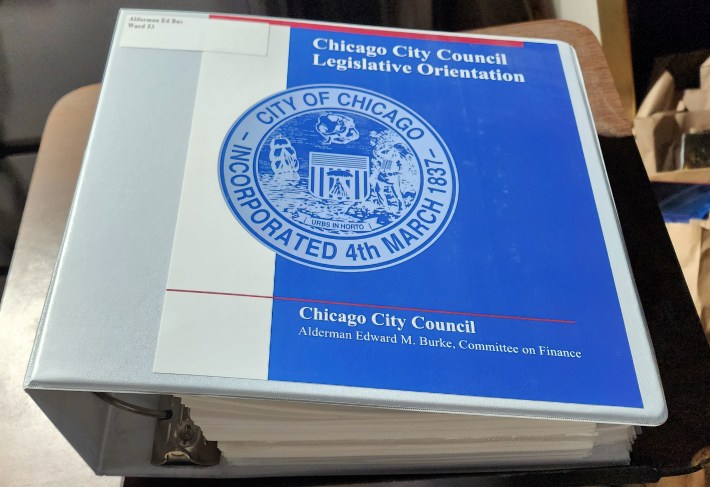 Their stories aren't unique. 
"To the extent that there was a guide, or 'rules of the road' for aldermen, it was something that was largely held by Ald. Burke, then the dean [of the council] and finance committee chair," said Ferguson, who headed Chicago's Office of Inspector General from 2009 to 2021.
Burke's influence on new alderpeople, Ferguson said, went well past the training he offered. 
Under the city budget, alderpeople get funding to hire three full-time aides. Most say that's not enough, straining their ability to provide constituent services and move legislation. 
One way for alderpeople to get additional staffing "in the old-school order of things," Ferguson said, "was to go to Ald. Burke, because the finance committee had a huge reservoir of positions."
But, Ferguson said, "to go to Ald. Burke would essentially mean the expectation that you are going to vote as he needs you to vote on something, right?"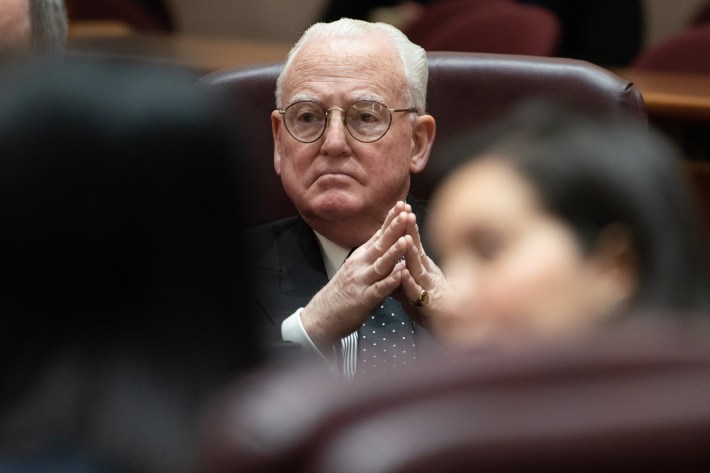 By 2018, dozens of council members had come to the inspector general's office for guidance. Ferguson recognized the "state of dependency that most aldermen lived in. And that dependency was in part maintained from an information gap — to understand actually how things should work."
"Especially when baby aldermen come in, there should be something that lays everything out," Ferguson said. "There should be a reference source that not only tells them who you go to, but these are the things that you need to be mindful of."
So Ferguson proposed to then-Ald. Pat O'Connor (40th) that he lead a working group to create a guide for alderpeople. While he was closely aligned with then-Mayor Rahm Emanuel, O'Connor was well-respected by most of his colleagues, Ferguson said.
O'Connor's working group drafted a nearly 40-page guide called the "Handbook for Effective and Ethical Aldermanic Operations." The handbook detailed, among other things, the handling of expenses, record-keeping, timekeeping, ward vs. political work, office leases and equipment and constituent services.
In an introduction to a Nov. 28, 2018, version of the handbook, O'Connor wrote that he hoped his peers would "find it useful and reasonably comprehensive." And he pledged that "the handbook will be revised and updated regularly." 
Neither of those things happened.
Google Docs
In January 2019, federal prosecutors indicted Burke on bribery charges. That May, O'Connor lost his bid for reelection. And veteran alderpeople who had contributed to the handbook chose not to circulate it.
The handbook was never released.
Instead, that spring, Alds. Michelle Harris (8th) and Carrie Austin (34th) led several days of training for their newly elected colleagues, said Ald. Daniel La Spata (1st).
The way La Spata learned about the training sessions suggested they were put together at the last minute.
About two weeks after the April 2019 election, on a Friday, La Spata said he got a phone call from Harris's office informing him of a "mandatory" briefing the following Monday.
On that day, he and other newly electeds went to the City Council chamber "and heard from about six or seven different departments." A few weeks later, he received notice of a follow-up meeting.
"They did the briefest of briefings," La Spata said. 
For example, although the sessions addressed legislating, "the training we got was basically the 'Schoolhouse Rock' version of how a bill becomes a law," La Spata said. 
Hadden, also elected in 2019, recalled her disappointment with onboarding. Hadden said the orientation didn't help her with hiring and training staff.
Questions Hadden said she had to answer on her own: "What's your staff budget? . . . . Who's the person in [Human Resources] that you should contact as soon as you're done to get onboarding paperwork? . . .  How do you do a job posting?"
Wanting to help her new newly elected peers, Ald. Hadden took orientation into her own hands.
"I put together a Google Doc with all the info that I needed to learn to set up the [ward] office," Hadden said, which she distributed to that year's rookies.
Council Imprints
On April 11, Waguespack led a training session for three previously appointed and 13 newly elected alderpeople. It included presentations from staff of various city departments.
The written material used for the training was put into "a 5-inch binder," he said, and loaded onto the now-ubiquitous black flash drives.
Waguespack said that the materials he and his staff produced for this year's newbies are "basically some of the same things that are in the [2018] draft handbook" — such as ward office set-up, constituent relations, and personnel rules.
In fact, 21 of the 23 sections of Waguespack's binder have titles that are the same as or similar to those of the 31 sections of Burke's 2015 binder. A finance committee employee said that staff created content that was "streamlined in some sections and more extensive in others."
As finance committee chair, Waguespack has commanded the most powerful committee, with an annual budget of $1.2 million, most of it for staff. After talking with other veterans, he decided he and his staff were in the best position to put together a training for the next class of alderpeople.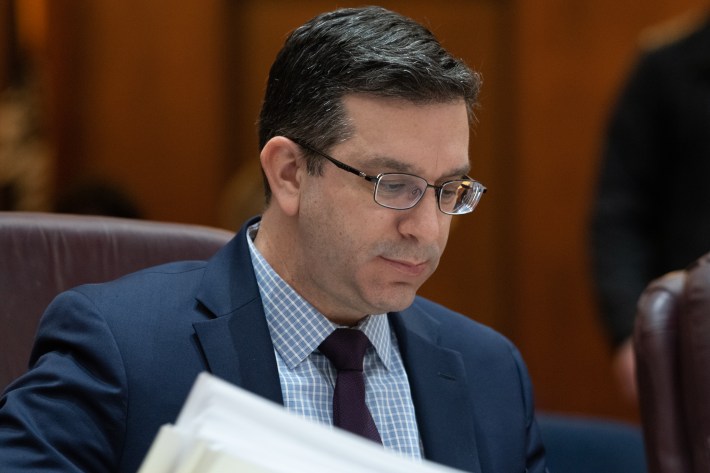 Other groups then offered assistance to — and tried to make an imprint on — the members of the next City Council.
The City Council's Progressive Reform Caucus, perhaps hoping to boost its membership, held training for alderpeople on Apr. 22. It used some of the material Hadden had put together.
That same week, United Working Families, a group funded by the Chicago Teachers Union and other labor groups, offered training in partnership with the Progressive Governance Academy, a nonprofit that fosters "powerful progressive leaders fighting for justice and equity."
Also, the University of Chicago's Harris School of Public Policy held a council orientation on May 2. The school says it will give the rookies "access to world-class University of Chicago faculty and experts, who will in turn help characterize policy and leadership challenges, trade-offs, and opportunities."
Finally, the Chicago Federation of Labor will host rookie alderpeople on May 12 to introduce them to union concerns. 
No Plans To Change
Despite the many training sessions, the city still doesn't have a formal, official process for preparing new alderpeople for their jobs. 
In a recent letter to Harris, chair of the council's Committee on Committees and Rules, Inspector General Deborah Witzburg urged the City Council to "develop and implement procedures to . . .  ensure the smooth transition of power as alderpersons transition into and away from their positions."
In an essay published separately, Witzburg wrote, "Outgoing members, ward staff and committee personnel should prepare for the orderly transfer of good records and operational guidance." This often doesn't happen, sources told Block Club Chicago. In fact, outgoing alderpeople have destroyed ward records before their successors take office.
Harris said in an interview that it wasn't clear to her what the inspector general was asking the council to do. Witzburg declined to comment.
So no city leaders have formal plans to change the council's onboarding process.
Former Inspector General Ferguson, who now leads (re)Chicago, a nonprofit that aims to address flaws in city government, thinks that council transitions and training should be more fully defined in city law.
Otherwise, Ferguson said, powerful council actors like Burke or Waguespack can continue to dictate — whether from a platform of thick binders, Google Docs, or flash drives — how new alderpeople learn their jobs, and from whom.
And that, Ferguson said, "renders much of the body dependent on a very few number of players who hold all of that institutional knowledge: gatekeepers.
"Knowledge is power," said Ferguson. And that's especially true in the City Council, which he likened to "the land of the blind where the one-eyed king rules all."
Subscribe to Block Club Chicago, an independent, 501(c)(3), journalist-run newsroom. Every dime we make funds reporting from Chicago's neighborhoods.
Click here to support Block Club with a tax-deductible donation. 
Thanks for subscribing to Block Club Chicago, an independent, 501(c)(3), journalist-run newsroom. Every dime we make funds reporting from Chicago's neighborhoods. Click here to support Block Club with a tax-deductible donation.