LITTLE VILLAGE — A Little Village alderman is calling on Hilco Redevelopment Partners to immediately stop work developing its fleet storage yard, saying the company has refused to meet in person with neighbors.
Over the past four months, Hilco has refused to meet in person with residents to listen to their concerns and answer questions about the trailer storage development at 3307 S. Lawndale Ave., Ald. Michael Rodriguez (22nd) said.
The site is just 900 feet from the Exchange 55 site, a Target Distribution Center, which Hilco also developed. That redevelopment made headlines in 2020 because of a botched implosion of an old coal smokestack at the site.
"As an elected representative of the community hit by the Hilco implosion, it is clear that enough is enough," Rodriguez said.
RELATED: Hilco Plans Fleet Storage Yard Next To Target Warehouse In Little Village
After multiple unsuccessful attempts to schedule an in-person meeting last year with Hilco officials, Rodriguez hosted a 22nd Ward community meeting for residents March 23 at Josefa Ortiz de Dominguez Elementary School, and he asked Hilco representatives to come, he said. Around 60 residents attended, but Hilco officials failed showed up, Rodriguez said.
Hilco instead held a virtual meeting 6 p.m. Thursday.
"Hilco continues to disrespect the community of Little Village by hosting only an online forum," Rodriguez said.
At the virtual meeting, Hilco representatives planned to share updates on the final stages of construction of the Lawndale Fleet Storage Yard, share information about internships and scholarships for Little Village students and answer resident questions, company spokesman Rob Johnson said.
The push for an in-person meeting comes as residents are struggling to "gain a sense of closure" after the Crawford Coal plant implosion three years ago covered Little Village in dust, said Edith Tovar, an organizer for the Little Village Environmental Justice Organization.
"Even after the implosion that took place, Hilco has done little to actually show face and be held accountable for what was done to the neighborhood," she said.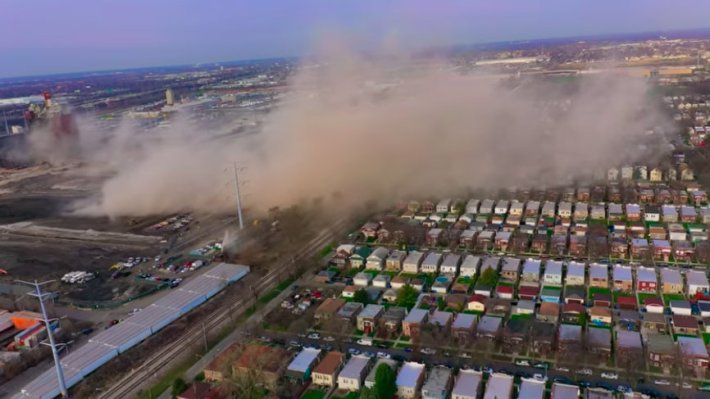 In addition to an in-person meeting, Rodriguez said in a statement he wants Hilco to pay for five years of independent soil sampling of the immediate implosion area, present a plan for the electrification of its diesel fleet and recommit to no truck traffic into the neighborhood.
The fleet storage yard development will address neighborhood concerns around truck traffic in residential areas, Johnson said.
"Our tenant has committed to using only designated truck routes to move in and out of the development, primarily via Pulaski Rd. to and from I-55, and trucks will not be permitted to use Pulaski Rd. or Lawndale Ave. north of 33rd Street, which will prevent trucks from the development from entering the neighborhood," Johnson said in a statement. "A traffic impact study found that overall truck traffic from the site will be reduced by approximately 30%."
Hilco officials did not respond to questions asking how many trucks travel in and out of the site each day, nor did they answer if they plan to pay for soil sampling in the implosion area. 
The implosion at the Crawford site has been a flashpoint in the fight over environmental racism in Little Village. The April 2020 implosion coincided with the onset of the COVID-19 pandemic, leaving neighbors concerned over how the dust might exacerbate virus symptoms. 
Activists begged the city to halt the demolition during the pandemic, but it went on. Hilco Redevelopment Partners was slapped with $68,000 in fines for the mishap and forced to pay an additional $370,000 in a settlement with the Illinois Attorney General's Office.
Hilco's warehouse opened as a Target distribution center in July 2021, despite protests by community members.
The expansion of the storage yard "is an additional sap in the face" to organizers who are fighting for clear air, Tovar said.
Read all of Block Club's coverage about Hilco here.
Watch our "On The Block" TV show on The U, CW26 and MeTV.
Listen to "It's All Good: A Block Club Chicago Podcast":