LINCOLN PARK — A Lincoln Park home built just after the Great Chicago Fire of 1871 was demolished Tuesday despite a push to stop its owner from tearing it down.
The ornate Victorian home at 2240 N. Burling St. was part of local history, neighbors and a past tenant said. It was the center of the continued fight to stop demolitions in the storied neighborhood — and an example of how historical homes, many only partially protected by the city, could face destruction, a preservationist said.
The family who had owned the home for more than 60 years sold it late last year to their neighbor on both sides, Thaddeus Wong, co-CEO of @properties, according to Crain's.
After a 90-day delay, a petition from preservationists and a community organizing effort, Wong was approved for the demolition April 21, a buildings department spokesperson said.
Judy Blatherwick, who sold the home, said the Wongs have been kind and generous neighbors, and they helped her find a new place — but they never shared plans about tearing down her beloved home.
Wong did not immediately return a request for comment, but he previously told FOX32 the house was "not a viable candidate for preservation." It's unclear what the family will do with the land where the 152-year-old home once sat. 
Blatherwick said she's "sad it's come to this."
"A living, breathing piece of Chicago history is now gone," Blatherwick said. "It destroys the character of the streetscape. It's just a shame. It's just rotten, and it's a tragedy."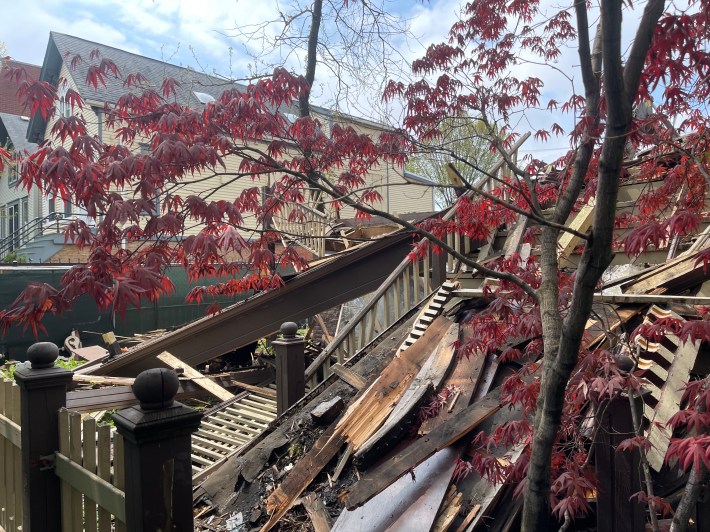 History In A Home
A crane was moving brown and white rubble away from the home's lot Tuesday as a former resident, Ellen Frisbie, stepped out of her car to take it all in.
A previous owner, Helen Blatherwick, never raised the rent — $400 a month — on Frisbie and her friends, a crew of carefree post-grads who lived on the top floor, painted the walls pink and snuck on the roof whenever they could, Frisbie said.
They took Helen Blatherwick out to eat on her birthday and accepted her Manhattans at her beloved Christmas Eve parties, "pouring them in the plants when she wasn't looking," Frisbie said. The home and the family who long owned it "were real citizens of the neighborhood," Frisbie said.
"The first thing Helen asked us is what books we were reading," Frisbie said. "She just wanted people she could talk to and trust. Living there like that was such a gift. All these memories come rushing back."
Vietnam War protestors at Chicago's 1968 Democratic National Convention spent nights sleeping on the home's floor, said Judy Blatherwick, who was Helen's daughter-in-law.
Judy Blatherwick, her late husband and sister lived at the home after Helen's death and kept the three-flat as tidy as they could over the years, refurbishing the original wood floors and renovating the basement, she said. Judy Blatherwick, a former special education teacher for Chicago Public Schools, poured her husband's inheritance into fixes, she said.
But rising property taxes forced Judy Blatherwick to take out loans and a new mortgage, she said. Wong made "an offer we couldn't refuse," Blatherwick said.
Helen Blatherwick bought the home for $18,000 in 1959, her daughter-in-law said — while Wong bought it for $2 million late last year, according to Redfin.
The 'Bar For Landmarking Is Very High'
Ward Miller, executive director of Preservation Chicago, circulated a petition that collected nearly 3,000 signatures in a last-ditch effort to save the Burling Street home. He also worked with community organizations and former residents to try to get the house permanent landmark status "on the standing of its age, significance to the neighborhood and craftsmanship," he said.
About a third of the historical homes in Lincoln Park — those mostly built before the 1930s — are now gone, Miller said. The rest remain at risk, he said.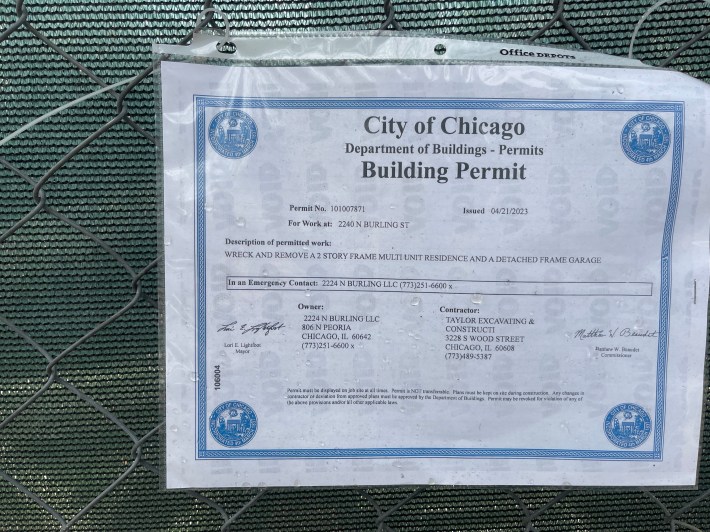 Miller is pushing for the buildings, currently considered part of the Sheffield National Register Historic District, to receive the city's landmark district status, which "has the teeth" to prevent further demolition, he said. Fifteen Near North side buildings built shortly after the Great Chicago Fire received the landmark status in 2020.
But the "bar for landmarking is very high" and usually requires support from a majority of residents and "high political willpower and wherewithal" from local officials, Miller said.
"A lot of people may have different opines that their properties may not sell to the highest bidder with the landmark status, but we often see homes hold their value," Miller said. "Landmarking can make for the most desirable places to live while allowing longtime stakeholders to stay in their communities."
The city sent a letter to Wong explaining the house on North Burling Street was deemed "potentially historically significant" and subject to a 90-day demolition delay to allow the city's department of planning to "explore options, as appropriate, to preserve the building."
Miller said the home was "orange-dotted," and the delay was "helpful, but not enough" in his efforts to preserve the building.
"We should have a longer demolition delay period, and often these permits strategically come in around the holidays, which makes it even harder," Miller said. "If we had six months, that would be more effective and fair in making final bids for these incredible structures."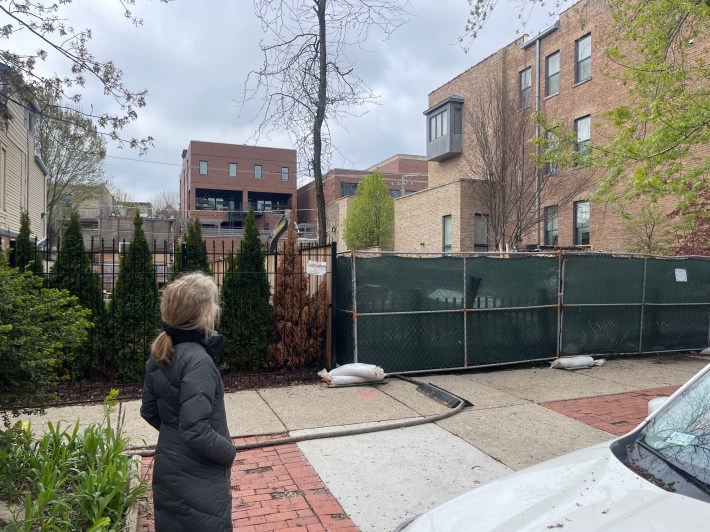 Some neighbors near the demolition site on Tuesday expressed frustration over its loss, while others said they were focused on tending to their own homes and minding their business.
"'Unhappy' is the word," said a neighbor walking by, who didn't give his name.
Edmond Fernandez, who manages a property a few doors down from Wong, said he grew up on North Burling Street and helped the Blatherwicks with home repairs over the years.
Fernandez said the city should reconsider its property tax structure, putting in more consideration for historical homes and the families who have long maintained them.
"We lost a cornerstone of the neighborhood that all this has grown on top of, and now they're forced to leave because the area's gotten too nice," Fernandez said. "To preserve it, someone needs to have some deep pockets."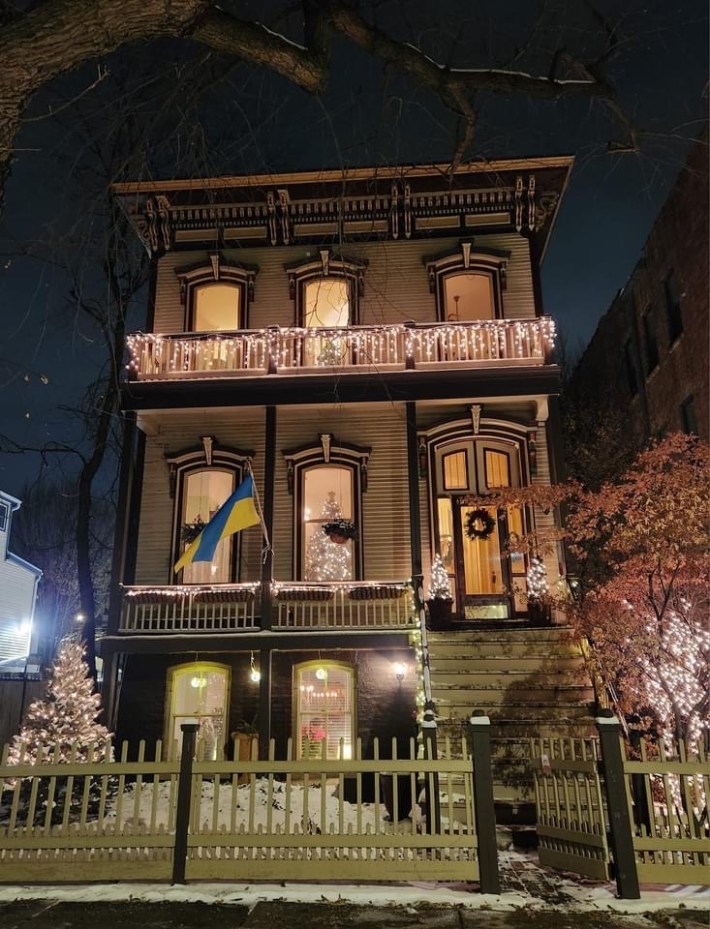 Judy Blatherwick said she won't be able to stomach returning to North Burling Street anytime soon.
"I don't want to ever have to think of it as a hole in the ground," Blatherwick said. "We loved the place."
Frisbie spent several minutes outside the home, double-parked on her old street, before it was time for her to move along with her day.
"People living in white boxes with stainless steel, in these massive homes, it's not good for their soul," Frisbie said. "This building had so much character. For a while it was like living in a movie."
Watch our "On The Block" TV show on The U, CW26 and MeTV.
Listen to "It's All Good: A Block Club Chicago Podcast":