WASHINGTON PARK — About a year ago, renters living in a South Side three-flat noticed telltale signs of a rodent problem in their building.
As living conditions deteriorated and relationships soured, tenant Jennifer Jackson's neighbors on the upper floors moved out — but she, her mother and their unwanted rodent housemates have remained.
Jackson's now calling on local leaders to hold Lee accountable for the building's condition. She's also is looking for legal help after tenants withheld rent amid the infestation.
"He wants us to keep paying rent, keep paying rent — but he doesn't live like that," former second-floor tenant Deshawn Wash said. "You don't live with rodents in your house. Why do your tenants have to?"
Lee did not respond to multiple phone calls and an attempt to reach him in person at his apartment.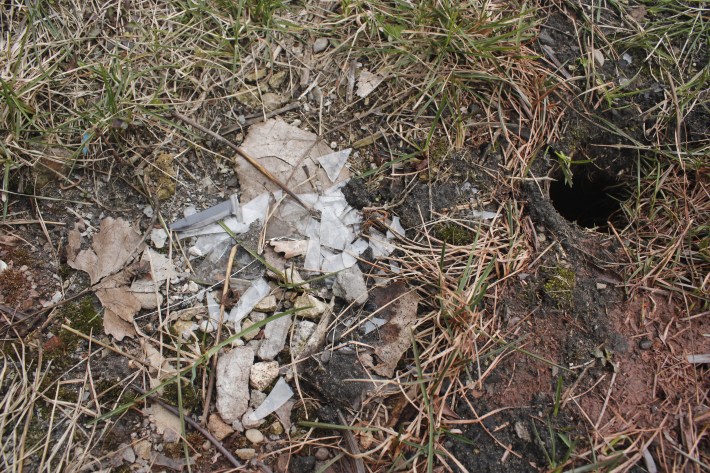 'Makeshift Solutions'
Jackson moved into the duplex-down unit of the Washington Park three-flat in July. The unit — where Lee previously lived — was a pricey but suitable place to live for Jackson and her mother, Juette.
But shortly after moving in, small rodents, pests and regular visits from exterminators became a fact of life, Jennifer Jackson said.
Rodent problems at the Indiana Avenue building are visible — and audible — throughout the property. City inspectors visited the building in March and cited Lee for nine violations, including a building-wide rat infestation.
Inspectors did not see live pests inside units during their visit, buildings department spokesperson Mike Puccinelli said.
"The owner was cited, and we're going to continue to monitor the situation," Puccinelli said. "We're going to follow up with the owner to check the status of the violations to make sure he comes into compliance."
Neighbors told Block Club they have seen rodents in their homes, though.
One late March morning, as Wash was in the kitchen after returning from work, he heard noises in the apartment even though his partner and their children were asleep.
Wash had lived with the building's infestation for months at that point, so he assumed a rodent made the noise. When he checked the closet, a large rat was caught in a glue trap, he said.
When Block Club visited the building two days later, the rat was still in the trap and trying to get free. An exterminator came to remove the rat a few days after it died, Wash said.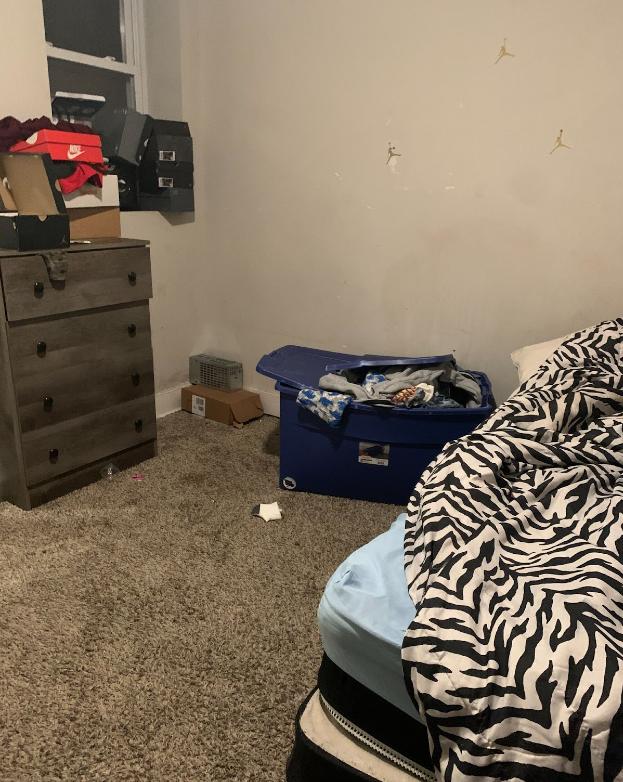 Pests have been an issue for about a year, but the issue worsened after the owner of a long-vacant home next door started renovations several months ago, tenants said.
They think the work scared larger rodents out of the vacant building and into their home, they said.
"I felt like if he'd have [taken] care of the problem before it got bad, it would've been cool," Wash said of Lee. "But he waited, and the problem got bigger."
Traps seem to be Lee's main tactic for addressing the infestation, tenants said. Lee kept a cage trap in the room of one of Wash's children, Wash said.
Wash also showed Block Club a living room glue trap with a visible footprint made when his other child got their shoe stuck in it while playing, he said.
Lee would sometimes show off individual rats he caught as proof he was working to remove the infestation, Wash said. This never satisfied Wash, as the problem can't be solved by catching one rat at a time, he said.
"I was just like, 'You want a cookie or something?'" Wash said.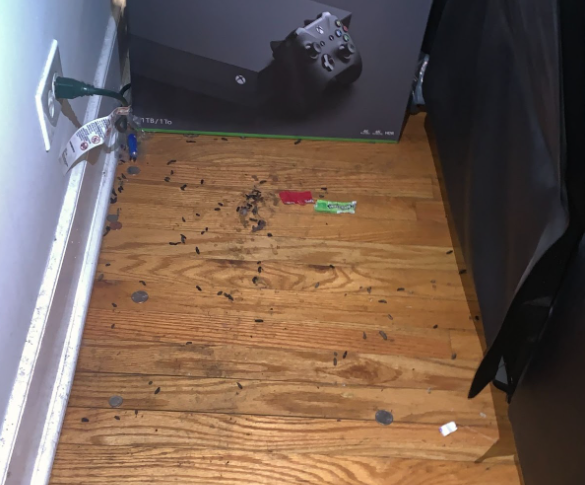 After months of incidents — including one time when a raccoon poked its head through a large rat hole in Wash's child's room and tried to enter, he said — Wash and his family moved out at the end of March.
Even though their lease doesn't end until next year and moving expenses will put a strain on the family's finances, "we decided we can't do this," he said.
Thudding, scratching and squeaking in the walls and ceiling were heard within minutes of Block Club's visit to the building's basement.
In an earlier instance, Jackson filmed a video in which something squeals and makes noises in the basement walls for several minutes. She believes an animal was killing another animal, she said.
As the pest infestation got out of hand, Lee "put cages next to kids' beds," placed broken glass around holes in the grass and patched over holes in the walls — just for pests to create new ones — rather than paying for a more effective extermination job, Jackson said.
"A lot of his makeshift solutions didn't make sense," Jackson said. "It's like he was Googling and looking on YouTube instead of spending the money."
Fire, police, buildings and public health officials have the power to vacate a building if its conditions "pose an immediate life safety threat to the public," Puccinelli said.
It's unlikely the city would take a case about the property to a circuit court judge, who also has the power to declare a building uninhabitable, since inspectors did not see pests inside units in March, Puccinelli said.
"The most egregious cases go to circuit court, while others go to administrative hearings," Puccinelli said. "This type of case would never go to court unless they went there and saw a live infestation."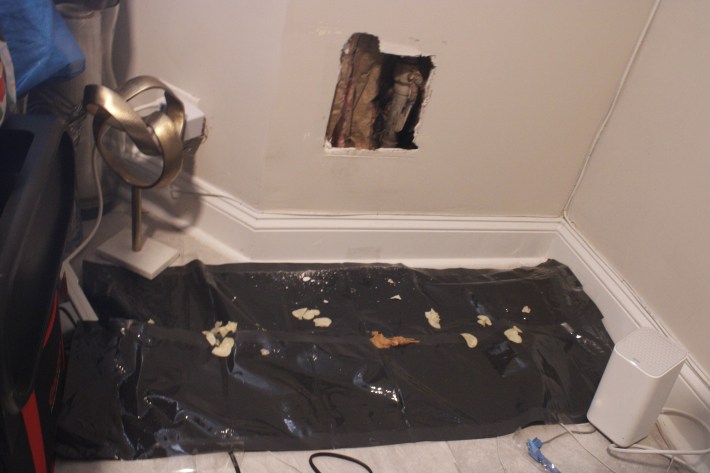 A Restraining Order, Improper Utility Bills And More
All three families living in the building started withholding rent in March, after Jackson sent Lee a 14-day notice to repair the building's condition, Jackson said. Two of the three families living there have since moved out, leaving Jennifer and Juette Jackson as the only residents.
Lee scheduled visits at the property in recent months and told tenants the visitors were "investors" who would help him pay to get the rodent problem under control and make other repairs, tenants said.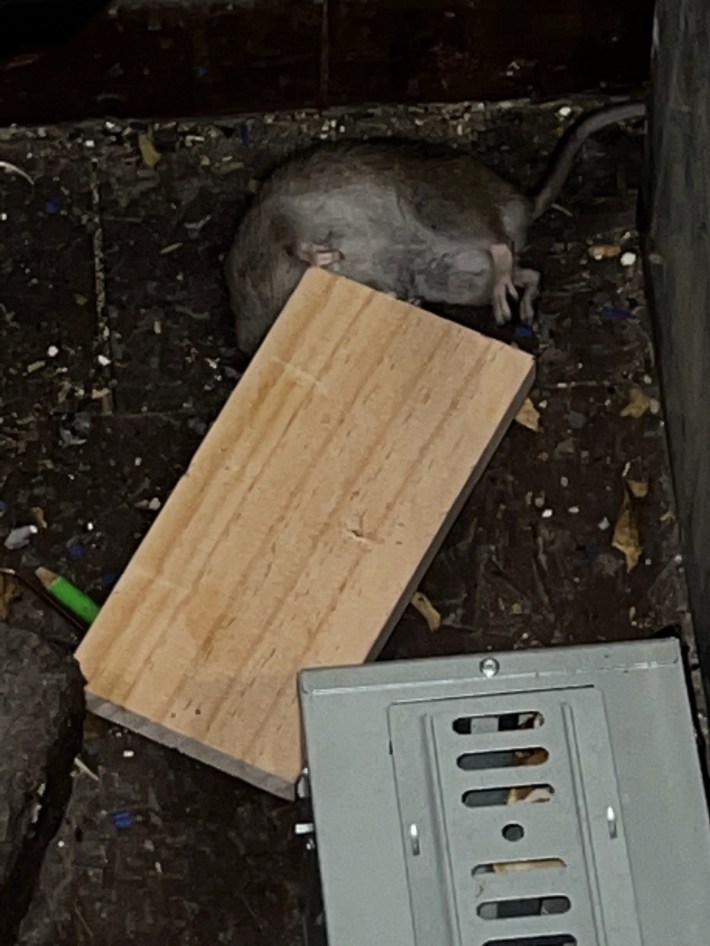 On a video recorded by Jackson and reviewed by Block Club, Lee can be seen saying the visitors were actually potential buyers and apologizing. The building was listed for sale March 8, and the listing was removed 10 days later, according to Redfin.
"That's his business if [selling the property] is what he wants to do, but clearly he's trying to escape being held accountable," Jackson said.
After putting the building on the market, Lee repeatedly asked for same-day access to tenants' apartments, Jackson said. On several occasions, he's used his key to enter Jackson's apartment without knocking, she said.
"I'll be sitting here and looking at television or reading or whatever, and I'll hear the door unlock and that's him," her mother Juette Jackson said. "That's very frightening. … You just don't use your keys and come on in."
Tensions over Lee's visits led Jackson to pursue an order of protection, which is active until May, she said.
The order "definitely should not keep repairs from being made," Jackson said. "He just has to negotiate with me on the time. I have no problem with him coming in — just give me proper notice."
The situation reached a boiling point when Jackson and Lee tussled at her front door in an incident she filmed on her phone. Responding officers took Jackson's side when she showed her order of protection and documentation of their past interactions, but they declined to arrest Lee, she said.
Jackson also suspects she's been paying for heating gas in the building's common areas since moving in. Block Club confirmed the reading on the first floor apartment's gas meter increased as Jackson ran the building's dryer, which all residents used.
Landlords are not allowed to make tenants pay for common area utilities under state law unless the landlord gives notice prior to agreeing to rent the building.
Jackson has kept meticulous notes on the building's conditions, including her communications with Lee, photos, videos and other documentation, all of which she shared with Block Club.
She wants to gather as much proof as possible to back up her claims as she withholds thousands of dollars in rent and considers her legal options moving forward, she said.
Lee reported Jackson for nonpayment to a debt collections company as of Monday, which should not be allowed as he never responded to her 14-day notice or exterminated the pests, Jackson said.
"Naturally, I'm concerned about him trying to ruin my credit," she said.
Jackson is frustrated after reaching out to local agencies, police officers, tenant advocacy groups and other potential sources of relief, as they're all "passing the buck" on helping her and her former neighbors, she said.
"We ended up going to City Hall and asking to speak to someone in the [buildings and housing departments] about this," Jackson said. "They would not allow us to speak to anybody. … Where is the service we should be getting?"
At this point, Jackson plans to continue withholding rent until she can move out by the start of summer, hopefully without being evicted, she said.
"Somebody should be trying to get us out of this situation," Jackson said. "He shouldn't be allowed to walk away with a profit, and we're just left here stuck."
Watch our "On The Block" TV show on The U, CW26 and MeTV.
Listen to "It's All Good: A Block Club Chicago Podcast":