LINCOLN SQUARE — A Lincoln Square restaurant owner told the city he's changing his Saturday hours and hiring more security after getting complaints from neighbors.
But neighbors said those changes aren't enough.
Neighbors of Sandunga Bar and Grill, 2619 W. Lawrence Ave., and nearby Cafe Mimoza said they've long complained about loud, late-night parties at the restaurants and their intoxicated customers getting into fights on the street and leaving broken bottles on the sidewalk, among other issues.
The city's business department has hosted meetings between the neighbors and the businesses' owners to try to find solutions. The city blocked reporters from a Friday meeting about Sandunga, but neighbors, Sandunga's owner and the alderman said some progress was made.
Friday's meeting focused on laying out objectives for Sandunga owner Juan David Gomez to accomplish before another meeting 10 a.m. June 1.
Gomez must hire uniformed security for Fridays and Saturdays, encourage customers to leave quietly and post signs reminding patrons not to loiter, to leave quietly and respect neighbors, Gomez and neighbors at Friday's meeting said.
Gomez said he'll also close at 2 a.m. Saturdays instead of 3 a.m.
"I just wanted to show my efforts. That I am doing more on my part to please the neighbors," Gomez said.
Gomez said he's taken other steps before to placate neighbors: Before the COVID-19 pandemic, about $13,000 worth of soundproofing was installed at the business. With the recent complaints from neighbors, he's spent another $6,000 to further soundproof the walls and ceiling, Gomez said. 
Gomez also removed two of the restaurant's original four speakers and tries to keep those that remain at 40 percent volume, he said.
Gomez and neighbors said he refused a suggestion from the business department to connect his indoor and outdoor security cameras to the city's private sector camera initiative, which would give police direct access to his footage.
"This is the first time I've heard police wants to have access to somebody's property, and I certainly don't feel comfortable with that," Gomez said. "If police need footage to clear something up, I'm happy to provide it, but I'm not giving anyone live access to the cameras."
A part-time Sandunga employee and a customer also spoke positively about their experiences at the business during Friday's meeting, Gomez and neighbors said.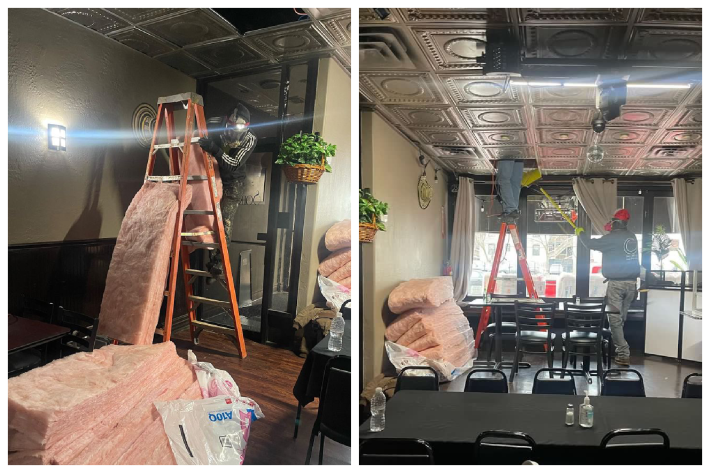 But Gomez said his family-run business is being unfairly targeted by neighbors when there are other bars and restaurants — some with patio seating — on the busy street, as well as the sound of the nearby Brown Line. 
"I feel that this situation has become unfair, especially to small business owners," Gomez said.
Gomez said he'd taken steps — like the soundproofing — to help neighbors, but he thinks everybody should be "trying to work together," and it "doesn't seem like the neighbors are doing anything."
"If the neighbors only rely on what I do, but I don't know what they're doing or what they have, how are we ever going to find the solution?" Gomez said.
Neighbors at Friday's meeting told the business department they haven't been unfair and pointed to the complaints made about loud music coming from the restaurant late at night, said neighbor Paula Borman.
"There's still a lot of work that has to be done, and I feel like he's making it clear that he's willing to try these things but not make them permanent. He said as much twice, that these are 'pilot programs,'" Borman said.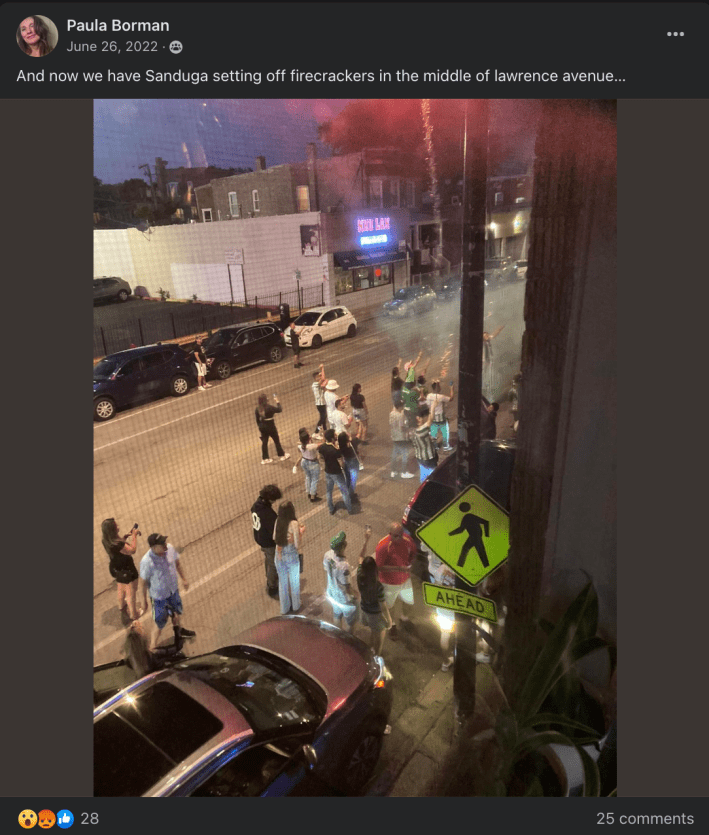 The business department has received 15 complaints about Sandunga since 2019, with all of them coming in 2019 and 2020, according to records obtained under the Freedom of Information Act.
A review of records from the police and business departments show police were called to the business 125 times between Feb. 2, 2019, and April 2, 2023. Eighty-three calls were for "disturbance – music/noise" between 10:03 p.m. and 3:16 a.m., according to police records. 
Business department complaints also showed a pattern of neighbors being disturbed by loud music from Sandunga between 10:15 p.m. and 3 a.m. Fridays, Saturdays and Sundays.
"The establishment consistently plays music that interferes with the quiet enjoyment of my home," someone wrote in a complaint filed 11:56 p.m. Jan. 1, 2020. "I live a building over and am able to hear every lyric from their music. However, what is worse is the bass. My walls and windows rattle from the thumping."
Another complaint from Jan. 5, 2020, said there was loud music 10:30 p.m.-3 a.m. and customers "screaming and arguing as they were leaving the establishment at various times." 
"The D.J. plays the music so loud, the bass is heard thru the ceiling of the bar and into our condo above. At times it actually made the items on our walls shake. Also when the customers leave the bar they are extremely loud. Often shouting and arguing," a person wrote in a complaint Jan. 27, 2020. 
And the owner of a condo above the bar said in a Jan. 27, 2020, complaint that his daughter has called police about late night noise multiple times and once officers leave the business its "D.J. turns up the music louder in retaliation."
Neighbors are "justifiably angry" because Sandunga appears to operate like a club and not a restaurant, said Ald. Andre Vasquez (40th). He said he is hopeful the business department's objectives help Gomez and neighbors resolve the noise issues.
"When I talked to [Gomez], he said they have a restaurant with some music. But my office would not be getting the level of complaints we're getting if it was just a restaurant with some music," Vasquez said.
Listen to "It's All Good: A Block Club Chicago Podcast":