SOX PARK — Beef, an orange tabby cat, might like ballpark food more than he likes baseball.
For days, the scruffy feline prowled the outfield and slept in the crevices of Sox Park, swiping scraps off fan's plates during games — and biting at least one of them. Sox staffers learned of the cat "when some meows were heard near the photo well," said team photographer Darren Georgia.
Security finally caught the tabby a night after the South Side team's first home series against the San Francisco Giants, Georgia said.
"When the place was empty, he was roaming and exploring, finding places to hide and making the rounds," Georgia said. "He jumped right up onto a security golf cart and was super friendly."
Georgia had been looking to adopt a cat for a year — and he has now taken Beef home. The cat likes to curl up next to his Sox cap.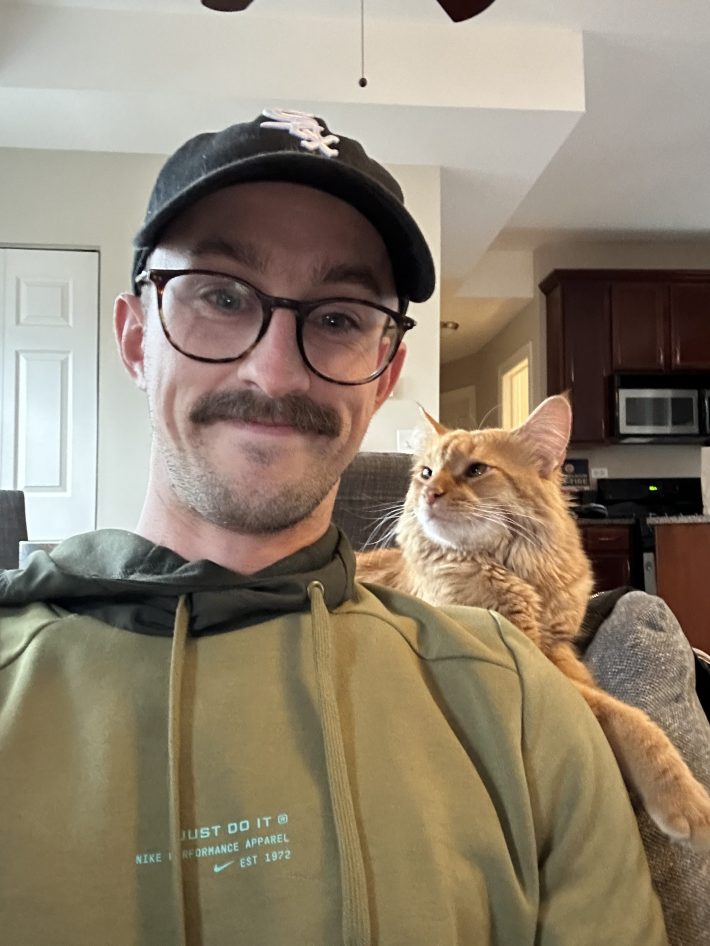 Alexis Lopez and her cousin, Antonia Denofrio, had spotted Beef hanging out with the cameramen and photographers in center field as the Sox played the Giants.
"He was just super chill and very comfortable roaming the park, like it's his territoriy," Lopez said. "You don't expect to see a cat playing center field."
Fans held Beef and fed him shredded chicken off the top of their ballpark nachos.
"He was a little scruffy and thin," Lopez said.
But Beef "thought [Denofrio's] finger was part of the food" and took an accidental chomp, drawing blood, Lopez said. Sox staff rushed them over to medical services to run the wound under water and apply a Band-Aid.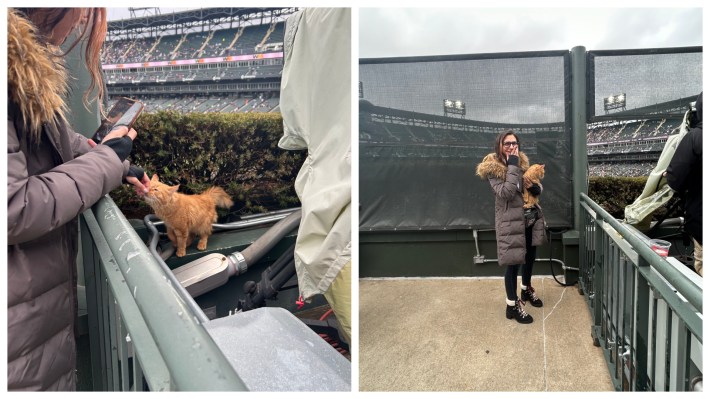 Georgia let fans know on Twitter that the saga of Beef had a happy ending. He got the tabby cleaned up and fixed at a local animal rescue. Vets told him the cat was a stray, about 1 year old.
"He's pretty small but has big paws like a baseball player," Georgia said. "Keeping it true to Chicago, I named him after the original Italian beef."
Nobody knows for sure where Beef came from, but Georgia suspects "ballpark food brought him in, and now he's a lifelong Sox fan."
"He's outgoing, loves to play and snuggle," Georgia said. "Just everything you'd hope for in a cat."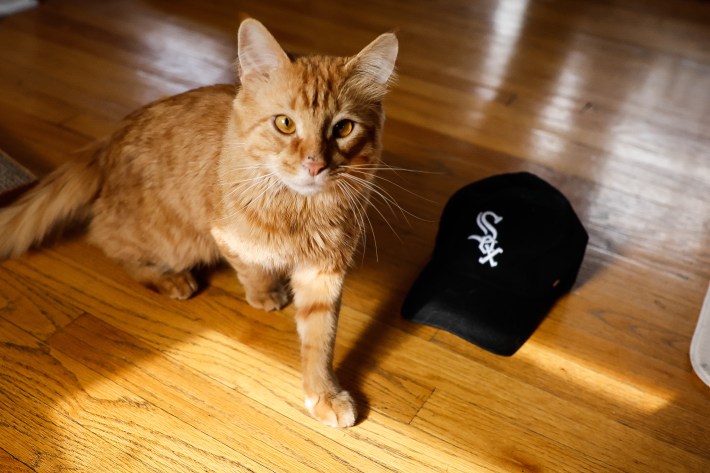 Lopez wants Beef to be the team's "rally cat" and make trips back to the ballpark.
The Sox are hosting Dog Day for their May 2 home game against the Minnesota Twins, with fans invited to bring their dogs to the park. There will be a Sox-themed dog naming contest, presided over by pitcher Lucas Giolito to raise awareness for adoptable pets at local rescue group One Tail at a Time.
Georgia isn't sure yet if he'll bring his new cat back for it.
"I'm just not sure if it's the best idea," he said.
Watch our "On The Block" TV show on The U, CW26 and MeTV.
Listen to "It's All Good: A Block Club Chicago Podcast":