CHICAGO — National and local news outlets predicted Latino voters could play a crucial role in swinging Chicago's mayoral election.
However, an analysis of turnout and results suggests courting the vote of Chicago's diverse Latino communities — a third of the city's population — isn't an easy task for any candidate, experts said. 
Eight of the city's 14 Latino-majority wards backed former Chicago Public Schools CEO Paul Vallas for mayor on April 4, and six went to Mayor-elect Brandon Johnson, who narrowly sailed to victory.
Majority Latino wards also split among Rep. Jesús "Chuy" García, Vallas and Johnson in the Feb. 28 general election, when nine candidates were vying for mayor. Many of those wards had lower voter turnout compared to the city average, while Vallas and Johnson swayed Latino-majority Northwest Side wards that supported García the last time he ran for mayor.
García, who was born in Mexico and is a longtime Little Village resident, came in fourth in that race and didn't make the runoff, leaving a sizable chunk of Latino voters for Johnson and Vallas to pick up. García backed fellow progressive Johnson in the runoff. The endorsement from one of Chicago's best-known Latino politicians helped deliver two more wards in García's Southwest Side home turf to Johnson. But it wasn't the unifier for Latino voters some predicted it would be.
Latino voters aren't a monolith, and their diverse ideologies coupled with a lack of voter outreach by campaigns are reasons why uniting Latinos behind a single candidate is difficult, experts said.
RELATED: How Jesús 'Chuy' García Went From Frontrunner To 4th Place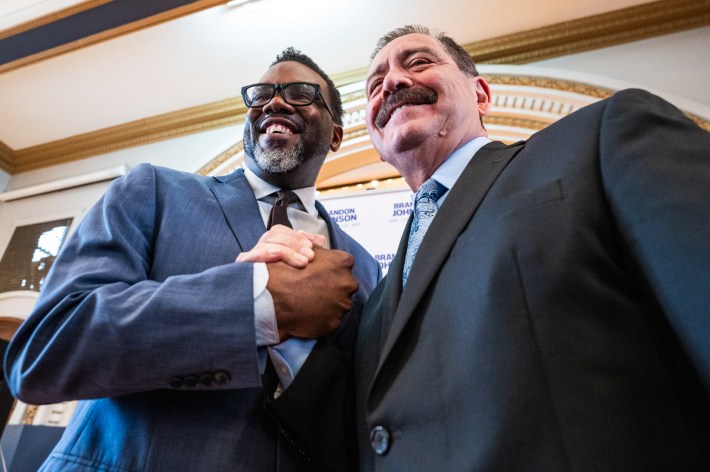 Ground Games Increase Turnout
Latino wards where turnout rose and benefited Johnson had active and intentional groundwork by local groups who endorsed him, said Sylvia Puente, president and CEO of the Latino Policy Forum.
"They were very invested in this election, so there was a lot more, I would assume, boots on the ground," said Puente, also co-chair of the Illinois Latino Agenda.
The Northwest Side, where progressive leaders like Ald. Carlos Ramirez-Rosa (35th) and Ald. Rossana Rodriguez-Sanchez (33th) endorsed Johnson in both elections, saw robust grassroots canvassing that may have helped increased turnout in those wards between Feb. 28 and April 4. 
The 33rd Ward, which covers parts of Irving Park, Albany Park and Avondale, saw 39 percent turnout Feb. 28 and 41.3 percent turnout April 4.
The 35th Ward, which includes parts of Logan Square, Avondale, Hermosa, Irving Park, and Albany Park, had 39.2 percent turnout on April 4 — up from 34.3 percent on Feb. 28.
Both wards went for Johnson in both elections, data shows.
Organizers also managed to flip the 36th Ward between Feb. 28 and April 4. The gerrymandered ward that stretches Grand Avenue from Ukrainian Village to Belmont Cragin chose Vallas among the crowded field but narrowly favored Johnson in the head-to-head battle.
Turnout in the 36th Ward increased about 3.76 percent in the runoff, election data shows.
By comparison, turnout citywide for the Feb. 28 election was 35.8 percent compared with 38.7 percent in the April 4 runoff.
Groups like La Casa Norte and the Hispanic Federation spent hours door-knocking and phone banking on the Northwest and Southwest sides trying to get people registered and out to the polls, organizers said.
The Hispanic Federation, a national nonprofit, partnered with local groups with a goal of knocking on 10,000 doors, sending out 200,000 text messages and making 120,000 phone calls to energize Latino voters.
Roberto Valdez Jr., the Midwest director for policy at the Hispanic Federation, said their campaign was nonpartisan and centered on educating people about the different ways they could vote.
Common refrains from potential voters were, "'Well, I already voted in February, why should I vote again?' and 'Why is my one vote going to make a difference?'" Valdez said.
Despite these get-out-the-vote efforts and the slight increase in turnout in some Latino-majority wards, Jose Muñoz, CEO of La Casa Norte, said a lack of engagement may have kept some Latino voters at home.
Some Latino wards saw turnout as low 23 percent on April 4 compared to the citywide average of about 38 percent, according to election data.
A March survey conducted by BSP Research with Northwestern University and a coalition of nonprofits found nearly half of Black and Latino voters surveyed hadn't been contacted by a mayoral campaign or other local groups about voting — 46 and 47 percent, respectively. 
The survey also showed Latino voters were less likely to say they were "100% certain to vote" compared to Black and white voters.
Muñoz said voter fatigue and distrust in government are some of the reasons people may not have been engaged. "Boots on the ground" work is critical to getting people out to vote, he said.
"You can't just show up at the tail end of an election season and expect them to show up, and that's a lot of what happened in this election," said Muñoz, also co-chair of the Illinois Latino Agenda. "We got to start making sure that we're engaging folks all the time, not just during elections."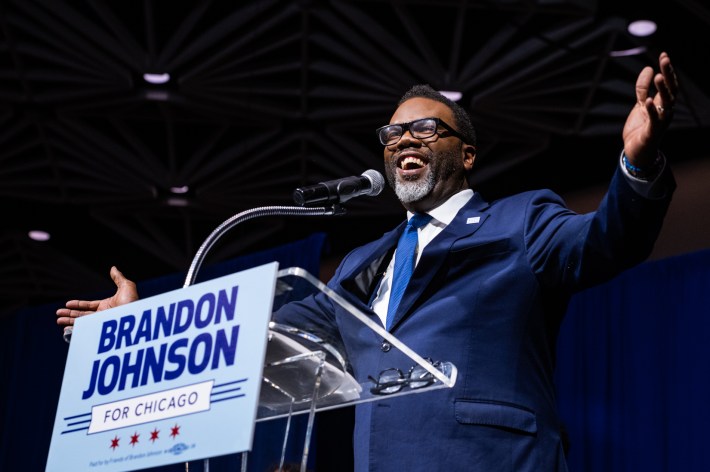 A Generational Divide
Puente said Latino voters are split among old school progressives, new school progressives and more conservative folks.
The new school progressives include the Northwest Side Latino elected officials who endorsed Brandon; the old school progressives are those who initially voted for García and then split on April 4; and the sector of the Latino community, particularly on the Southwest and Far South sides, are the conservative voters who endorsed Vallas, Puente said.
"Even in a city like Chicago, where it's a Democratic state and a Democratic-leaning city … there appears to have still been an issues divide or an ideological divide," she said.
Nearly half of Latinos in Northwestern's survey said crime was their No. 1 concern, an issue that dominated the campaigns. However, the split between those who said they planned to vote for Vallas or Johnson — 46 and 35 percent, respectively, according to the survey — may show the difference in how those voters believe crime should be addressed.
While some likely resonated with Johnson's lived experience growing up on the West Side and his ideas surrounding violence prevention, others favored Vallas' traditional approach to policing, Muñoz and Valdez said.
"It doesn't surprise me at all," Valdez said. "It's just about understanding that even within the Latino community, you have so many different cultures. Sure, there's going to be overlap, but the way that, you know, Northwest Side folks and Southwest Side folks look at things are going to be different."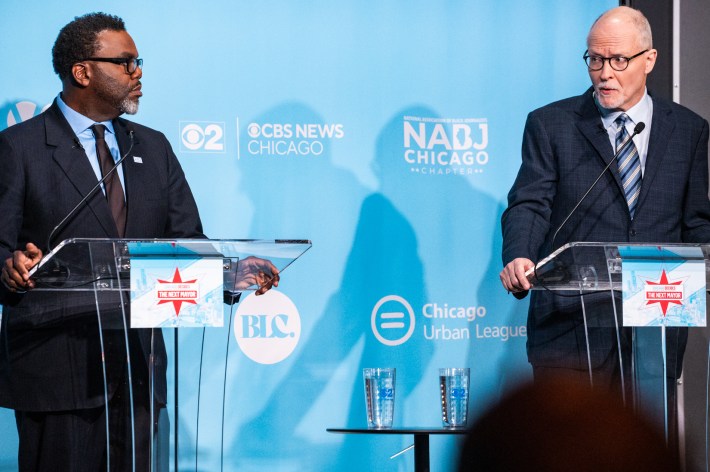 Whether future candidates will learn from the outcome of these recent elections and be able to unite Latino voters, regardless of their differences, is yet to be seen.
"I don't know," Puente said. "That's really a big question in terms of how that's going to play out. The biggest lesson is outreach to Latino voters. It's important to reach out to voters, hear directly from them, and then how do you tailor your message and your outreach accordingly?"
With a slim majority of wards backing Vallas, Johnson may have his work cut out for him in showing up for Chicago's Latino communities and creating an administration that reflects the demographics of the city, Muñoz said.
"You can't turn off campaign work; you got to stay out there and make sure that you're connecting with individuals," Muñoz said. "Having folks around him that are Latino, that have a strong connection to the Latino community, is gonna be crucial."
Muñoz said he'll be watching to see who Johnson surrounds himself with during his transition period. It signals what the mayor-elect's administration will look like — and prioritize — over the next four years, he said.
"There's a lot of work that needs to happen between now and May," he said.
Listen to "It's All Good: A Block Club Chicago Podcast":