CHICAGO — When Rep. Jesús "Chuy" García announced his campaign for mayor in November, many predicted he'd be a top contender.
But the congressman landed in fourth place with 13 percent of the vote in Tuesday's election — one slot behind Lightfoot's 17 percent and missing any chance of making a runoff in the crowded field. 
Paul Vallas, a former Chicago Public Schools CEO, and Cook County Commissioner Brandon Johnson will go head to head April 4 after getting 34 and 20 percent of the vote, respectively.
García is widely considered one of the most influential Latino politicians in the country, but he couldn't chart a path to the Mayor's Office even with broad name recognition and much of the Latino vote.
RELATED: 7 Maps, Charts To Help You Understand The Election
Experts and García's supporters said the lack of unity among Latino voters and lower citywide turnout could partly explain why the veteran politician underperformed and why Johnson won support from voters who historically backed the congressman.
"My read on it, as I'm calling it, is the old-school progressives in the Latino community, most of whom I think went with Congressman García, and the new-school progressives in the Latino community, who went for Brandon Johnson," said Sylvia Puente, president and CEO of the Latino Policy Forum.
Preliminary data shows the citywide election turnout was about 32 percent, lower than during the first round of voting in 2019's mayoral election.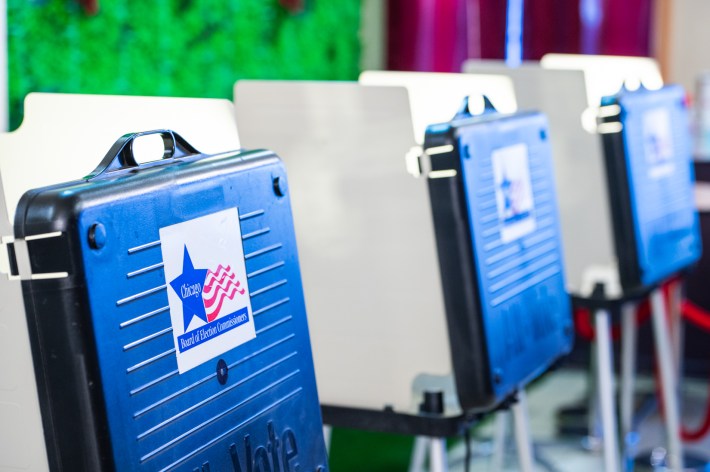 Many Latino-majority wards, including areas where García can leverage his reputation and decades of political leadership, had lower turnout than the city average.
The 14th, 15th and 22nd wards on the Southwest Side each had about 23 percent turnout, according to data from the Chicago Board of Election Commissioners.
García still carried considerable chunks of the Southwest Side vote, whereas Johnson and Vallas succeeded with Latino-majority Northwest Side wards — including areas that supported García in his last mayoral bid, data shows.
Residents of the 26th and 35th wards voted favorably for García in the first round when he ran for mayor in 2015, but those areas went for Johnson this year. And the 30th and 36th wards steered toward Vallas this year when both went for García in 2015, according to election board data.
Ward boundaries have changed since 2015, but all four remain Latino-majority wards.
Even outside of Latino-majority wards, García didn't perform as well as he did in 2015.
The 49th Ward, which includes much of Rogers Park, was the only North Side lakefront ward to vote for García in 2015 in the runoff between him and former Mayor Rahm Emanuel. This election, the ward went for Johnson, data showed.
Latino residents don't vote as a block, and this election exemplified a split among these voters, political experts said.
Manny Diaz, a senior campaign adviser to García, said demographic shifts that have brought younger residents to the Northwest Side may have played a role in García's performance. He also said Latino voters aren't a monolith, and voting patterns can shift depending on the issues.
"I think that although there is a rich history of progressive politics on the Southwest Side and the Northwest Side and for Latinos across the country, Latino voters tend to vote out of pattern, or at least out of projection, especially when local issues are being discussed, such as crime," he said. "I think that the significance of the public safety issue in this election cannot be underestimated."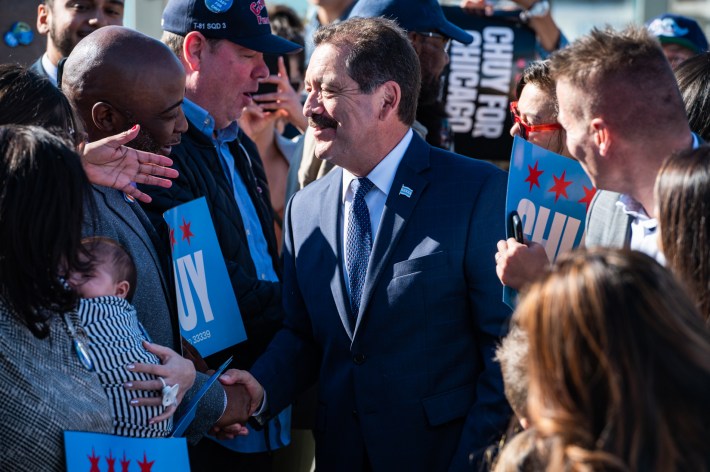 The Northwest Side wards that showed up for Johnson likely undercut García's expected performance, Puente said.
"Those votes were instrumental and key to the votes that Brandon Johnson was able to get in making the No. 2 candidate for the runoff," she said.
Ald. Carlos Ramirez-Rosa (35th), who was unopposed in his Northwest Side ward, endorsed García in his 2015 mayoral election but supported Johnson this year.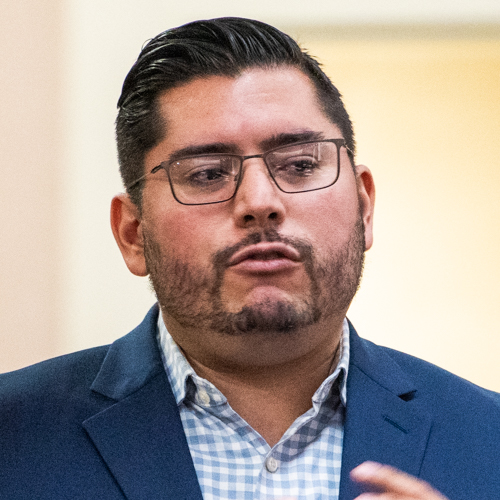 Ramirez-Rosa said issues such as education, affordable housing and gentrification are relevant to Latino voters, and it was Johnson's platform on these that led to him earning the alderman's endorsement.
"I think that Chicago's Latino community by and large votes progressive, so I think it comes as no surprise then that you had Latinos that obviously overwhelmingly supported Chuy [García] but you also had a sizable number back Brandon Johnson," he said. "And I think that we'll see more Latinos support Brandon April 4."
Despite García's loss at the top of the ticket, several of the Latino aldermanic candidates he endorsed won their elections.
Jeylu Gutierrez won the seat in the 14th Ward, which hasn't had a new alderperson since 1969, when outgoing Ald. Ed Burke was elected. Also on the Southwest Side, community activist and social worker Julia Ramirez beat Ald. Anabel Abarca for leadership of the 12th Ward.
But some said things are going to have to be done differently if Chicagoans want to elect a Latino mayor.
"We do have an ongoing challenge with having unanimity and cohesion around endorsing an electoral candidate in the Latino community, because identity politics … is not the key driver of how people and how Latinos always vote," Puente said. "I think what's going to be really interesting this next cycle is to see what extent is the city of Chicago entrenched in identity politics or really supporting a multiracial, multicultural coalition."
Ramirez-Rosa agreed more diverse support will be critical to electing a Latino mayor. It will also take time, he said.
"I think that when there is a Latino mayor elected, absolutely it's going to be because they have the support of multiracial coalition, but it's also going to be because there's going to be a ground game that really engages Latino voters for a very long time," he said. "I don't think it can be done in one election cycle. I think it's a multi-year long project of getting Latino voters engaged and getting them out to vote."
Subscribe to Block Club Chicago, an independent, 501(c)(3), journalist-run newsroom. Every dime we make funds reporting from Chicago's neighborhoods.
Click here to support Block Club with a tax-deductible donation. 
Thanks for subscribing to Block Club Chicago, an independent, 501(c)(3), journalist-run newsroom. Every dime we make funds reporting from Chicago's neighborhoods. Click here to support Block Club with a tax-deductible donation.
Listen to "The Ballot: A Block Club Chicago Podcast":