SOUTH SHORE — Leaders in South Shore are launching a project that aims to give neighbors more control over — and possibly a chance to profit from — developments in their community.
The We the People community investment vehicle would buy and control real estate in South Shore using neighbors' investments. It's intended to help residents capitalize on the increased attention to the neighborhood as the Obama Presidential Center, Regal Mile Studios and Thrive Exchange developments are built, officials said.
We the People can help residents overcome the challenges in accessing commercial real estate in South Shore, said Tonya Trice, executive director of the South Shore chamber's community development corporation.
The chamber's community development corporation is the project manager for We the People. It has received money and knowledge from Community Desk Chicago as it works to propel economic development in South Shore.
"What we're seeing now is an emergence of residents that are tired of waiting on government and philanthropy to find our community viable enough to invest in, and they're taking matters into their own hands," Trice said.
Community investment vehicles are a key aspect of the South Shore Quality-of-Life plan unveiled in October, which sets a vision for the neighborhood's growth over the next five years and beyond.
There are many models for community investment vehicles. One citywide example is Benefit Chicago, which was launched in 2016. Individuals can give as little as $20 to the project, which loans and invests the money into social-impact businesses and nonprofits.
Other models:
The Ujima Project's investment fund in Boston, which pools funds from residents and outsiders to invest in small businesses and real estate projects in Boston's working-class communities of color.
The Neighborhood Investment Corporation in Los Angeles, which allows neighbors to invest $100 or more into a portfolio of three rent-stabilized housing properties in the Echo Park community.
The East Portland Community Investment Trust, which owns a retail mall with 26 tenants, including small businesses and nonprofits. Neighbors who take a financial literacy course can invest up to $100 a month into the mall and receive an annual dividend.
"The one that seems the most attractive to us is the Portland model, but no final decisions have been made," Trice said. "We will discuss in greater detail with [a] design consultant and the community around what's best for South Shore."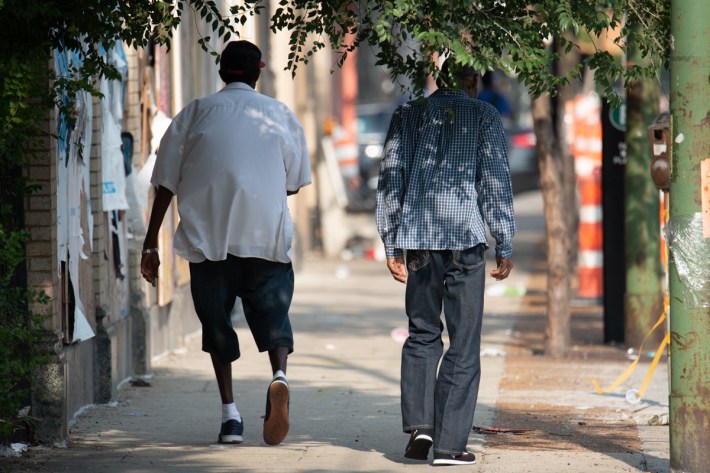 We the People will initially focus on developing commercial properties along the 71st Street corridor, Trice said.
Shared-ownership models like condos and co-ops are common in South Shore's housing market, but neighbors have a harder time controlling the neighborhood's commercial properties as they're often owned by absentee or out-of-state landlords, officials said.
"Infill developments" of up to 10,000 square feet — which "are a fabric of the community" but are generally too small to attract major developers' attention — are the priority for South Shore community investment model, said Ja'Net Defell, president and CEO of Community Desk Chicago.
"Broadly, we're looking to bring close to $14-$17 million of investments to buy properties in South Shore for the purpose of revitalizing that small-scale space," Defell said.
The program can build on the momentum created by neighbor-led developments along 71st Street like South Shore Brew, the Bennett Place redevelopment, the recently opened Studio Yogi and future projects like the planned entertainment center at Jeffery Boulevard, Defell said.
"It's refreshing to see residents buying commercial real estate and opening restaurants, stores and other uses in their neighborhoods," Defell said. "Often those properties are not accessible. Kudos to South Shore residents for leading that charge."
In the long term, the initiative will look to invest in residential properties and in areas beyond 71st Street, Trice said.
South Shore leaders are early in the process of hashing out We the People's details and goals, like whether it will be structured to put profits in neighbors' pockets or simply offer more community control over the neighborhood's growth, officials said.
"If the goal is for residents to make money, the [vehicle] needs to be designed in that way," Defell said. "In other cases, they're not as concerned about making money as they are about stabilizing our corridors and controlling properties, the owners that come in [and] the uses of that property … ."
A for-profit entity to run the community investment vehicle is expected to be formed by mid-summer, Trice said. Leaders will tour the neighborhood "to explain to everyone what the [vehicle] is and answer questions," identify projects and bring on neighbors as investors, she said.
Residents have formed a steering committee that includes Trice, a developer behind a proposed high-rise near the South Shore Cultural Center, a Bennett Place investor, Studio Yogi's owner and several other local leaders.
For more information on the We the People community investment vehicle, or to learn more about joining the project's committee, click here.
Listen to "It's All Good: A Block Club Chicago Podcast":