SOUTH SHORE — South Shore economic leaders should build on recent momentum and work to bring back a "Main Street" feel to struggling business corridors, urban planning experts said at a community meeting Wednesday.
South Shore Works and the South Shore Chamber hosted a panel discussion to brainstorm how to spark business growth and activity along 71st, 75th and 79th streets in the neighborhood. Joining the panel were chamber Executive Director Tonya Trice, University of Chicago urbanism professor Emily Talen, UrbanMain Program Director Dionne Baux and Kenya Merritt of the Chicago Department of Business Affairs and Consumer Protection.
South Shore's commercial strips battle high vacancy rates, and existing businesses are struggling to navigate the pandemic. More than half of storefronts are empty along 75th and 79th streets, and there are vacancies along 71st Street. But zoning changes, educating business owners on online sales and public-private partnerships could facilitate a turnaround, panelists said.
The neighborhood is primed for growth, Trice said, and 71st Street in particular has "a large number of older buildings that have architectural characteristics that we want to preserve in the community, but also attract new businesses."
Some plans for preservation and growth are already in place, including those surrounding the historic Avalon Regal Theater along 79th Street, an entertainment corridor along Stony Island Avenue and a quality of life improvement plan for the neighborhood with LISC Chicago.
The South Shore Chamber will also apply for this summer's outdoor dining program, Trice said. The city will close off streets and provide grants of up to $5,000 each for 400 restaurants to buy dining furniture, signs and protective equipment.
"We are very excited about that opportunity," Trice said. "We have some great restaurants in the South Shore community that we think this will give an opportunity to showcase and uplift them."
The decline of small business is being amplified by the coronavirus pandemic, but it's not a new issue, Talen said. It dates back to the dawn of department stores, mail-order shopping and suburbanization, and it has continued with the rise of online commerce.
These forces have decimated the "classic American Main Street" in Chicago, Talen said. She defines "Main Street" blocks as those offering services to nearby residents, providing opportunities for local entrepreneurship and being walkable and attractive to pedestrians.
Only 13 blocks in Chicago fit that description, according to the criteria set by Talen and fellow researcher Hyesun Jeong. Twelve of them are on the North Side.
The only other such block is in South Chicago, bounded by Commercial and Houston avenues and 91st and 92nd streets.
Though their criteria reflect "only one approach" to improving density, diversity and neighborhood stability, it still indicates a problem to be addressed in South Shore, Talen said.
"When compared to chain-store blocks, blocks that had these Main Street qualities were stronger," Talen said. "They had more population density, they had lower median rent … and the change in population turnover was lower."
One potential solution is through improved zoning, Talen said.
Only about one-third of city blocks suited for retail allow for storefronts on low-traffic streets, which would be ideal for a Main Street-type strip. By contrast, about half of those areas are designed to support car-focused shopping centers and large stores. Many other blocks that could be suitable for dense retail instead are reserved for detached single-family housing.
In addition to zoning that better fits the neighborhood's needs, local leaders can boost retail by helping businesses adapt to online commerce, Baux said. UrbanMain rolled out an online platform for struggling South Side businesses last year, but its trial run ended in February with only seven shops participating.
Chambers of commerce and other economic groups must help businesses prepare for a shift to online sales, Baux said.
"We didn't see the uptake that we wanted to see, because there still needed to be more dedicated education and support to our entrepreneurs," Baux said. "Many of these entrepreneurs didn't have Facebook pages, some of them did not have an online site … . This was like we were pushing something on them that they weren't quite ready for."
Education resources and other assistance are available through local business development centers, said Merritt, chief small business officer with the city's business affairs department.
These centers for small businesses provide loans and grants to organizations with a focus on attracting and keeping businesses in Chicago neighborhoods. A state-backed center opened in South Shore last summer to help small businesses recover from the coronavirus pandemic.
"It's not enough for us to have commercial corridors that are vibrant and thriving, and other parts of the city are desolate," Merritt said. "We want to be able to have that same quality of life across the city."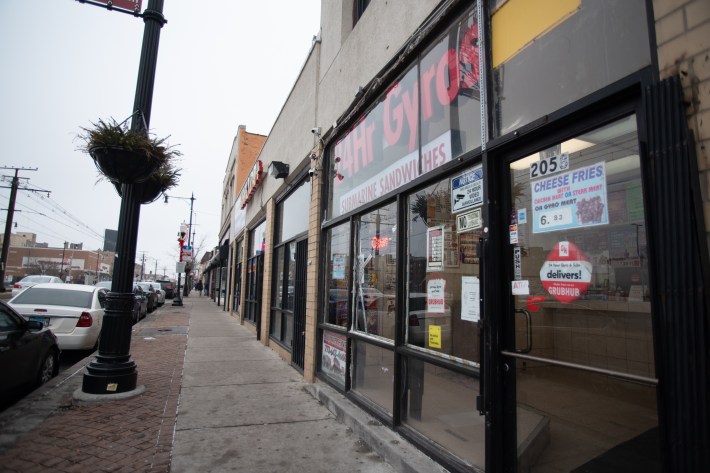 Subscribe to Block Club Chicago. Every dime we make funds reporting from Chicago's neighborhoods.
Already subscribe? Click here to support Block Club with a tax-deductible donation.