LOGAN SQUARE — Acclaimed pasta restaurant Daisies is reopening this week in a much larger Logan Square location after months of renovations, a big expansion for the family-run eatery.
Daisies found a new home in The Radler's former spot at 2375 N. Milwaukee Ave., which is more than three times the size of its original location at 2523 N. Milwaukee Ave. The restaurant left its old spot in late 2022.
The new Daisies — a 5,500-square-foot restaurant with a coffee and pastry bar — opens Wednesday with an expanded menu, according to a news release. Reservations can be made online.
RELATED: Daisies Leaving Milwaukee Avenue Spot For Bigger Digs In Logan Square
Owner Joe Frillman said he decided to take over The Radler spot because the restaurant was "bursting at the seams" in the original location.
"We're opening this new location to not only sustain the programs we have in place, but allow us the room to build and expand upon what Daisies can offer to our awesome guests, the neighborhood and the staff," Frillman said in the release.
On top of opening a much larger restaurant, Frillman is converting the original, 1,600-square-foot location into a mini farmers market and lunch spot, showcasing produce from Midwestern farms, including his brother Tim's Michigan-based Frillman Farms, where Frillman sources ingredients for the restaurant.
The market is a permanent iteration of the small grocer Daisies launched earlier in the pandemic, and it is under renovation, according to the release.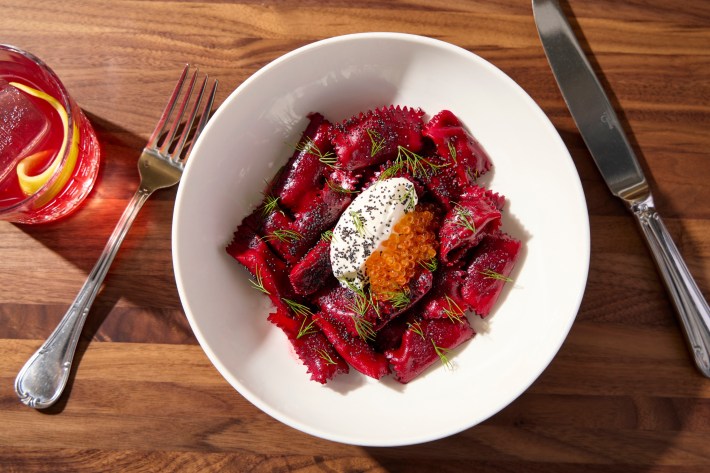 Open for dinner starting 5 p.m. Tuesday-Sunday, the new location will serve an expanded menu of Daisies' signature handmade pasta and seasonal vegetables dishes, such as hand-rolled strozzapreti with lemon, Swiss chard and cranberry beans. There also will be desserts from pastry chef and restaurant partner Leigh Omilinsky, like a lemon ricotta tart with candied pine nuts and lemon crema, according to the restaurant.
To drink, there will be wine and cocktail menus from beverage director Katherine Sturgill and bar manager Seth Marquez.
In addition to a large dining room, the restaurant has a daytime coffee bar, which will serve La Colombe Coffee and pastries from Omilinsky when it opens in April, according to Daisies.
The extra space will allow Frillman and his team to host a range of events, including pasta- and pastry-making classes and community events such as book singings and special dinners. The restaurant has a "pasta and pastry production room," which will also be used as office space and for "quieter" dinner service, according to the restaurant.
Frillman, an alumnus of Balena and Perennial Virant, opened Daisies in 2017. The restaurant won a Jean Banchet award and made Michelin's Bib Gourmand list.
Listen to "It's All Good: A Block Club Chicago Podcast":