CHICAGO — Chicago's brutal winter reputation may be a thing of the past.
The city saw just 16.8 inches of snow this winter, well behind its 30-year average of 29.6 inches each winter, said Zachary Yack, a National Weather Service meteorologist. It was also 4 degrees warmer, on average.
That's mainly due to a weather pattern which is "wetter for areas out west this year," bringing warmer air "over our neck of the woods" and making would-be-snow come through as mostly rain, Yack said.
"It's been a mild winter," Yack said. "We're on a cooler trend now and could cut down the snow gap, but it'll be a stretch to make up quite a bit."
Marisa Gora, owner of Kemora Landscapes, 4635 W. Lawrence Ave., said the snow removal part of her business has ground to a halt. Kemora Landscapes' snow crews have gone out just three times this winter, Gora said.
"In more than 10 winters, this is the least amount of snow and work we've seen," Gora said. "The crews have been calling and anxious to get working again. It definitely was a tougher winter for them."
Gora prepares her business's budget in the summer to cover situations where there's low snowfall, but it's been tough for her and the workers who are missing out on "bonus money," she said.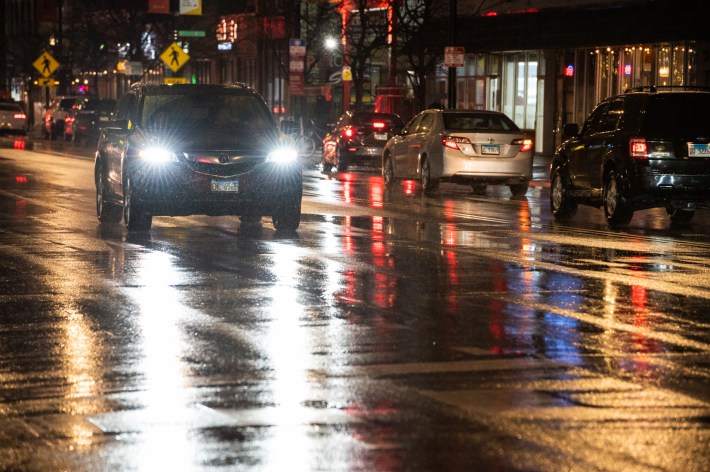 Cole Stallard, commissioner of the Department of Streets and Sanitation, said the agency has only used 135,000 of the 400,000 tons of salt it has on standby.
"Believe me, I'm not complaining. This has been a good winter," Stallard said. "But … winter is not over. We're just two big storms away from catching up on inches. You can never take your foot off the gas with snow."
Scott Collis, an atmospheric scientist who builds climate-tracking supercomputers at Argonne National Laboratory, said the lack of snow "is climate change in action."
Chicago has winter temperatures that often hover around the freezing point of 32 degrees, Collis said. That means the city is "sitting on a tipping point," where a warming planet will turn would-be snowfall into mostly rain, Collis said.
Chicago's "abnormally snow-free" winter has been replaced by very wet conditions, Collis said. Lake Michigan has also seen record-low ice levels this winter, Collis said.
And winters in Chicago are warming significantly faster than summers, Collis said.
"The leading theory why is that warmer air holds more moisture. So a warming climate means we're more likely to get clouds, and clouds overnight are really good at trapping heat like a blanket on Chicago's coldest days," Collis said.
The science points towards a city that's making a "long, steady march towards a more snow-free winter," Collis said.
"We could see record snowfall next year, but what climate change does is that it rolls the dice," Collis said. "It makes snow less likely than more likely."
Watch our "On The Block" TV show on The U, CW26 and MeTV.
Listen to "It's All Good: A Block Club Chicago Podcast":