NORTH LAWNDALE — Construction has kicked off on an apartment complex that will bring dozens of affordable units to the West Side as part of the $200 million Ogden Commons project.
Construction started in February, according to the Habitat Company, the developers behind the project. The complex — OC Living — will be a 92-unit, four-story building where 90 percent of the units will be affordable.
OC Living, 1325 S. Washtenaw Ave., will have 23 studios, 60 one-bedrooms and nine two-bedrooms. Amenities will include an enclosed playground, bike racks, a lighted walking path, a fitness center and management and social services offices. It will have a bike room and 110 parking spaces.
The complex is part of the Ogden Commons, which will cover 10 acres of North Lawndale with commercial and retail space, as well as 350 housing units, according to the Habitat Company.
The building is expected to be completed by spring 2024 and the entire project to be finished by 2026, according to the developers.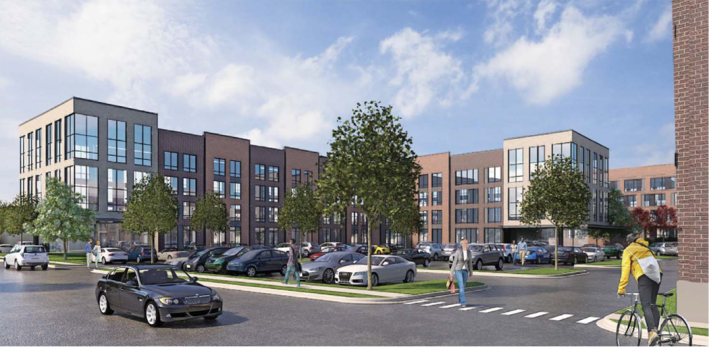 The apartment building will be close to Ogden Commons' 30,000 square-foot, three-story commercial building, which already contains Wintrust Bank, Momentum Coffee and Sinai Health System's One Lawndale Express Care Clinic.
Charlton Hamer, senior vice president of the Habitat Affordable Group, a wing of Habitat Housing, said in a statement that a major goal of the project is to provide North Lawndale with safe, affordable housing options and useful modern amenities that benefit the neighborhood
Ogden Commons was developed by The Habitat Company, Sinai Health System, Alecko Capital and Bank of America to address issues that result in poor community health, such as a lack of food access, health care, job insecurity and housing.
Jeff Head, vice president of Development for Habitat's Affordable Group, said the group plans to build a second housing building with 75 units and a health care facility next year. The project is also set to feature a children's museum and a grocery store.
"The level of mixed-use development is pretty significant," Head said. "Lower-income residents will be able to work, live, and get access to health care all in walking distance. The way this is really coming together is creating a strong anchor for North Lawndale."
The project received CARES Act funding in 2020 and was supported by local organizations as part of the North Lawndale Quality of Life Plan. The medical center is the center anchor for the mixed-use development and began accepting patients last year.
The Habitat Company has also gotten the funding it needs to start on the next phase of the development, according to a news release.
Listen to "It's All Good: A Block Club Chicago Podcast":