WOODLAWN — Nearly a dozen vacant lots near the Cottage Grove Green Line stop in Woodlawn will be redeveloped into 10 three-flats as part of a "buy back the block" initiative.
Developers, investors and local leaders celebrated the first three completed buildings as part of the West Woodlawn Pointe project with a ribbon-cutting ceremony Tuesday at 63rd Street and Evans Avenue.
The three buildings at 6314-6322 S. Evans Ave. — each with three "luxury, open-floor plan" apartments with three bedrooms and two bathrooms — are on the market for $799,000 each, lead developer Bonita Harrison said.
"West Woodlawn has been disinvested," Harrison told Block Club. "There's a lot of investment on the other side [of Cottage Grove Avenue], so we thought, why not bring that investment into this community?"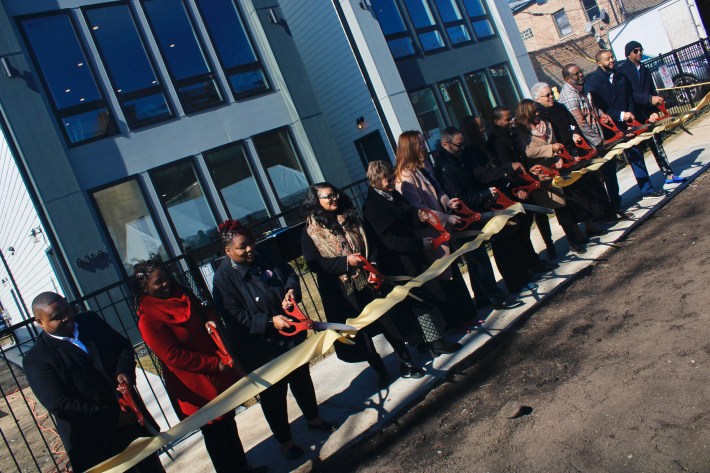 Harrison is one of five Black developers behind West Woodlawn Pointe, alongside DaJuan Robinson, Sean Jones, Derrick Walker and Keith Lindsey.
Seven more three-flats will be built at 6328, 6346 and 6444 S. Evans Ave. and at 6344 S. Langley Ave. In total, West Woodlawn Pointe will create 30 "modern" three-bedroom apartments in the neighborhood, developers said.
The developers plan to pursue similar developments around the Red Line Extension project and in other South Side communities like Englewood and Auburn Gresham, Harrison said.
"We plan to take this same type of development and copy it to other neighborhoods," Harrison said. "Same look, same layout and the same idea for ourselves — concentrating [our] efforts."
The C3 Fund — a financial institution that supports Black and Indigenous people, people of color and women who invest in developments in low- and moderate-income neighborhoods — announced a $2 million grant to West Woodlawn Pointe and pledged to help fund its second phase.
West Woodlawn Pointe is "a development by the community, for the community and with the community," said Jessica Caffrey, president of the Cook County Land Bank.
"Everyone who is a part of this project is kickstarting economic growth in this community that has faced systemic disinvestment over the years," Caffrey said.
But three passersby told Block Club they did not like seeing public officials, reporters and police officers congregate around the luxury development while they and other Woodlawn residents lack affordable housing and sufficient community resources.
"They don't build s— for us," Frederick Harris said as he watched organizers set up the news conference. "We don't have no voice, no opinion — nothing."
Thomasina McKee said she was troubled she hasn't seen any job opportunities for neighbors at the West Woodlawn Pointe sites. Developers touted the creation of 200 construction jobs for the project.
Every job for the project has gone to people of color and women, Harrison said. The jobs were advertised among people in the developers' networks but not online to the general public, she said.
Other neighbors and visitors to the Bessie Coleman branch library near the development said the news conference and dozens of attendees interrupted their morning without warning.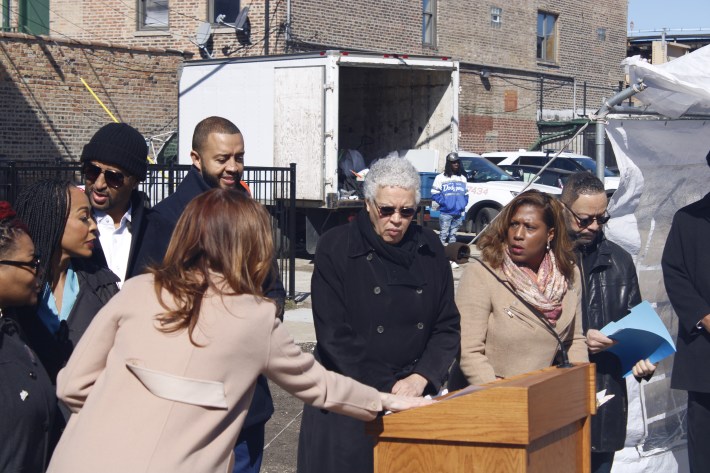 Woodlawn residents have campaigned for years to secure a community benefits agreement, affordable housing, employment and other measures to prevent displacement as the Obama Presidential Center is built in Jackson Park.
West Woodlawn Pointe is a few blocks from a series of city-supported, mixed-income developments on 63rd Street: Park Station Lofts, which is under construction near Maryland Avenue, and two sites between Ingleside and Greenwood Avenues for which city officials are reviewing developers' proposals.
DL3 Realty, the developer behind Park Station and a finalist for the two other city-backed sites, is also redeveloping the Washington Park National Bank building at 63rd and Cottage Grove.
Harrison's buildings on Evans Avenue are "encouraging," as they complement DL3's efforts and affirm Black and Brown South Siders' abilities to redevelop long-vacant land in Woodlawn, managing partner Leon Walker told Block Club last month.
"We need scale — we need more people doing this work," Walker said.
Listen to "It's All Good: A Block Club Chicago Podcast":