CHICAGO — State lawmakers are pushing bills that would give city officials permission to create a "safe consumption site" where people can use drugs more safely and get recovery help when they're ready.
Sen. Sara Feigenholtz and Rep. La Shawn Ford are pushing forward partner bills that would legalize a pilot site in a Chicago neighborhood hit hard by the opioid crisis.
The site's staff would be trained to recognize overdoses and use drug-reversing medication like Narcan. People would be able to bring and use illegal drugs — without punishment — and get access to testing strips and clean syringes.
A local nonprofit would operate the site and hire community members and people in recovery. The staff would be encouraged to build relationships with clients and offer HIV and Hepatitis C testing, housing, medical services, employment opportunities, drug treatment programs and other social services that can put people on a path for recovery.
Ford said the site "will simply save lives."
Cook County saw more than 1,600 opioid overdose deaths in 2022 — and that number was expected to rise by 400-500 as the Medical Examiner's Office finishes cases where a person's cause of death was pending, according to the office.
Outreach workers say fentanyl, a synthetic opioid that now laces many drugs, is driving the crisis, which has most deeply impacted the West Side.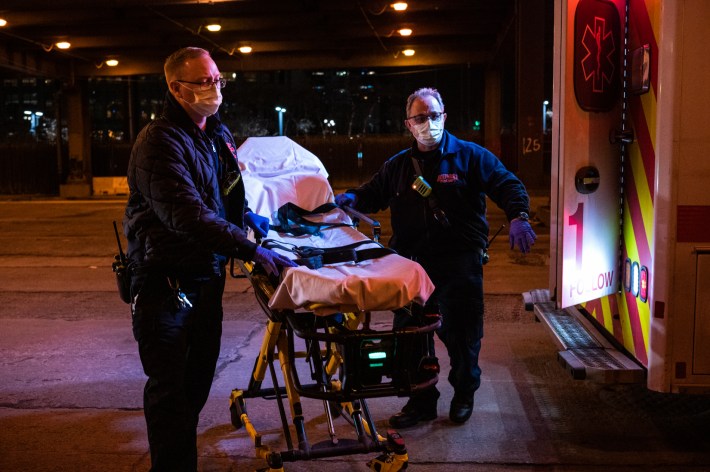 The punitive polices enacted during the '80s and '90s — which led to the mass incarceration of Black people and greater stigma for users — has failed, Ford said. The safe consumption site would finally acknowledge the inevitably of drug use and "create a health care setting for it," Ford said.
"This is the No. 1 harm reduction tool we have available," Ford said. "People are always going to use drugs. It's better that happens in a safe place than on the street."
The approach is part of a nationwide push by progressives to treat the opioid crisis as a public health issue instead of a criminal justice crusade.
But using heroin remains illegal under federal law — putting consumption sites in a gray area that's been subject to tug-of-war by local leaders in cities across the country.
'It's Politics'
Safe consumption sites have been hotly debated across the country, with some saying they can help people struggling with drug abuse seek recovery, while others worry the sites could bring crime into their neighborhoods.
An earlier version of Ford's bill died at the end of the last state legislative session, with some lawmakers "worried about the politics just ahead of our election cycle," he said.
But with lawmakers now sworn in for the new term, Feigenholtz said she's "optimistic" a safe consumption site will be legalized by the end of this year.
"The number of opioid deaths is alarming," Feigenholtz said. "And my gut feeling is that leaders are in the room of reality about how desperate we are about stopping this."
The establishment of the site as just a pilot program allows city leaders "to walk into the shallow end of the pool on this," Feigenholtz said.
Anna Dolezal, a spokesperson for the Chicago Department of Public Health, said in a statement the city is "closely monitoring developments" with safe consumption sites. The city is "strongly committed to evidence-based harm reduction interventions" and is focusing on its efforts to distribute free Narcan and thousands of testing strips to libraries and nonprofits, Dolezal said.
At a November news conference, health Commissioner Dr. Allison Arwady skirted questions about a safe consumption site, saying the measure was "controversial." Local officials are "lukewarm" given potential legal challenges, Arwady said in November.
"I want to make sure we're not using up so much oxygen on just one piece of harm reduction work, " Arwady said. "I'm hopeful as we see more data."
In a Sun-Times questionnaire last month, Mayor Lori Lightfoot said the "concept is under consideration and evaluation because we must reduce overdose deaths."
Five mayoral candidates said they supported safe consumption sites. A sixth candidate, progressive Brandon Johnson, said he supports the sites but his position is nuanced — he wants to ensure the sites do not cause further harm in South and West side neighborhoods.
John Werning, executive director of the Chicago Recovery Alliance, said nonprofits have lobbied the city about a safe consumption site for at least a decade. While the health department has been "supportive," Lightfoot has been "slow to endorse," Werning said.
"She could be advocating to get this passed. But her stance hasn't changed in four years; she's continuously reviewing and weighing options. It's politics," Werning said. "And it'll be politics as long as drug use is still perceived as a moral failing. The climate wants to point a finger at crime and make users into scapegoats."
Ford said the city is "leaving the ball in the state's court" for now.
"They haven't said they didn't want the site. But it's also election time," Ford said. "There should be more sense of urgency. … Overdoses are happening everywhere."
Rep. Kelly Cassidy, who is co-sponsoring Ford's bill, said she's having "active discussions" with city leaders and health officials about implementing the safe consumption site.
"This is going through the process it needs to take," Cassidy said. "Because the reality is, everything we've done over the past several decades to try to stop drug use hasn't worked."
Safe Consumption Sites Have Proven Track Record, Advocates Say
Health experts are increasingly hopeful about safe consumption sites.
The Illinois State Medical Society is backing the proposed bills, Feigenholtz said. The Illinois Harm Reduction Coalition — which includes dozens of addiction recovery groups statewide as well as local medical centers at Rush and UIC — has lobbied for the bill in Springfield and Chicago, Werning said.
Data from New York City's first consumption sites — which opened November 2021 in East Harlem and Washington Heights — is encouraging, several state legislators and recovery advocates said.
More than 2,000 people used the New York City facilities in its first year, with more than 600 overdoses averted, according to OnPoint NYC, the nonprofit running the sites.
OnPoint staff also discarded more than 1.4 million used syringes and hazardous materials, "dramatically reducing the amount left in public spaces," according to a news release. The City reported in May that when the sites close for the day, subway stations nearby fill up with users. That's led Mayor Eric Adams and the city's transit chief to call for keeping OnPoint sites open 24/7.
While New York City has the only two safe consumption sites in the United States, more than 200 sites are already operational in other countries, according to advocacy group Drug Policy Alliance. Canada has one that has been open for two decades.
None of the sites have had an overdose fatality, according to Drug Policy Alliance.
In a 2020 survey of more than 400 West Side residents conducted by the Illinois Department of Human Services and the West Side Heroin and Opioid Task Force, more than three quarters of respondents said a safe consumption site would reduce overdoses and drug use in public.
But more than 20 percent of respondents worried the site could increase drug selling and crime in their neighborhoods, which is "important to note," according to the study.
Luther Syas, director of outreach for the Opioid Task Force, said the group continues to educate community members about safe consumption sites and conduct focus groups about places to possibly put one on the West Side.
Outreach workers with the task force, many of whom are in recovery, have for more than five years identified and built relationships with people abusing drugs, Syas said.
RELEATED: Opioid-Related Deaths Still High After A Brutal 2020 — And The West Side Remains The Epicenter Of The Crisis
The task force has gone from "not breaking through to many" to up to 60 people each month requesting help getting clean, Syas said.
But the opioid crisis can be hard to predict, "with days we're witnessing and reversing overdoses and weeks at a time we don't see them," Syas said.
With growing trust between community members and local nonprofits, a safe consumption site is a "necessary addition we're ready for," Syas said.
People will have a place to go without fearing judgement, Syas said.
"We're out there consistently and hoping to turn the corner and see reductions in overdoses," Syas said. "A site would give people the safeguards to live and see another day. And once they want to get off these substances, we have a central place with avenues available. These are our brothers and sisters, parents and uncles."
Werning said the Chicago Recovery Alliance has mobile units supplying people with clean syringes and testing strips, paid for with help from city and state health agencies.
A safe consumption site "is not as big of a leap as people think," he said.
"People are already doing this work," Werning said. "It's about finally bringing it above ground."
Listen to "It's All Good: A Block Club Chicago Podcast":