RIVER NORTH — Efforts to prevent and manage overdoses at bars and clubs have ramped up around the city — but some businesses have not been receptive, advocates said.
Chicago is in "the midst of an opioid overdose crisis," said Anna Dolezal, spokesperson for the city health department. Overdoses hit record highs in 2020 with 1,302 deaths across the city, and early data suggests deaths rose another 10 percent in 2021 and will be "trending close" to that this year, Dolezal said.
EMS calls for overdoses are most concentrated on the West and South sides, according to city data. The Downtown and Near North areas, home to some of the city's most active nightlife scenes, have also been hot spots for overdose calls.
But the problem is wider than the numbers indicate due to stigma around users reporting overdoses and club owners turning a blind eye to "inevitable drug use" at their venues, said Jenny Andel, an overdose prevention specialist at the Chicago Recovery Alliance.
Members of the recovery alliance have started passing out test strips to revelers so they can check drugs for fentanyl, a synthetic opioid that can be fatal and is often used to lace party drugs, Andel said. The alliance is also encouraging clubs and bars to keep Narcan on hand to potentially reverse overdoses, Andel said.
Andel is hosting two-hour overdose response trainings for employees at any venue that'll agree to it, she said.
There's been "a little more interest" from some bars and clubs owners recently, but resistance from many others, Andel said.
"There's hesitancy among management for having these measures in place because they feel like it's condoning drug use in their clubs," Andel said. "But drug use is going to happen regardless. Owners seem genuinely concerned about the trends but worried about having liability for the problem."
On Oct. 30, four people overdosed at Y Bar, 224 W. Ontario St., a popular venue in River North. Surveillance footage shown to Block Club Chicago shows a man on the dance floor passing a vial to three friends to sniff. The video shows a crowd forming around people who were unconscious on the floor and others who are wobbling.
Y Bar owner Mark Jurczyk said it was the first time there's been overdoses at the club in more than 20 years of business. Hard drug use doesn't happen there, Jurczyk said.
"This was not preventable. We're trying our best; our staff is trained to frisk people at the door," Jurczyk said. "But if someone really wants to smuggle something in, they'll find a way."
Jurczyk is considering legal action against the man who snuck in the substances, he said.
"It's the fault of the guy who brought the drugs here … . It's his fault," Jurczyk said. "I felt disgusted. My business is in jeopardy because of this, and it's hurting our reputation. … The clientele is harder to manage."
One of Jurczyk's bartenders, who is also a trained nurse, had Narcan on hand, which helped the overdosed patrons before paramedics arrived, per surveillance footage. Jurczyk is planning overdose training for his staff through Allen's Family Counseling Center, said Gigi Gayle, the addiction treatment group's chief operating officer.
"I have nothing to hide," Jurczyk said.
Sam Sanchez, owner of nearby Moe's Cantina and chairman of the Board of the Illinois Restaurant Association, said River North bars and clubs are more prone than ever to seeing patrons overdose.
Moe's Cantina "trains security to keep an eye on people" and has a bathroom attendant in hopes of deterring drug use, Sanchez said.
But club owners grappling with staff shortages, declining business and city threats to close bars earlier can make them lax about monitoring drug use, Sanchez said.
"Definitely people have to be harder at the door. So people get the message you can't go inside to do drugs. You can't be afraid of losing business," Sanchez said. "The lacing on the drugs now is a problem. It could happen anywhere."
Sanchez said he heard about the overdoses at Y Bar on the news.
"I'm surprised it hasn't happened more," he said.
Groups such as the Chicago Recovery Alliance and Allen's Family Counseling Center have increased outreach and are offering up more trainings, representatives said.
The alliance collaborated with the city to warn people at Lollapalooza about the presence of fentanyl and to make testing strips more available, Andel said.
The city has invested heavily in testing strips and has distributed almost 80,000 of them since October 2021, Dolezal said.
They're available at STI and mental health clinics, health department offices and through 80 community organizations across the city, Dolezal said.
Signs posted outside public libraries across the city now read "Ask Your Librarian About Narcan."
"The Chicago Department of Public Health discourages illegal drug use," Dolezal said. "But [the department] recognizes that drug use will occur and is committed to meeting people where they are."
The health department plans to work with bars, clubs and music venues within the next few months to train staff on overdose prevention and promote access to Narcan and testing strips, Dolezal said. Anyone can now get free access to medications that treat opioid-use disorder over the phone without visiting a clinic, Dolezal said.
Advocates on the small team with the Chicago Recovery Alliance say they've been encouraged by increasing access but continue to face an uphill climb with stigma around drug use and the prevention work needed to address it.
For years, Taylor Wood of the recovery alliance has tested drugs outside clubs and inside underground parties.
"We need to create a new narrative, something that can withstand a lawyer's argument. We got to try to flip the liability for drug use back on people who don't create the safest environments," Wood said. "Not having harm reduction efforts is like not having security inside your club."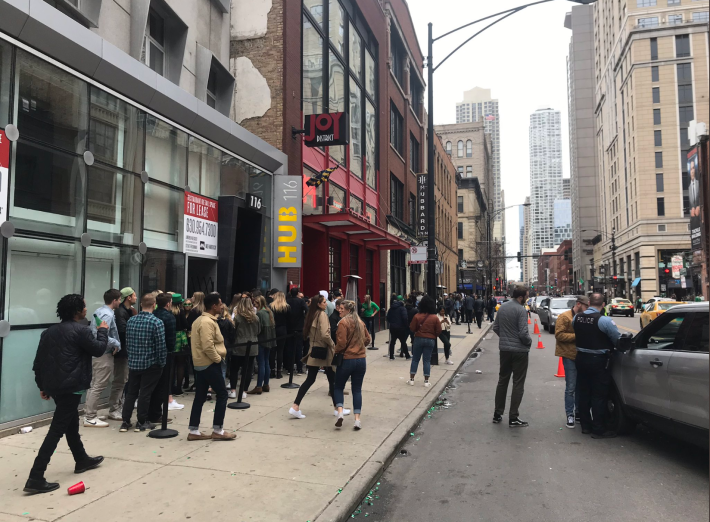 Alex Carrion, an outreach coordinator with the recovery alliance, often carries a backpack full of Narcan, drug testing strips and safe sex supplies when he goes out on the weekends, "having conversations with folks about what's going on," he said.
Access does not necessarily mean awareness, Carrion said, but "the tide is starting to shift."
"We're at the beginning steps, but addressing this problem requires more of a cultural change," Carrion said. "Checking substances to make sure they're not dangerous is something that's been pushed to the back, when it can actually save lives."
Members of the recovery alliance said they want Narcan and testing strips to be a requirement at all bars and clubs. Another goal is to have mobile drug testing vans on streets with busy nightlife, so "we can do this work in a legal fashion while we wait for everyone else to catch up," Wood said.
Carrion said overdoses inside nightclubs are often heavily covered by media while the crisis continues to take its greatest toll on the city's marginalized communities.
"When I hear about happened at Y Bar, and what happens around the city every day, frustration goes through my head," Carrion said. "We need to humanize people. This is all avoidable."
Listen to "It's All Good: A Block Club Chicago Podcast":